Sun Belt teams missed out on the fun during Week 0, but look to more than make up for it when Week 1 kicks off with a great slate of games.
The biggest game will be North Carolina making the trip up to Boone to play Appalachian State in a rematch of their 2019 meeting, but several other games stand out this weekend.
| | | | | | |
| --- | --- | --- | --- | --- | --- |
| Date | Time | Away | Home | Line | Network |
| 9/3/2022 | 4 p.m. | Troy | Ole Miss | MISS -22 | SECN |
| 9/3/2022 | 5 p.m. | Nicholls | South Alabama | | ESPN 3 |
| 9/3/2022 | 5:30 p.m. | Texas State | Nevada | NEV -0.5 | NSN |
| 9/3/2022 | 7 p.m. | Liberty | Southern Miss | LIB -3.5 | ESPN + |
| 9/3/2022 | 7 p.m. | SE Louisiana | Louisiana | | ESPN + |
| 9/3/2022 | 7 p.m. | Grambling State | Arkansas State | | ESPN 3 |
| 9/3/2022 | 8 p.m. | Louisiana-Monroe | Texas | TEX -38 | LHN |
While there might not be as big of an upset chance in the West division's Week 1 games, it's still college football that deserves to be watched. Click here for a look at games involving Sun Belt East schools.
Quick Breakdown (non-FCS games)
Troy vs. Ole Miss
Jon Sumrall debuts as the new Troy head coach in a doozy of a first game. It won't be his first time coaching on that field, though; he was the linebackers coach for Ole Miss in 2018.
Troy was solid on defense last year, ranking 21st in the country in pass defense and 49th in rush defense. On the other hand, its offense left much to be desired with no running game to speak of. Quarterback Matt Corral being gone is a good thing for Troy, but with it being the first game for Ole Miss as well, expect two or three different quarterbacks to make an appearance.
Ole Miss has a very experienced secondary and added some big gets via the transfer portal on defense. Don't expect much from Troy.
Troy 14, Ole Miss 45
Texas State vs. Nevada
Texas State has averaged only 3.25 wins per year over the last eight seasons. Arkansas State quarterback transfer Lane Hatcher might fix some of the issues, but having no one to throw doesn't help very much.
Defensively, the Bobcats are even worse. They ranked 98th in pass defense and 101st in rushing defense last season. Their only hope against Nevada is if their passing game magically wakes up. Nevada was even worse at stopping the pass last year.
Texas State 21, Nevada 38
Liberty vs. Southern Mississippi
Southern Miss comes limping into the Sun Belt after going 3-9 under Will Hall in his first year. The Golden Eagles return a lot of players from last year, but that might not be a good thing. They led the nation in number of tackles for a loss allowed, turnovers lost, and were pretty close to last in third down conversion percentage.
The defense has some bright spots in the secondary, but against an opponent that isn't a bottom dweller in Conference USA, we'll see if that holds up. Liberty will have to figure out what life without Malik Willis looks like, but it will probably be in decent shape — at least enough to hold off Southern Miss.
Liberty 31, Southern Miss 17
Louisiana-Monroe vs. Texas – Beatdown of the Week
This is going to be an ugly one. There's a solid chance that ULM will win only one game this year, and it isn't going to be against Texas. The Warhawks have no offense to speak of, and a defense that lost two of its better players to the transfer portal, leaving a desolate wasteland.
Texas is going to trot out quarterback Quinn Ewers, who should have a pretty nice debut for the Longhorns. Expect the Texas reserves to see a lot of action in this one.
Win or lose, ULM will always have the all-gold everything Terry Bowden picture: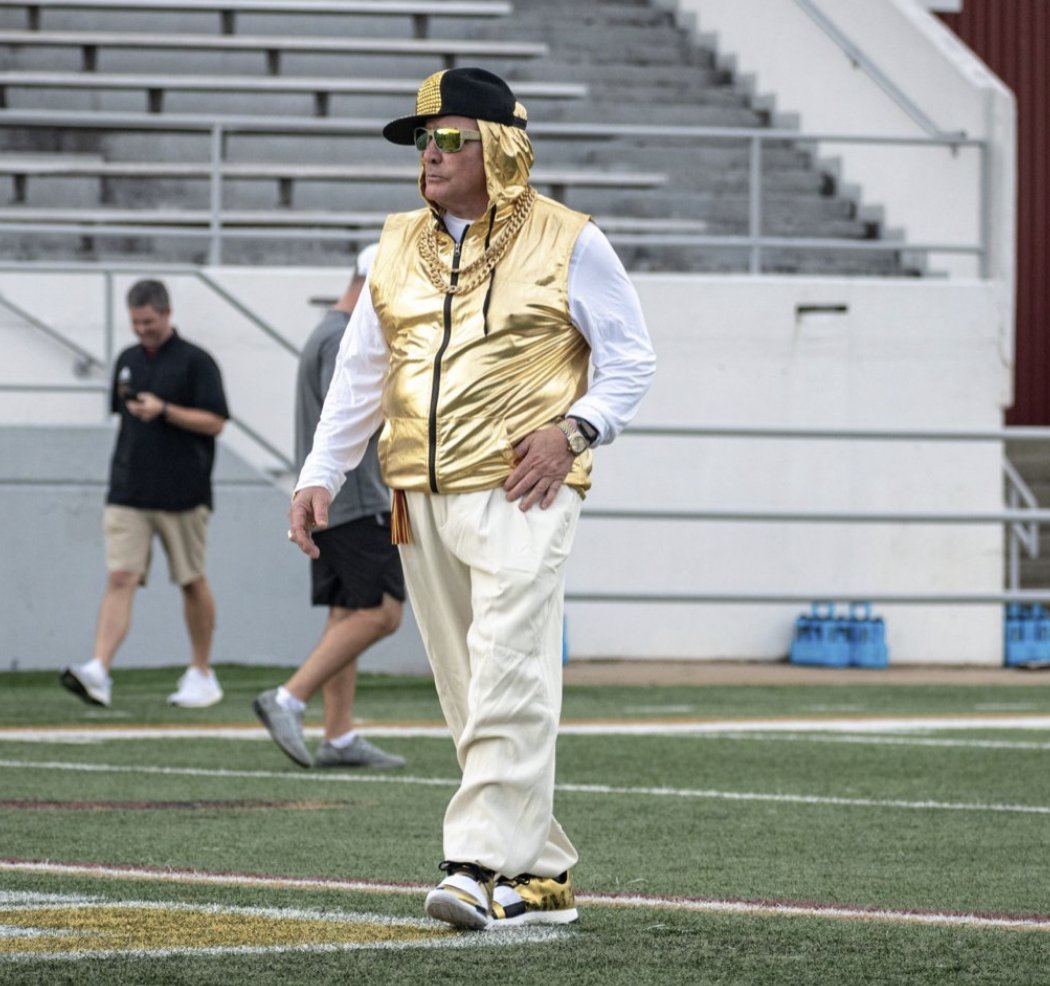 Louisiana-Monroe 6, Texas 52