No FSU fan could be happy knowing that human cheat code Cam Akers only touched the ball four times in the fourth quarter against Wake Forest. Every coach from Pee Wee to the NFL knows to get the ball in the hands of their best player late in the game. Akers, who carried 30 times for 157 yards (199 AP yards) still did not get the ball enough. If you are a part of the FSU Fifth Quarter Discord, you've heard this before – we must give Akers the ball in order to win. We starved our star player in the fourth quarter, and walked away with a loss. Syracuse comes to town this week for Homecoming, and FSU's offensive success depends on feeding Cam until he's stuffed.
Fun Fact: Since becoming a member of the ACC in 1992, the FSU record on Homecoming is 21-4 (.840). 
Syracuse Rush Defense vs Power Five Opponents + WMU
Maryland: 7.9 YPC
Clemson: 7.6 YPC (compare with FSU's 6.1 YPC against)
Western Michigan: 5.9 YPC
NC State: 3.1 YPC (compare with FSU's 3.1 YPC against)
Pitt: 3.4 YPC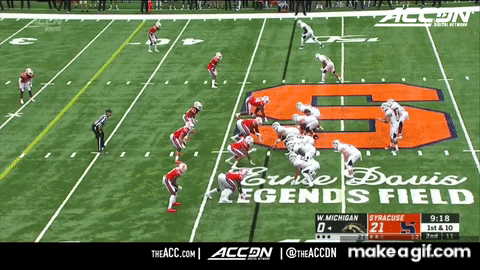 As seen above, Syracuse's base defensive formation is a 4-2-5. On 3rd-and-long they like to align in a 3-2-6 – adding a linebacker at the expense of a lineman. In their 4-2, the defensive front likes to get up field and slant a good percentage of the time. After watching some game film, Syracuse gets gashed when they slant the wrong direction. Maryland and Western Michigan were able to take advantage of this with their offensive production.
With a new offensive line combination this week, maybe we can at least see more creases. Cam Akers is the best RB in college football at making the first defender miss. FSU's line, while better than last year, is only giving Cam 2 YPC (Line Yards). Cam is averaging 5 YPC – so he's good for around 3 yards on his own every time he touches the ball. While Syracuse has statistically done well with getting after the QB, they are hovering at #59 for rush defense. They have done a lot better in this aspect in their last two games, allowing no more than 3.4 YPC to both NCSU and Pitt.
Cam Akers 2019 Fun Facts
11th in rushing yards (773) (remember when we couldn't get a 1000 yard rusher?)
4th in rushing attempts (154) (For FSU to win he still needs more)
Upon reaching 1000 yards, he will be one of three running backs to reach the 1,000 yard-mark multiple times in his FSU career. (Dalvin Cook, Warrick Dunn)
Through week 7, Pro Football Focus had Cam Akers at 43 missed tackles and 484 yards after contact. We are waiting for these statistics to be updated, but right now he is top five in both categories. There's no denying how good Akers is, even behind a horrible line.