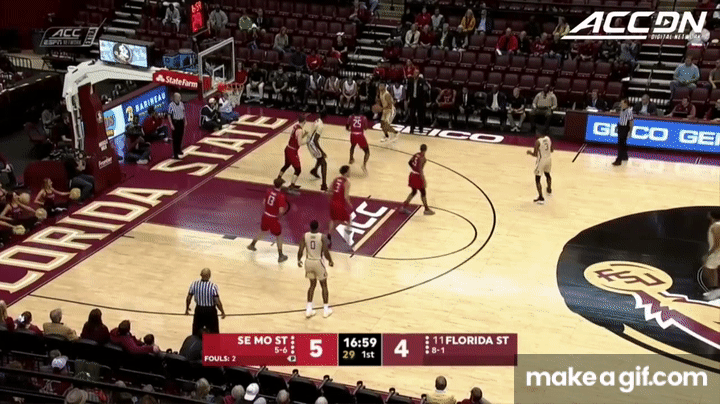 The #10 Florida State Seminoles showed why they can be a special team in the 2018-2019 season last night. While they played the worst game of the season, they stillwon by almost 20 points. Guard MJ Walker was out due to an ankle injury from the UCONN game. This gave Raiquan Gray the start and the majority of the minutes.
As a teamm Florida State only shot 7-26 from beyond the arc, and at the conclusion of the first half that number was 1-12. There's no wonder why it looked like the 'Noles started slow. They did. While FSU had to play from behind due to their shooting woes, they still played with great energy on defense. Also, they moved the ball well, totaling 15 assists on the night.
It appears that, while against inferior talent, the Seminoles worked on ball security in their week off. FSU only turned the ball over 15 times – 7 in the first half, 8 in the second. The 1:1 assist to turnover ratio is one of their better marks on the season, and a mark they should work to achieve or better as they head into a much tougher stretch.
Trent Forrest led all scorers with 23 points, and guard Devin Vassell was next with 16 points. Phil Cofer's return was limited, only playing five minutes, and did not score any points. Coach Hamilton plans to  progressively give him more time on the floor, and not rush him into action. Rebounding, Trent Forrest, Mfiondu Kabengele, and Christ Koumadje totaled 21 rebounds. Christ Koumadje was also 6-6 on his dunks, and is starting to show better footwork. In the last three minutes of the game, Florida State was ahead enough for the walk-ons to enter the game. Nine total players scored in this game, with 11 seeing minutes. Unlike earlier in the season, you're starting to see Coach Hamilton shorten the roster ahead of ACC play.
What's Next for the 'Noles?
The 'Noles continue to play the "get right" portion of their out-of-conference schedule Wednesday against North Florida. The Ospreys are 5-7, with losses to FIU and Wright State. They did defeat a halfway-decent Southern Miss squad. The Ospreys are led by junior forward Noah Horchler, averaging a double-double with 15.9 ppg & 10.3 rpg. Guard JT Escobar is their 3-point shooter, going .375 beyond the arc. He'll have family in, as he's from Tallahassee. Junior swingman Garrett Sams also chips in 13 ppg.
The game is a 7:00 tip from the Tucker Center, "televised" on the ACC Network.