The Florida State men's basketball team continued their hot start, notching their third win of the season last night 93-61 over Canisius.  The 'Noles started off sluggish, as they were only winning 14-13 at the under-14 timeout. After this, they picked up the pace and headed into halftime up 42-27. The Golden Griffins came out strong in the second half and managed to cut the lead to 47-41 early in the second half. Then a bonehead technical foul by forward Scott Hitchon (who had honestly been wanting to fight someone all night) changed the course of the game. Hitchon attempted his best Dikembe Mutombo impression to the face of Terance Mann, which earned him an early-entrance ticket to the showers. That was all the motivation the Seminoles needed, outscoring  Canisius 41-20 from that point on, and ended up blowing out the Griffins.
Mfiondu Kabengele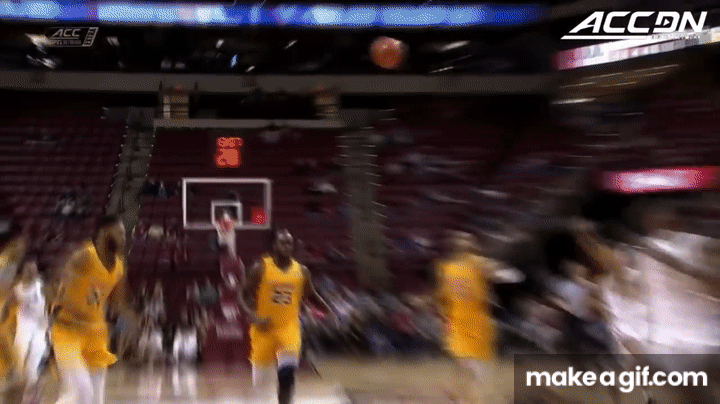 The sophomore forward did a great job of spacing the floor last night, and it led to million dollar finishes like the one above. He had ten points in the first half, and ended up with a career-high 18 points at the final buzzer. Just like the rest of his team, Kabengele aggressively attacked the glass, adding six rebounds to his stat line. Seeing younger players give this much production is a good sign for the 'Noles when they enter ACC play.
FSU Box Score
What we learned: Leonard Hamilton is still doing an great job of rotating a large amount of bodies on the floor. It doesn't matter who the opponent is, Ham will use everyone he can. Eleven 'Noles made the stat sheet and scored points last night. The Seminoles are long, athletic, and play at a fast pace, just as last year. They will be a problem for any team they play. The 'Noles still need to clean up the turnovers, as they had 15 tonight, but overall, this team should make a deep run in the tournament.
Keep the FQ experience ad-free
A voting ballot for our weekly top 25 FSU Twitter Poll
Weekly Game Previews
Weekly live chats in our Discord and YouTube Channels
Live Halftime Show