What amazing character, persistence, and integrity the Seminoles showed tonight. Last season against Boston College, they rolled over, quit, and took a beating in the fetal position. While tonight was (expectedly) ugly, filled with bad decisions, and nauseating, somehow the 'Noles found a way to win. We've spoken before about growing up and winning, and learning to win. Maybe, just maybe, this team is starting to figure out who they are.
Florida State seemed content with trading field goals for Boston College touchdowns, but they finally found the goal line late, and once they did, they kept finding it. So what went right, what went wrong? Can we keep the bowl streak alive?
The Good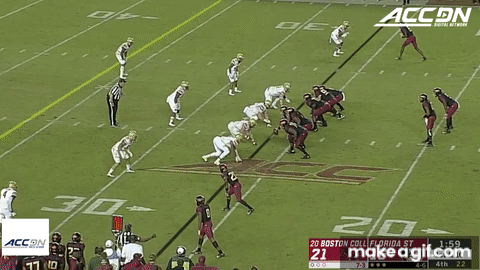 Tamorrion Terry keeps proving himself as the only vertical passing threat in Taggart's Gulf Coast Offense, as well as an incredible blocker. Without his toughness and vertical ability, FSU would only have 2 or 3 wins.
Deondre Francois was absolutely appalling in the passing game, but found his accuracy late. The called draw plays also worked very well, especially for a QB who otherwise refuses to run. The defensive line was so willing to get upfield on this pathetic excuse for an offensive line that they ran themselves out of the play every time.
Cam Akers hit the century mark today – he's showing flashes of his freshman year.
The 'Noles defense held AJ Dillon to 3.1 yards/carry, only 135 rushing yards total (excluding sacks), and picked off surprising starter Anthony Brown twice.
Good pressure on Anthony Brown – 2 sacks, 3 QB Hurries
FSU had a 100 yard rusher, 100 yard receiver, and a 300 yard passer.
Beat a ranked team for the first time since beating Michigan in the 2016 Orange Bowl
Kept the possibility of a bowl going.
The Bad
Secondary play, especially in the middle of the field. FSU played a lot of Cover 2 tonight, and most teams have been exposing the middle of the field against the 'Noles.
Jauan Williams play at right tackle was an abomination. Period. DE Zach Allen projects as a first-round pick, and he had his way with Williams all night long. When Williams was finally pulled, the protection immediately improved. We can only hope that Coach Frey can help Williams become a serviceable lineman during his time at FSU.
Special Teams. We had a field goal blocked and a punt that should have been blocked, not to mention a kickoff on the Eagles' last drive that was poorly covered.
The Ugly
Deondre Francois played one of the worst games of his career. His inaccuracy forced FSU to make a dramatic comeback. If he had played at a consistent level all game, Florida State would have won by 3 scores.
Let us know in the comments – what are the chances we beat Florida?
Keep the FQ experience ad-free
A voting ballot for our weekly top 25 FSU Twitter Poll
Weekly Game Previews
Weekly live chats in our Discord and YouTube Channels
Live Halftime Show