Image Credit: Melina Meyers USA Today
Can you repeat after me? "Five Times! Five Times in a row over the Gators!" Basketball has now joined football as sports boasting a five-game winning streak over the Lizards. Florida State came into a packed Donald L. Tucker center and annihiliated the Gators. Many expected the 'Noles to win but not to this extent. This was a good ol' fashioned beat down on the hardwood. While a great game for the Seminoles, they still have a lot of room to grow. After watching them play tonight, that might be the best news of all.
PJ Savoy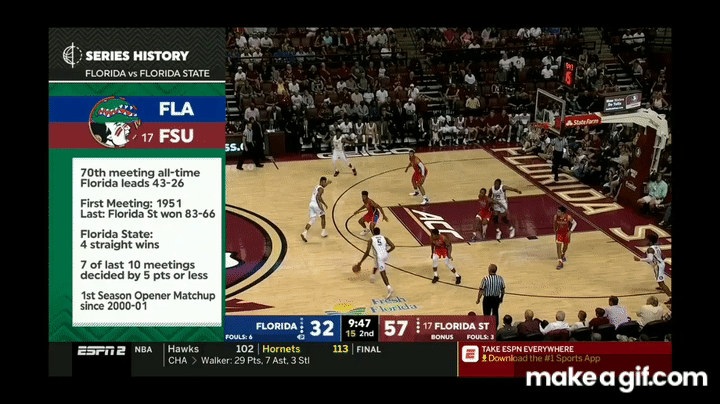 The guard from Las Vegas, Nevada started out with a bang in the season opener. PJ scored 20, going 5-7 beyond the arc and 5-8 at the charity stripe. The senior averaged 6.7 ppg last year, and we can only hope that he continues to produce on the level he showed tonight. While FSU has struggled to hit the three-ball in the past, they went 11-23 (47.8%) on the night.
Anecdotal Notes
Florida threw many different defenses to slow down the Florida State offense. FSU saw a half court press, 1-3-1 match up zone, and a lot of man defense. FSU's ability to score against so many different looks on defense is a preview of good things to come.
Christ Koumadje looks more comfortable on the offensive end than last season. The center also looks to be healed up from his foot injury and in better shape overall, seeing 21 minutes tonight, above last year's average of 16.
FSU was without its leading scorer from last year – Phil Cofer – and still put up big numbers.
Terrance Mann is fast, and continues to give Florida State an edge in the fast-break offense.
12 players scored tonight, and Coach Hamilton loves to rotate in as many players as he can.
Fun Facts
This was the fifth win in a row over Florida, extending an already series-long winning streak.
Head Coach Leonard Hamilton ranks #7 in the ACC for all time wins. He is now 26 wins away from entering the Top 5.
The #17 AP Ranking is the highest for a Florida State team since 1992 when they were ranked #9.
Join our Florida State Group Chat
CLICK HERE TO JOIN OUR FREE FSU GROUP CHAT ON THE DISCORD APP!