Photo courtesy of Mississippi State athletics
Rain, sleet and even some snow. Week 11 of the college football season had it all, but that didn't stop these performers from making their marks.
We look back on the five best performances from the week:
Honorable Mention – Hail Mary's
Hey @SportsCenter, we know what you're No. 1 play will be today 😎#MidcoSports | @SDcoyotes pic.twitter.com/0WsKHx12kq

— 📣 Midco Sports (@MidcoSports) November 13, 2021
God bless college football.
HOLY SHIT!!!!!! pic.twitter.com/T4xIyGvz9X

— Stu Whitney (@stuwhitney) November 13, 2021
5. Jonathan Garibay – K, Texas Tech
During a week in which Joey McGuire was welcomed as the next Texas Tech head coach, kicker Jonathan Garibay took it upon himself to one-up coach, nailing a game-winning, 62-yard field goal as time expired for a 41-38 win over Iowa State. #Kickersarepeopletoo
Inject this video into our veins pic.twitter.com/FLQr2mzSEt

— Texas Tech Red Raiders (@TechAthletics) November 14, 2021
The ball (and our hearts) will go on

Everything is better with Titanic music pic.twitter.com/hSt6ZxG1Eb

— Texas Tech Football (@TexasTechFB) November 14, 2021
Admittedly, this will likely be the only time a kicker, punter or any player on special teams gets mentioned on this list. Having said that, there was just no way Garibay could be left off after dropping our collective jaws to the floor.
4. Rachaad White – RB, Arizona State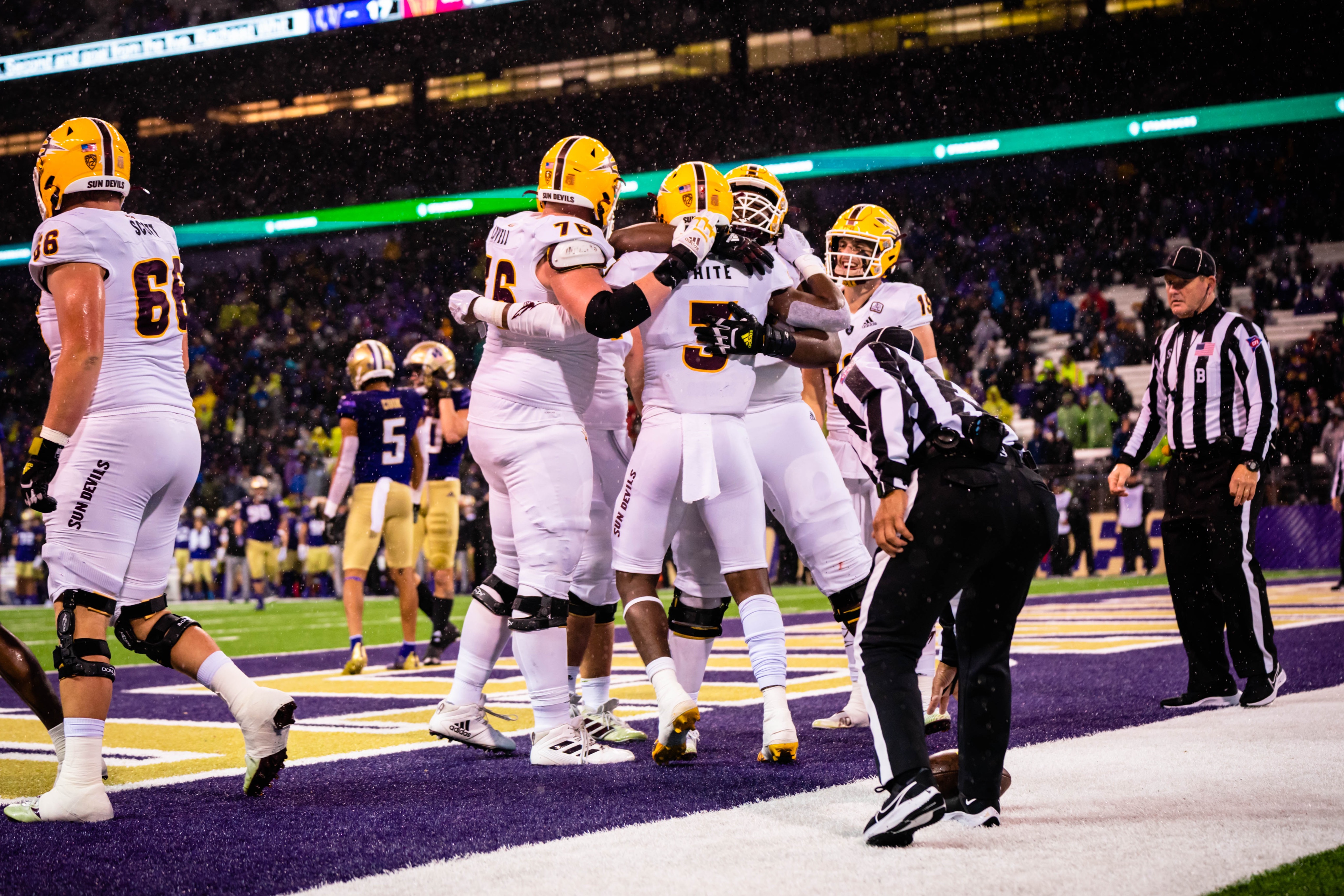 Photo courtesy of Arizona State athletics
Aforementioned at the top of thi's weeks column, Mother Nature was none too kind to Week 11 of the 2021 season. It started on Thursday night with a monsoon in Pittsburgh, continued on Saturday afternoon with snow flurries in Happy Valley and concluded with freezing rain in Seattle.
To some, this sounds like miserable conditions which provide an opportunity to stay indoors and put on comfy socks. To others, however, this is what we like to call, "football weather." These are the types of weekends where the men are separated from the boys.
Rachaad White runs it in and just like that @ASUFootball makes it a 3 point game! 🙌 pic.twitter.com/dsNy1u1jPW

— FOX College Football (@CFBONFOX) November 14, 2021
One of the men who separated himself Saturday night was Arizona State running back Rachaad White. White, a senior from Kansas City, Miss., is no stranger to playing in the freezing rain — even if he hadn't since high school. As the game against Washington progressed, it seemed as if White took it upon himself to show his sun-kissed teammate's that nights like these are where you earn your stripes.
By night's end, White had gathered 184 yards rushing to go along with two rushing scores and 53 receiving yards, which led the team in a 35-30 victory. There is tough, and then there is Rachaad White tough.
3. Ohio State's Offense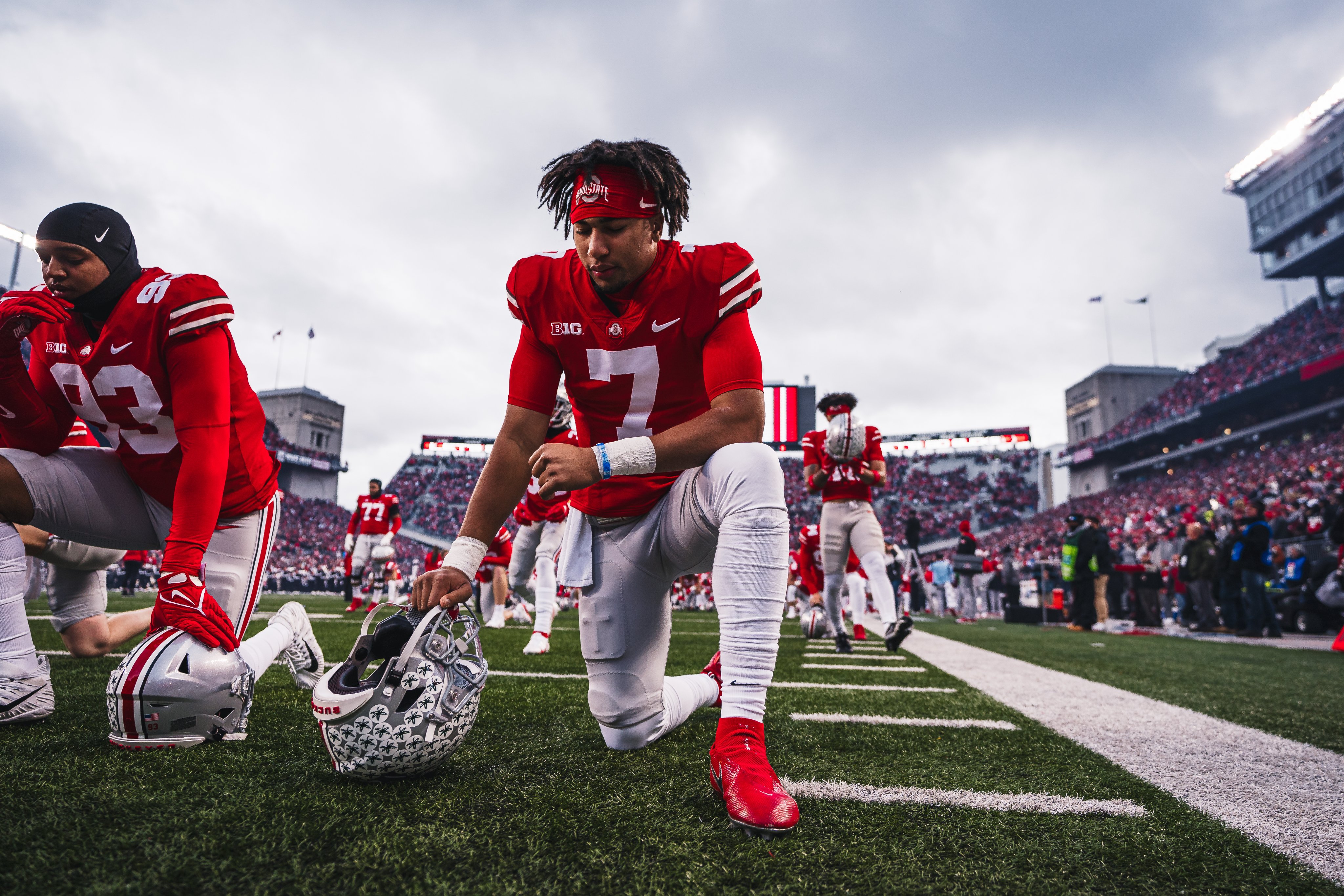 Photo courtesy of Ohio State athletics
Coming into Saturday afternoon's contest at the Horseshoe, Ohio State had won its last 27 Big Ten games. Ohio State however, had looked lackluster against Nebraska the week prior. Saturday's opponent, Purdue, had already beaten two top-5 programs this season. In Columbus on Saturday, this game was over before the ball had even left the toe.
There's 10:48 left in the 3Q.@GarrettWilson_V has 4 TDs, and counting. 😱 pic.twitter.com/OGiFF0w9Yt

— Big Ten Network (@BigTenNetwork) November 13, 2021
It's anyone's guess how Ohio State head coach Ryan Day does it, but it seems as if with each game he coaches, he becomes a stronger and more skill minded play-caller. Ohio State has won a lot of games over the years. Recalling a time where the Buckeyes clicked on offense the way they did on Saturday is tough.
For a program like Ohio State, that is saying something.
TreVeyon Henderson is the fastest man alive

— PFF College (@PFF_College) November 13, 2021
So just how good was the Buckeyes' offensive attack on Saturday? It scored touchdowns on its first six possessions and put up 59 points on 624 yards of total offense.
Not bad for a team on upset alert. Ohio State won, 59-31.
2. Bryce Young – QB, Alabama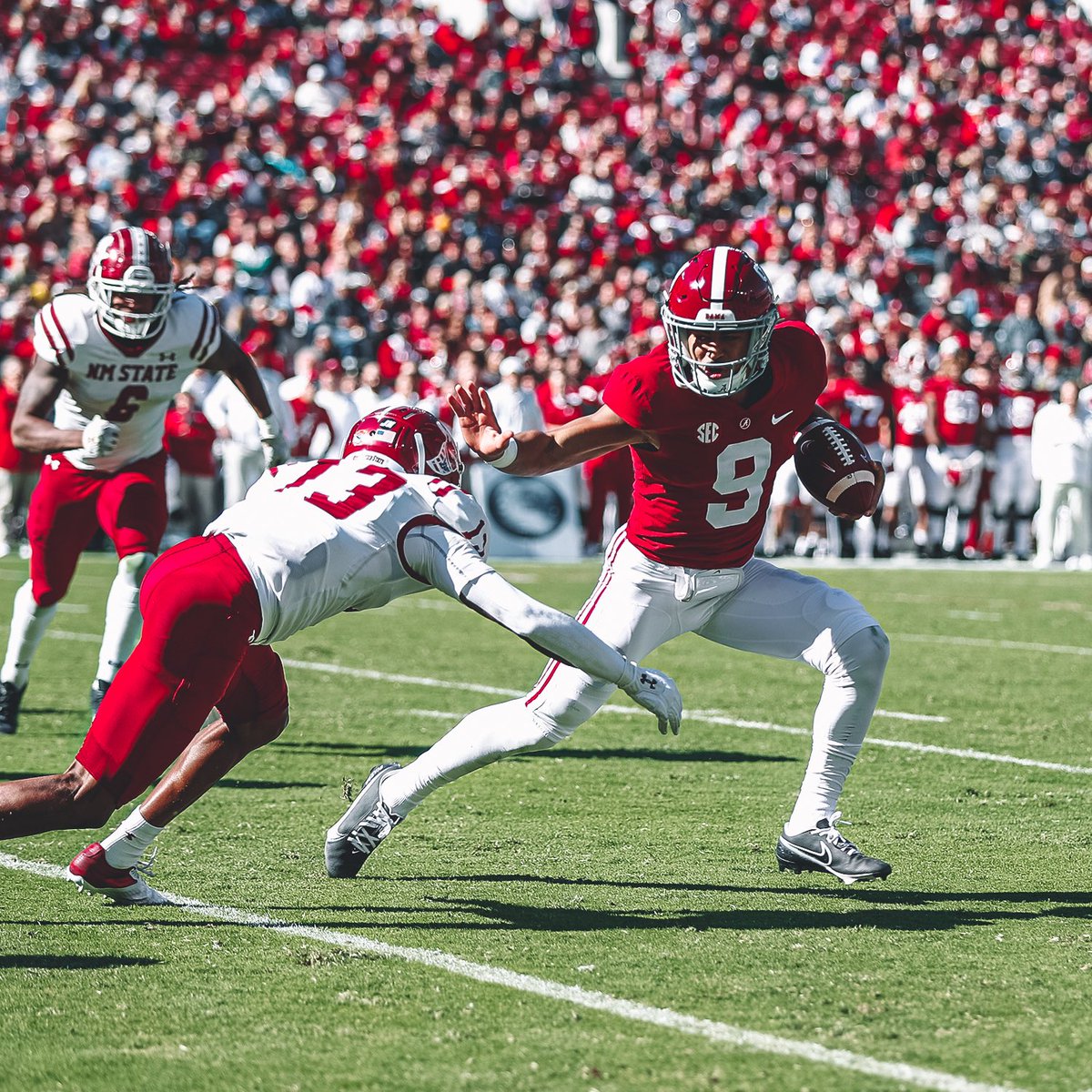 Photo courtesy of Alabama athletics
Before the keyboard warriors even start, let's explain. We don't care who Alabama played this week. It could have been Georgia or the Sisterhood of the Travelling Pants. After putting up an absolute snoozer a week ago against a brutal LSU team, the Crimson Tide needed to respond.
They did so in a big way.
There is a saying that goes, "desperate times call for desperate measures". In Tuscaloosa they (probably) said, "stagnant times call for us to turn to our Heisman quarterback."
Despite the fact that what Young accomplished on Saturday came against Roast Beef Tech — correction, New Mexico State — it was still wildly impressive nevertheless.
🐘 21/23
🐘 270 Pass Yds
🐘 5 TD

Bryce Young is the first player in @AlabamaFTBL history to throw 5 TD passes in a single half. pic.twitter.com/pZ1qMyOGtd

— SEC Network (@SECNetwork) November 13, 2021
In a 59-3 blowout win, Young continued to solidify himself as the favorite in the Heisman Trophy race, going 21-for-23 passing with 270 yards and five touchdown tosses. Additionally, Young became the first quarterback in school history to complete his first 13 passing attempts of the game and improved his overall QBR to an 86.9.
In your best Keith Jackson voice, can you say, "hello, Heisman"?
1. Will Rogers/The Air-Raid – Mississippi State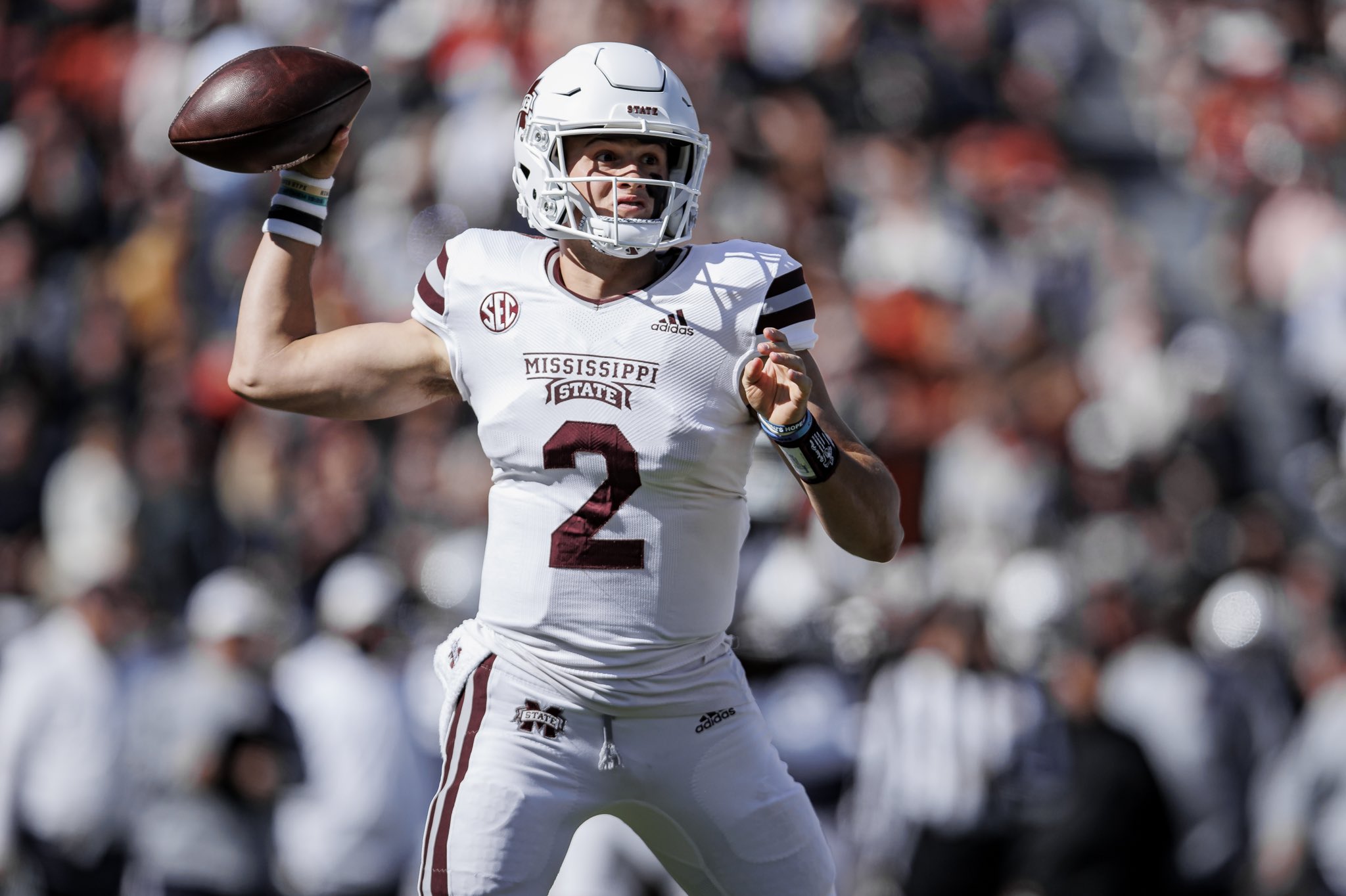 Photo courtesy of Mississippi State athletics
It was the second quarter at Jordan-Hare Stadium. Bo Nix had just found Kobe Hudson in the end zone for his second passing touchdown of the game. The scoreboard now read: Auburn 28, Mississippi State 3.
For all intents and purposes, the Tiger faithful should have headed back to their tailgates at halftime to start the celebration early. This puppy was all but over.
Or was it?
It can be argued that Mississippi State head coach Mike Leach created the air-raid offense for a multitude of reasons. Maybe — just maybe — the air-raid was born for moments like these. The offense allows teams to score quick and get more plays than it would under a normal pace.
https://twitter.com/FTBVids_YT/status/1459620196876894210?s=20
As quarterback Will Rogers began to light it up in the second half, it was as if Mary Shelley's creation (Halloween is over, but we still hope you get the reference) was coming to life right in front of our eyes.
The 28-3 lead for Auburn quickly shrunk into a 28-23 barn burner. Before those on the plains knew it, it became a 43-34 defeat. All hail the air-raid!
This is a 𝙜𝙧𝙚𝙖𝙩 win! #HailState🐶 pic.twitter.com/NuY4rq1Bll

— Mississippi State Football (@HailStateFB) November 14, 2021
Rogers' postgame stat-line highlights the brilliance of the air-raid. Becoming Leach's starting quarterback is an endorsement to lead the country in passing attempts and yards most weeks.
When you see a final stat sheet that reads 44-for-55 passing, 415 passing yards and six touchdown tosses, it is hard not to buy what he is selling.