Photo courtesy of Tennessee athletics
For various reasons, this will be the toughest rankings thus far this year. We understand that there may be some pushback for this one, but it's all in the love of the game.
Without further ado, here's a look back at the top five atmospheres from Week 7:
Honorable Mention – Alumni Stadium
ALUMNI IS LIT!!! 🔥🔥🔥 pic.twitter.com/jRXTASN54a

— Boston College Football (@BCFootball) October 17, 2021
So what? We like a student section singing in harmony to Mr. Brightside way more than we should.
5. Tiger Stadium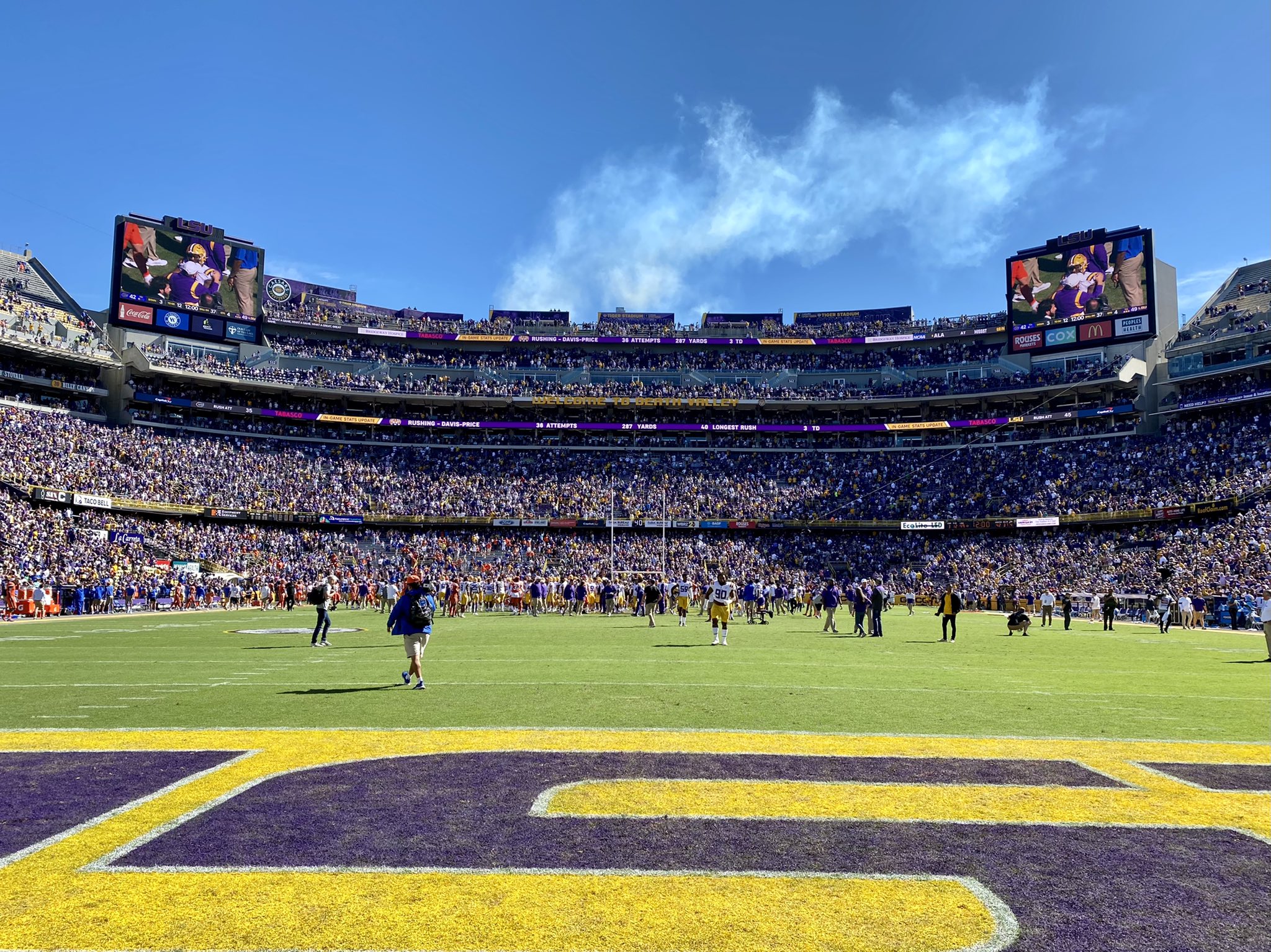 Photo credit: Emily Villere Dixon/LSU athletics
Although it must have been a slap in the face that LSU was scheduled to play at 11 a.m. CT during Florida week, you have to give credit to the Tiger fans for settling their alarm clocks and answering the early call.
Thank you to everyone that believed in the Tigers. Saturday was special 🙌 pic.twitter.com/epDzytrUXM

— LSU Football (@LSUfootball) October 17, 2021
4. Sanford Stadium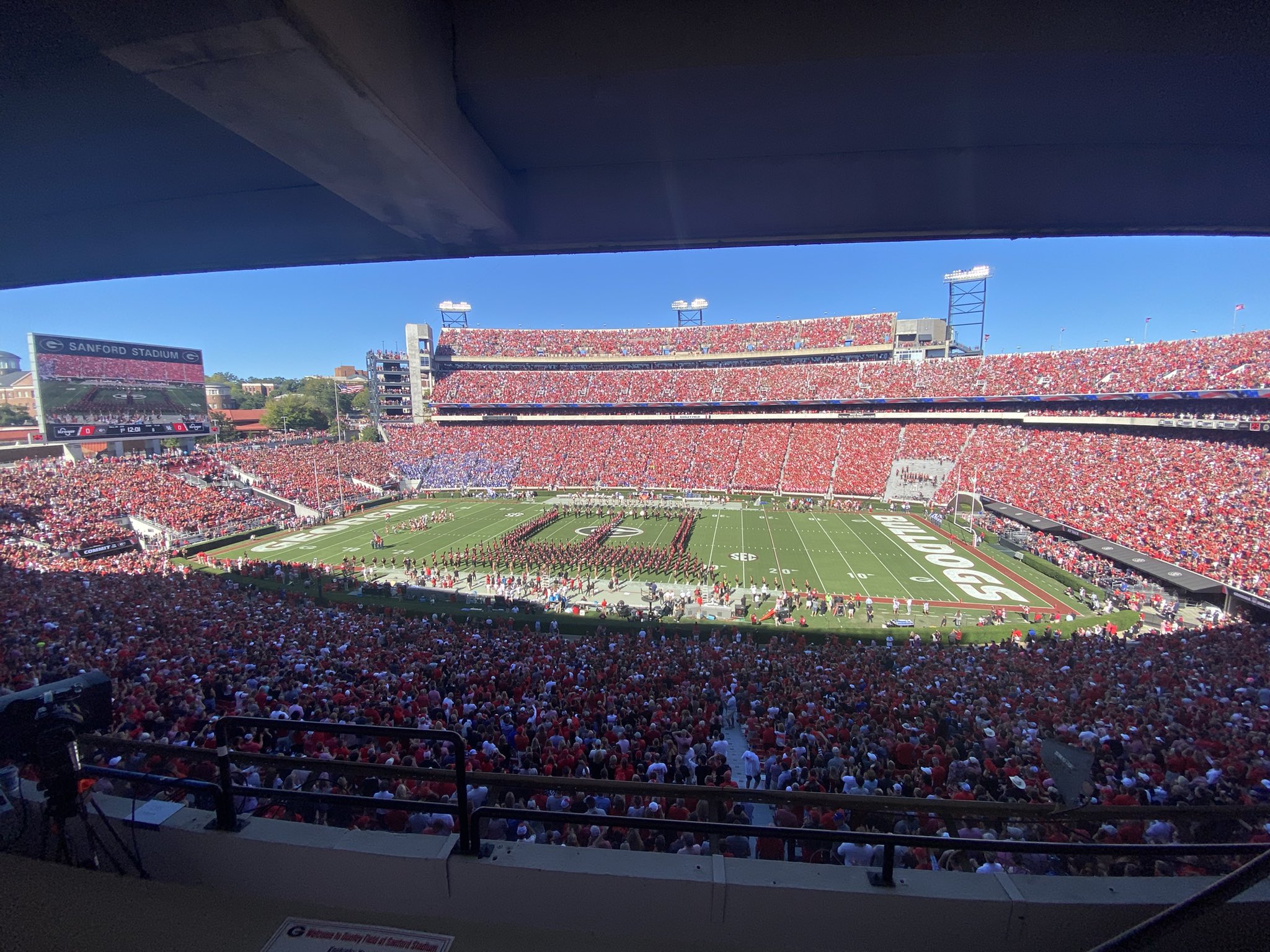 Photo credit: Hunter Shelton
Sanford Stadium: where dreams come to die.
Que Will Levis quote.
"This is the thing that you dream of."

6-0 @UKFootball facing 6-0 Georgia in Sanford Stadium. @will_levis can't wait. #SECThisMorning pic.twitter.com/tqJ5xJE4j5

— SEC Network (@SECNetwork) October 11, 2021
Sure, Will. Whatever you say.
It's very loud in Sanford Stadium. Just hit 100.3 decibels. #UGA @11AliveNews pic.twitter.com/wSd6DUz8iS

— Reggie Chatman Jr. (@ReggieChatman) October 16, 2021
They are doing the Wave in Sanford Stadium and fans are LOUDLY booing the Kentucky fan section for not doing it with them.

Georgia leads 24-7 in the 4th. @11AliveNews pic.twitter.com/1pbMSOBPR5

— Reggie Chatman Jr. (@ReggieChatman) October 16, 2021
3. Neyland Stadium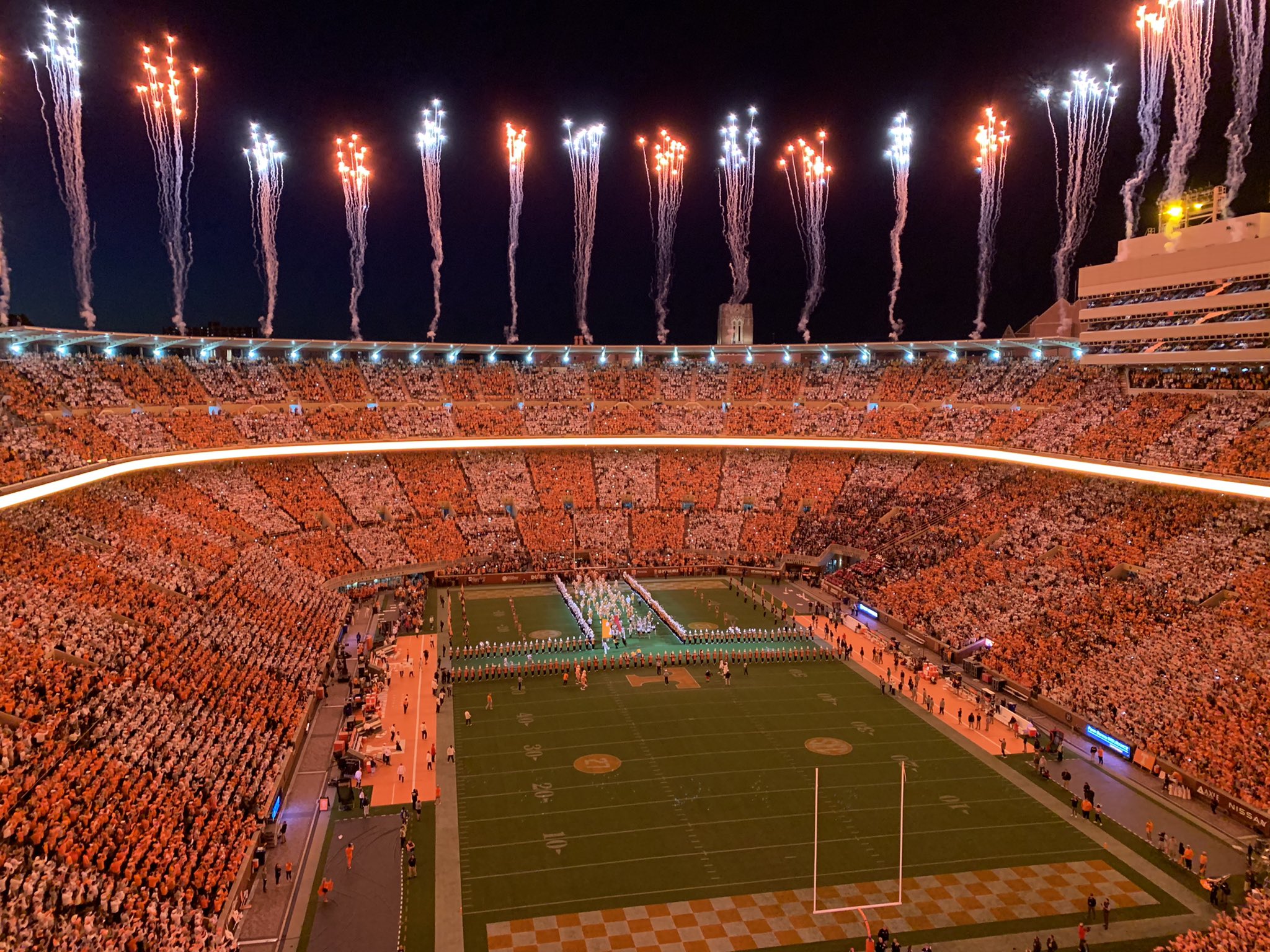 Photo credit: Swagger of Tennessee
Here is where things begin to get tricky. There is no denying that Neyland Stadium was a special place on Saturday night. Some may even argue that it would compete for atmosphere of the year.
If you were to look at some of the sights and the sounds that came out of Knoxville over the first three quarters of the game, it would be hard to argue that this stage didn't, at the minimum, earn the top spot on this week's list.
https://twitter.com/CasonAllen14/status/1449869511943933961?s=20
Neyland Stadium didn't disappoint.

Holy shit, Tennessee. pic.twitter.com/9t9tzG4m3E

— Trey Wallace (@TreyWallace_) October 16, 2021
Then, things hit the fan…literally. Due to some intoxicated patrons and a few questionable calls, trash began falling from the stands onto the field and in the direction of the Ole Miss sidelines.
Things got so threatening in fact, that Tennessee security asked both bands and both cheerleading squads to exit the playing field for their own safety. It was an ugly end to a memorable night and as a result, we're penalizing Neyland's spot on this list two notches down. And honestly, that is being a little generous.
An embarrassing way to end this sellout in Neyland Stadium. Fans throw trash onto the field and postpone the game for quite some time after a controversial fourth down call in the fourth quarter. pic.twitter.com/lr9md1uraN

— Karthik Venkataraman (@KarthikV_) October 17, 2021
WATCH: Lane Kiffin exits Neyland Stadium with profanities yelled by fans and trash thrown his way. He waves, tosses his visor to the stands. pic.twitter.com/I2dUxt1JHe

— Karthik Venkataraman (@KarthikV_) October 17, 2021
2. Rice-Eccles Stadium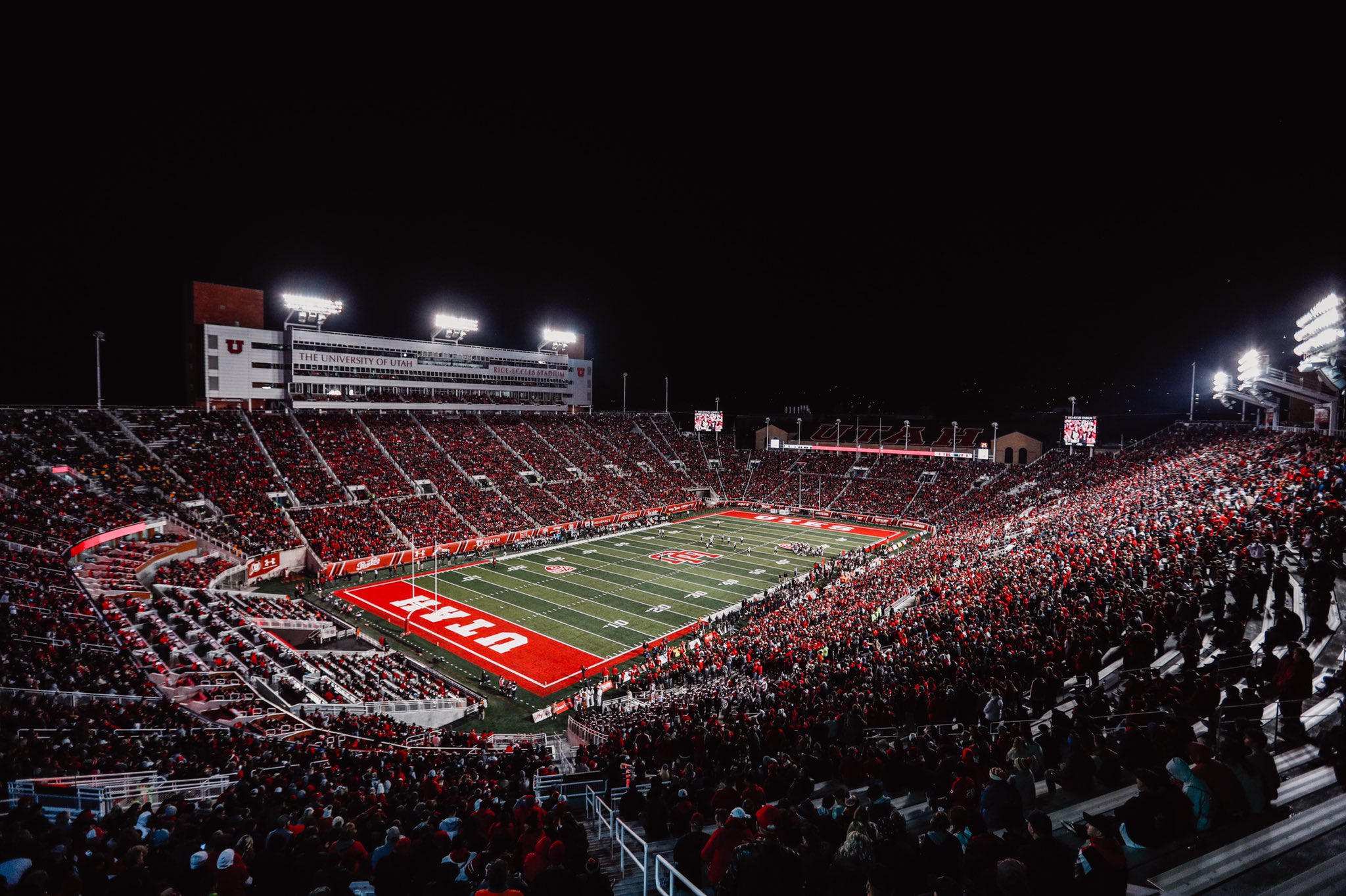 Photo courtesy of Utah athletics
There wasn't a dry eye in the house on Saturday night as Utah honored former players, Ty Jordan and Aaron Lowe. #22forever
Last night, between the 3rd & 4th quarter, we asked that you smile. Smile & cheer for Aaron and Ty. We'll never forget that moment, just as we'll never forget them.

Here's the video that played, along with footage of the moment of loudness for the lives of Aaron & Ty. #22forever pic.twitter.com/0muzgkeeXb

— Utah Football (@Utah_Football) October 17, 2021
#22forever and ever pic.twitter.com/aRpmJNgRJ5

— Utah Football (@Utah_Football) October 17, 2021
1. Nippert Stadium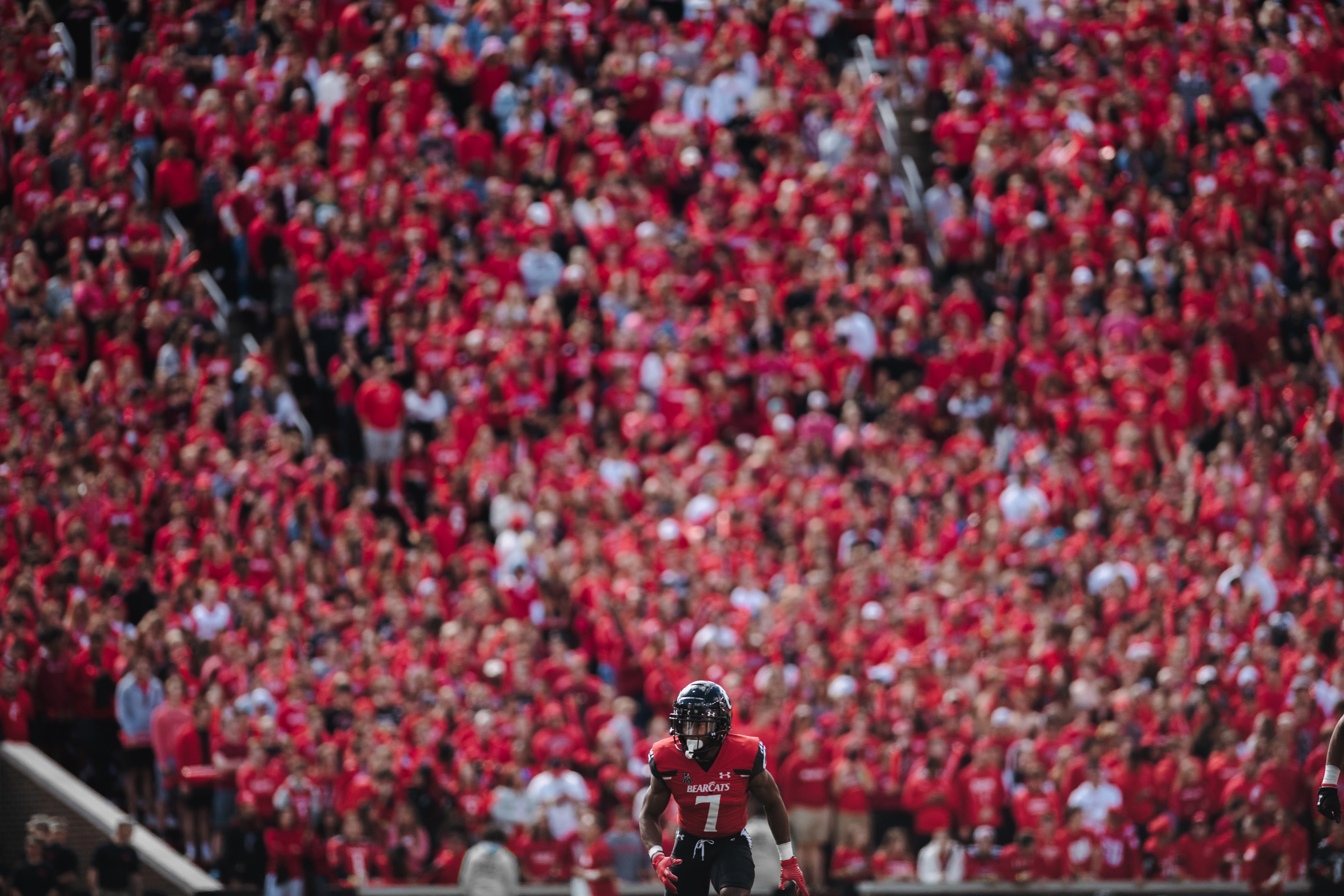 Photo courtesy of Cincinnati athletics
We've said it before and we'll say it again: Cincinnati has the most underrated fans in college football. #Bamawantsus
🔴 DOWN THE DRIVE 🔴 pic.twitter.com/qt0X3PdkT4

— Cincinnati Bearcats (@GoBEARCATS) October 16, 2021
🗣 YOU GOT TO PUMP IT UP@BearcatsRuckus pic.twitter.com/m6NpTNYYrM

— Cincinnati Bearcats (@GoBEARCATS) October 16, 2021