5. Felix Anudike-Uzomah – DE, Kansas State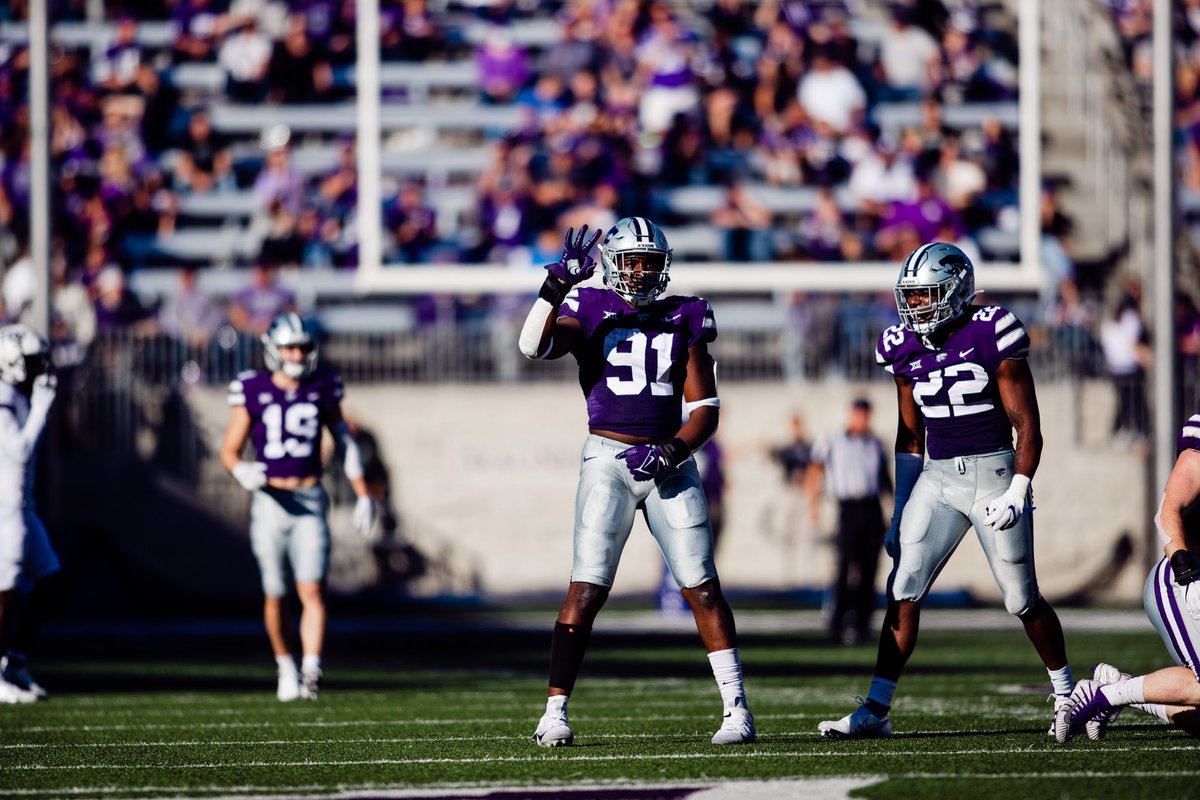 Photo courtesy of Big 12 Conference
More often than not, it's the offensive players that get the recognition here. The performance from Kansas State defensive end Felix Anudike-Uzomah on Saturday however, should not go unnoticed.
In a 31-12 win over TCU, Anudike-Uzomah made the moment his. The sophomore collected eight tackles to go along with two forced fumbles and four sacks. Anudike-Uzomah nearly had two more sacks, but those tackles were made just beyond the line of scrimmage.
4. Sam Hartman – QB, Wake Forest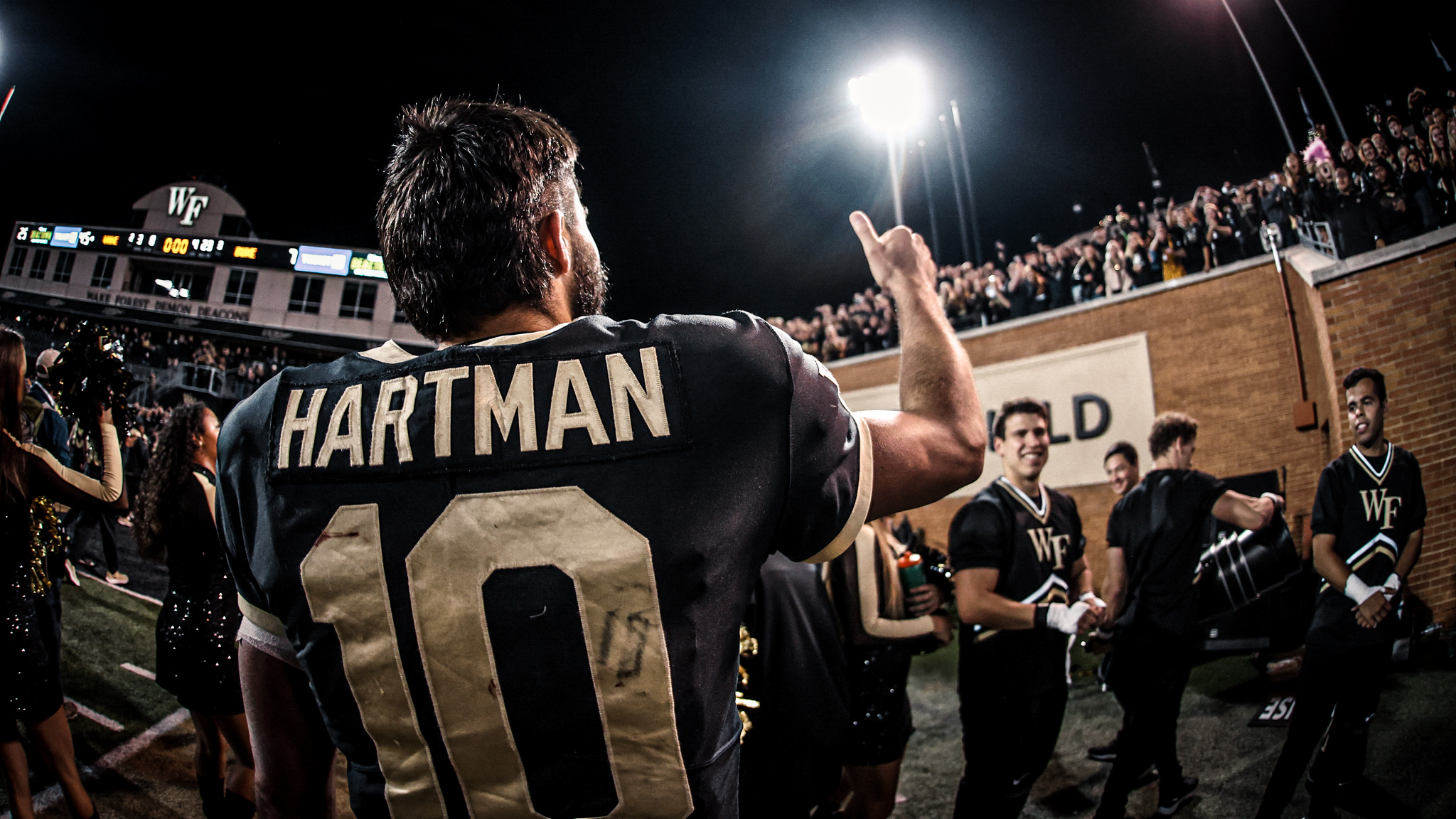 Photo courtesy of Wake Forest athletics
He's back! Sam Hartman and the Wake Forest Demon Deacons may be the best story of 2021. After Saturday's dominating 45-7 win against Duke, the Deacs moved to 8-0 for the first time in program history and have a serious shot of cracking the top 10 come Tuesday night's inaugural edition of the 2021 College Football Playoff rankings.
Who would've thought?
Make no mistake about it: Wake Forest is having a magical year thanks largely to Sam Hartman having a Heisman Trophy-caliber season. The 22-year-old North Carolina native, who grew up with a passion for football and fishing, finds himself in the top 10 nationally in passing yards, touchdown passes and QBR.
In a blowout victory on Saturday, Hartman looked about as dominant as Muhammad Ali on fight night, going 24-for-37 with 402 yards passing. Hartman threw for three touchdowns and added two more on the ground.
For those keeping score at home, that marks 11 total touchdowns for the sophomore gunslinger in just the last two weeks. Hartman better book that plane ticket to New York City now.
3. Caleb Williams – QB, Oklahoma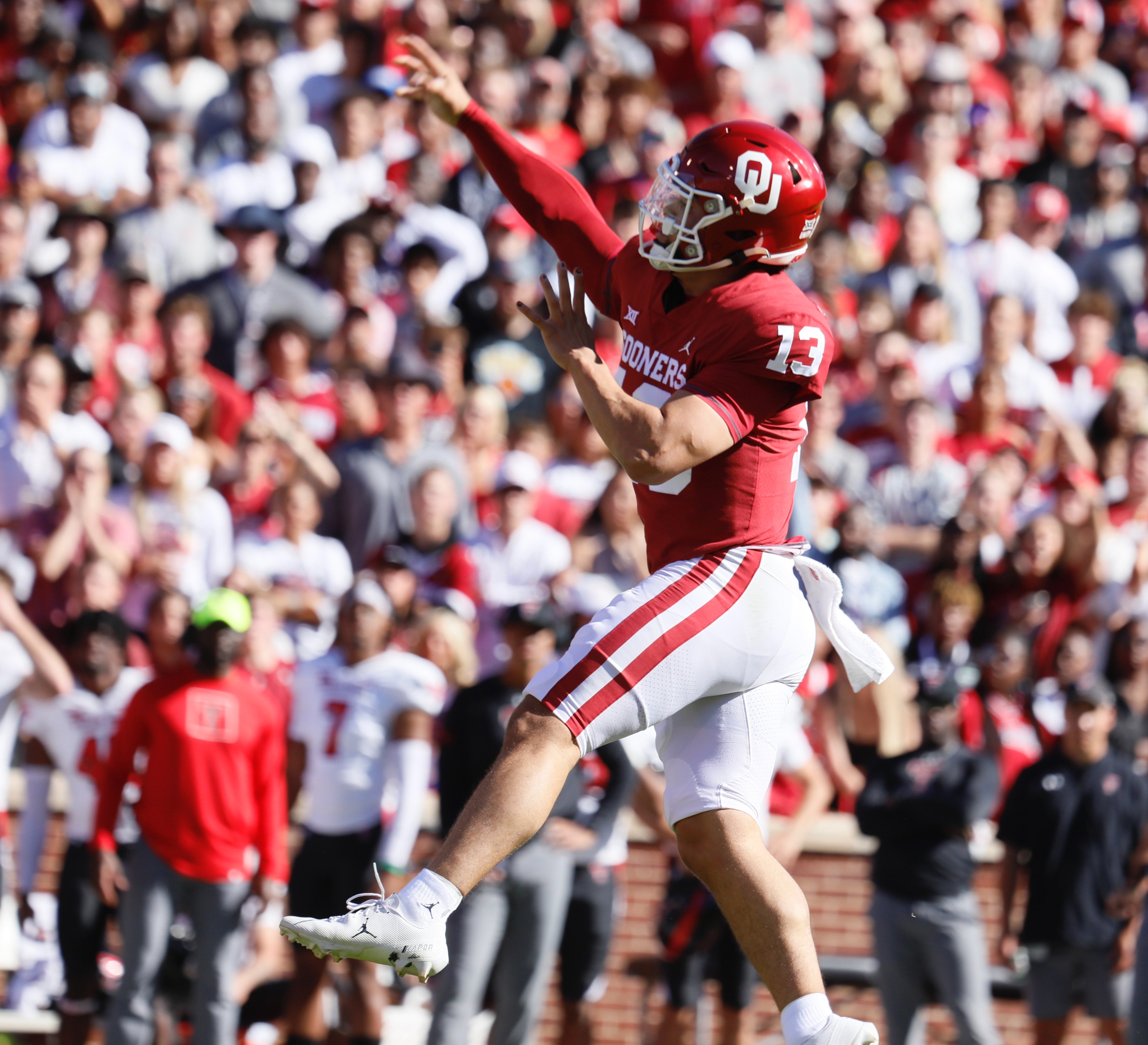 Photo courtesy of Oklahoma athletics
Pressure. It is a word that has followed quarterback Caleb Williams ever since he stepped onto the field during one of nation's biggest rivalry games. At just 19 years old, Williams should not have to face the pressures that are put on him on a weekly basis.
The true freshman from the nation's capital is not yet old enough to order a drink, but is asked to be the leader of one of college football's most lucrative enterprises, and captains a ship that is watched under a microscope by millions of people around the country.
Now, it can be said that there are two types of people in this world: The one's who crack under pressure and the ones who rise. There really isn't an in between. On Saturday afternoon, Williams took that pressure, put it in his back pocket, did a dance on it and ate it for lunch.
As the Sooners walked off the field Saturday afternoon, victors over Texas Tech by the score of 52-21, Williams had done what few other Sooners had ever accomplished before, setting the school record for most touchdown passes by a true freshman with six as well as the most passing yards by a true freshman in a half with 268. He finished with 402 yards through the air.
Williams' legend lives on for yet another week.
2. Kenneth Walker III – RB, Michigan State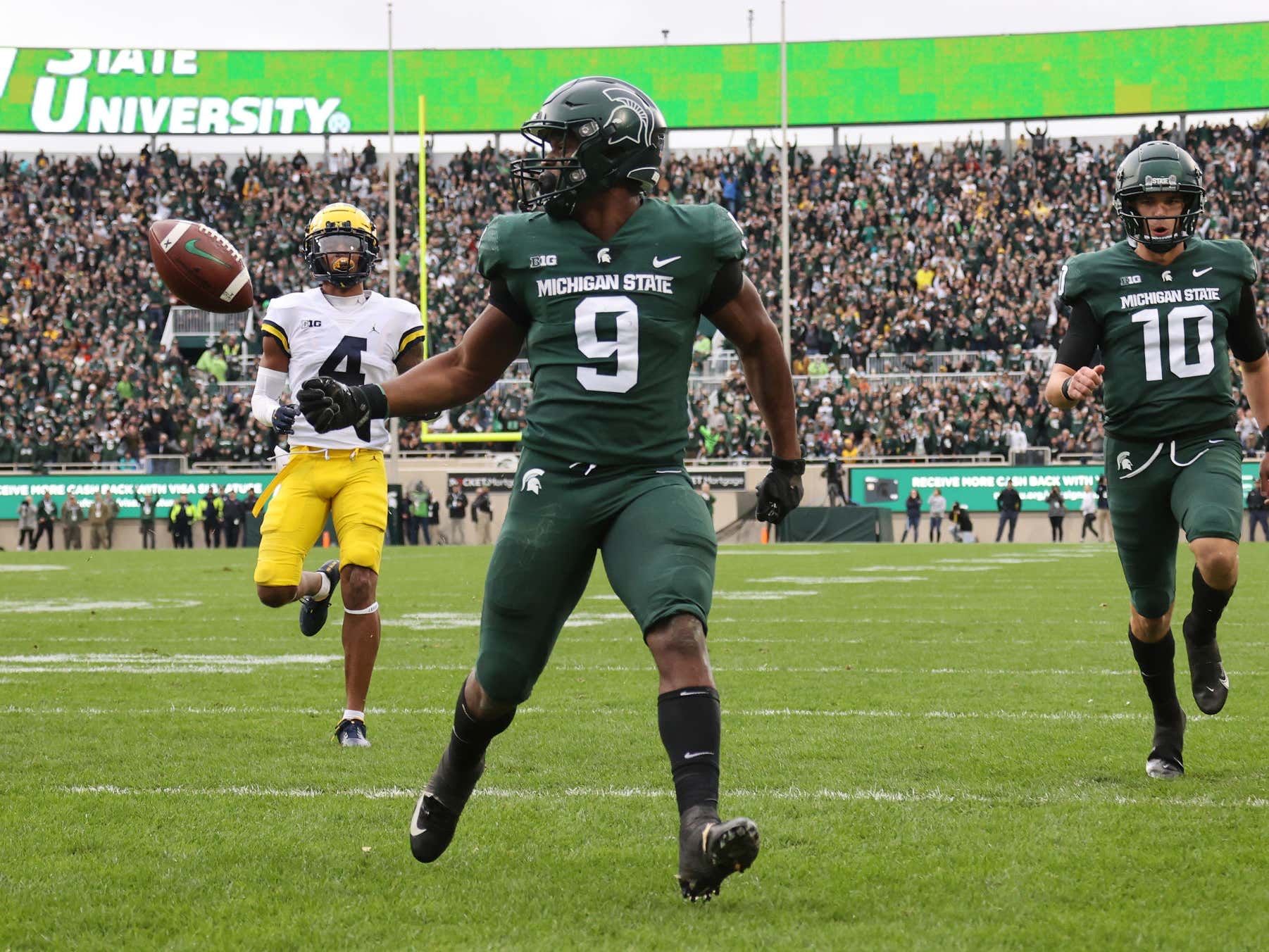 Photo courtesy of Michigan State athletics
It is a rivalry that dates back to 1898. The battle for the Paul Bunyan – Governor of Michigan Trophy is a tradition that stands still. It is a game made up of bad blood and bragging rights. When the bullies from Ann Arbor meet their "little brothers" from East Lansing, things become personal…fast.
This year did not disappoint.
It was as if you were watching a title fight: Two boxers going blow for blow, neither willing to give in. In what was the first matchup since the 1960s, in which Michigan and Michigan State met as top-10 teams, fans were treated to one of the greatest games in the rivalry's decorated history.
"Helllloooo, New York!"
These were the words that could be heard around valleys far and wide as FOX's Gus Johnson called Kenneth Walker's fifth rushing touchdown of the day. Walker, who was a mere shadow at Wake Forest just a year ago, was now on college footballs biggest stage, shining amongst the brightest lights.
As the clock hit zero, the Spartans retained the Paul Bunyan – Governor of Michigan Trophy for the second straight year, winning, 37-33. Walker, who rushed for 197 yards to go along with the five scores, cemented himself as not only a participant in the Heisman Trophy race but a favorite.
Sometimes, it pays to be the little brother.
1. Tyler Allgeier – RB, BYU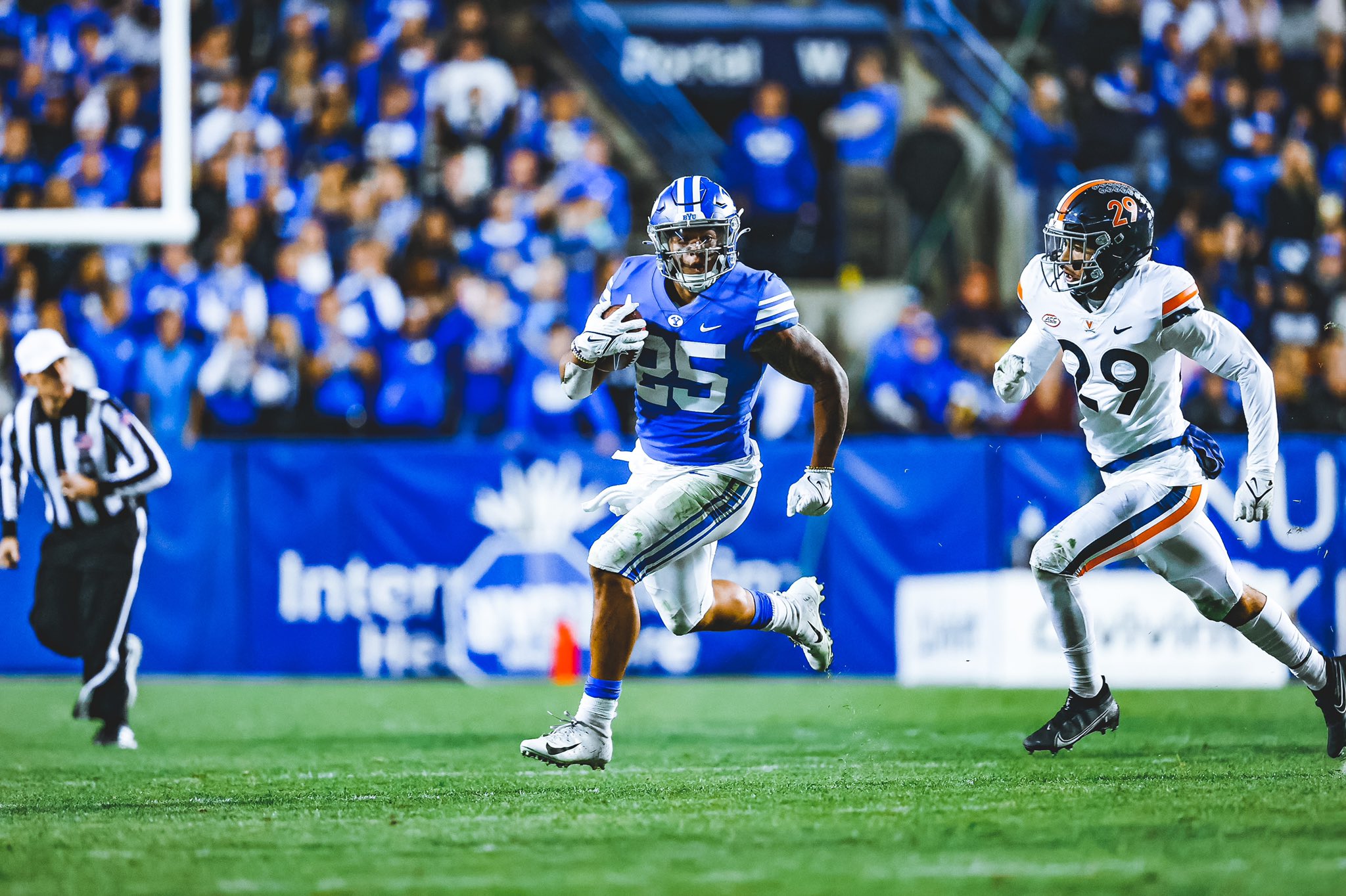 Photo courtesy of BYU athletics
It was a game that ended at nearly 3 a.m. on the East Coast, but was worth every minute of the morning hangover. What transpired during Saturday night's matchup between Virginia and BYU can only be described as pure chaos. 115 combined points, 1,322 total yards, 601 combined rushing yards, 63 total first downs….madness.
Pure madness.
Still, nothing mentioned above was the most impressive part of Saturday's slugfest.
There are good days, there are great days and then there is whatever BYU running back Tyler Allgeier was able to accomplish on Saturday night. Allgeier, who had surpassed the 100-yard mark three times this season coming into this matchup, found a third gear. He rushed for 266 yards on 29 carries to go along with five rushing touchdowns.
Who knows? Maybe it was the fact that this game ended om Halloween, but nothing about this game made sense. But hey, that's college football in a nutshell — where the unexpected becomes the norm.