Photo courtesy of LSU athletics
What a week in college football it was: Two top-10 matchups and plenty of other drama scattered across the nation.
With fans packing in stadiums from the regions of Baton Rouge, to the valleys of Coral Gables, lets take a look to see which five atmospheres were the best during Week 5:
Honorable Mention – The UC Takeover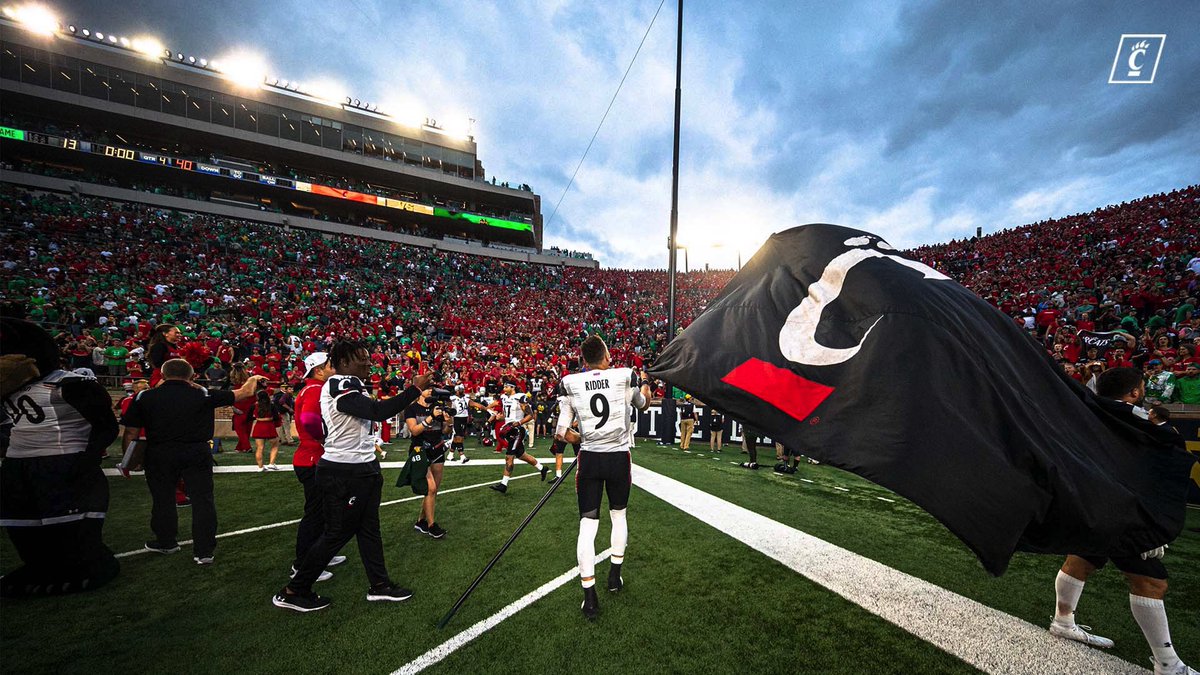 Photo courtesy of Cincinnati athletics
We may not have seen a fan base this year that has traveled as well as the Cincinnati faithful. What a scene it was in South Bend:
"Let's go Bearcats."

UC fans are loud inside Notre Dame Stadium. pic.twitter.com/rH4vKlQcaP

— Caleb Noe (@CalebNoeTV) October 2, 2021
This is beautiful… Cincinnati celebrating the biggest win in UC football history at Notre Dame. #Bearcats pic.twitter.com/jH1tcj3fGk

— Brandon Saho (@BrandonSaho) October 2, 2021
5. Kroger Field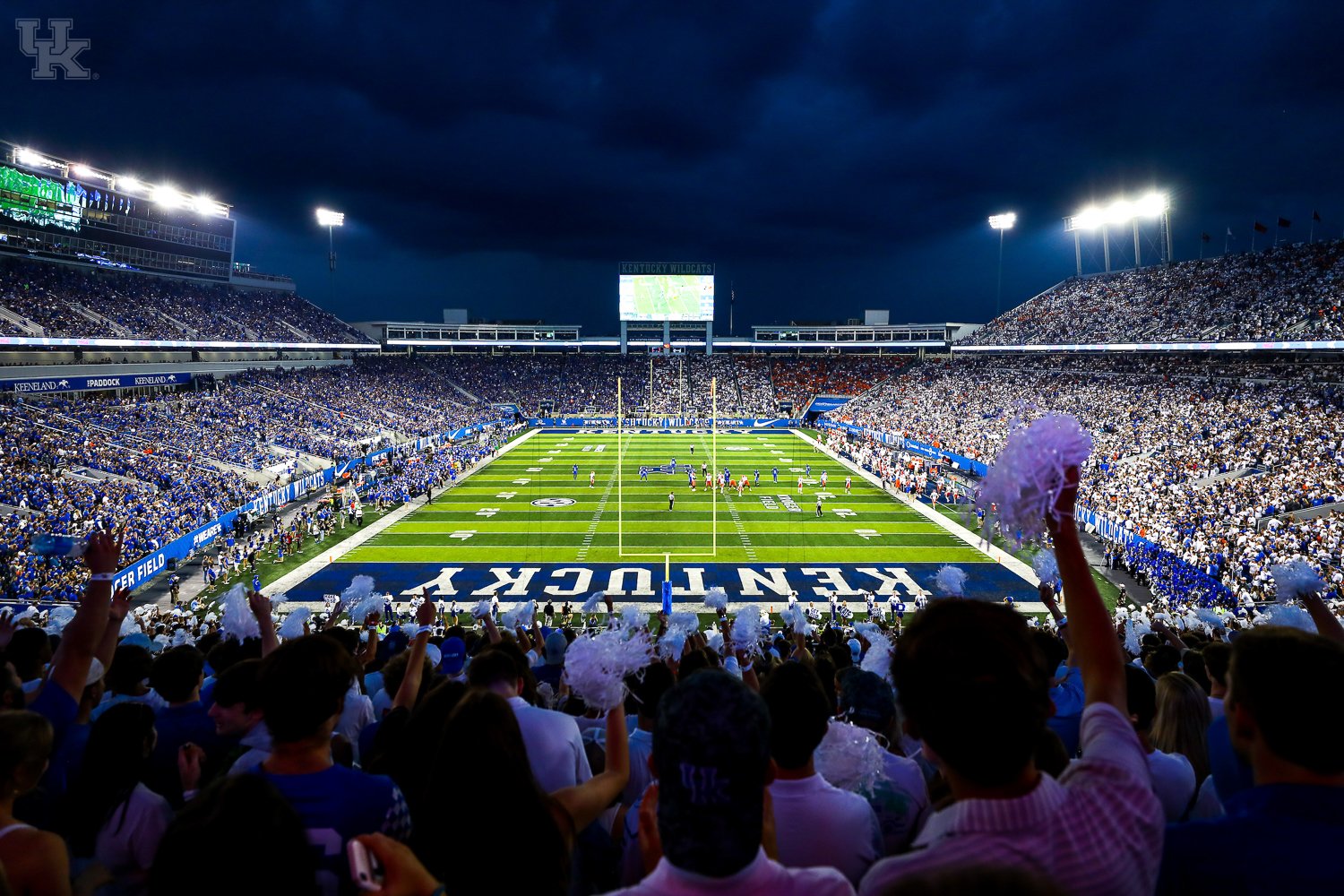 Photo courtesy of Kentucky athletics
In 2018, Kentucky went into "The Swamp" and defeated Florida, 27-16. It was the Wildcats' first win against Florida since 1986 and snapped a losing streak of 31 games to the Gators.
Fast forward to Saturday night: the Wildcats defeated the 10th-ranked Gators 20-13. It served as their first home win over Florida since 1986. How can you not be romantic about college football?
"Thank you #BBN, that's for you! They really showed up in a big, big way today."

🗣 @UKCoachStoops | #ForTheTeam 😼🏈 pic.twitter.com/Bl6LofNpmu

— Kentucky Football (@UKFootball) October 3, 2021
Another shot of the complete madness at Kroger Field right now pic.twitter.com/tlLEzGfnCl

— Barkley Truax (@BarkleyTruax) October 3, 2021
4. Beaver Stadium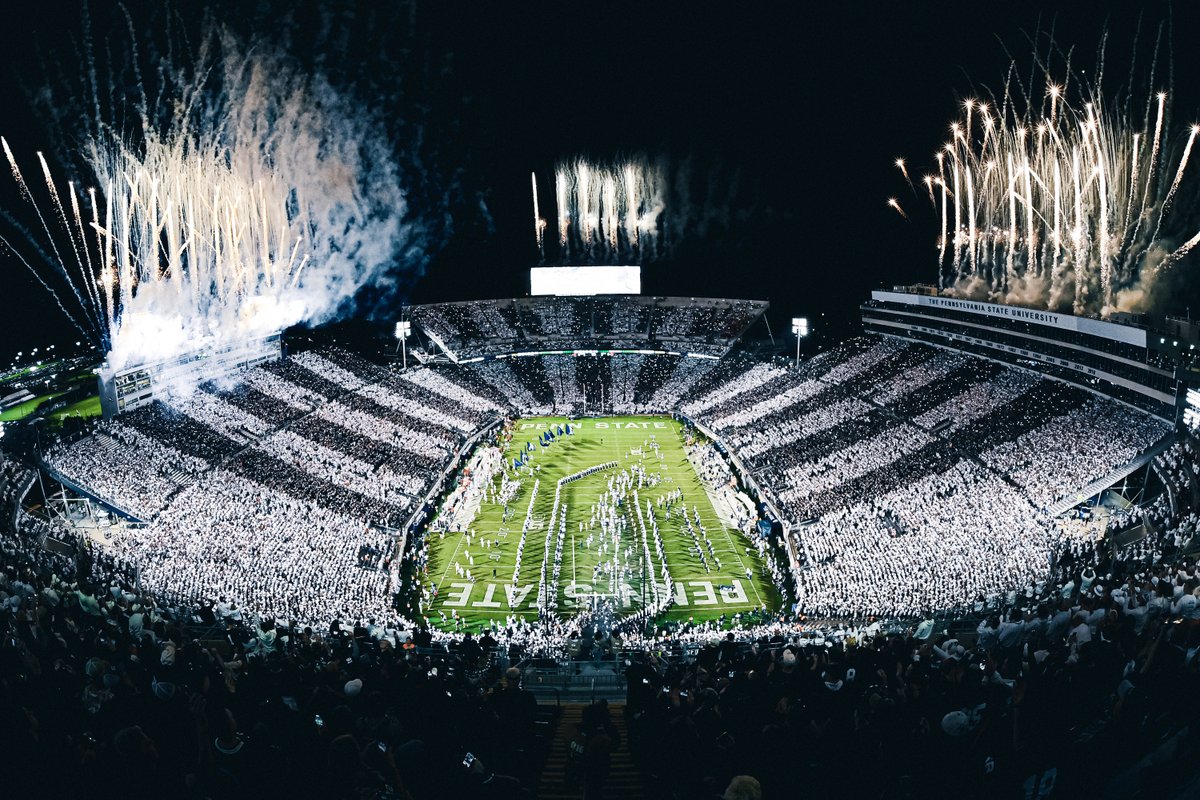 Photo courtesy of Penn State Athletics
It's hard not to be impressed with the coordination that goes on with a well-executed stripe out. Think about it. To have this work, you need 50,000 people to show up to the stadium/tailgate wearing one color, and 50,000 wearing the other. There is a ton that could go wrong there.
PSU nailed the entrance again tonight pic.twitter.com/GntMJh3pid

— Audrey Snyder (@audsnyder4) October 2, 2021
Night games in Beaver Stadium. Never gets old @PennStateFball! #WeAre pic.twitter.com/vGidTl8ZNf

— Mitch Gerber (@MitchGerber) October 3, 2021
3. Sanford Stadium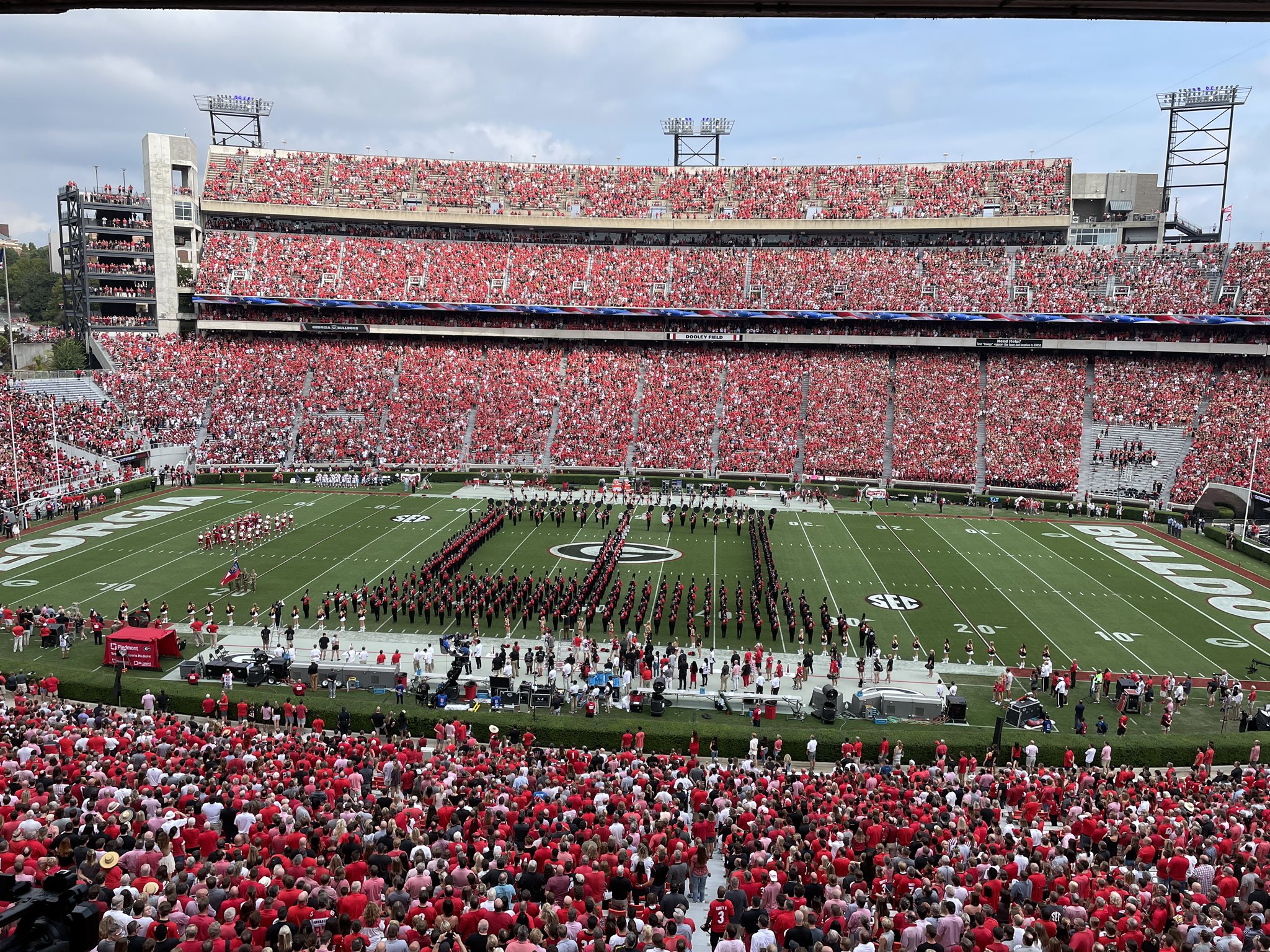 Photo credit: Matt DeBarny
The energy coming out of Sanford Stadium for a noon ET kickoff was uncanny. You ever want to know what it's like to feel the true passion of college football? Make your way down to SEC country for a Saturday in the fall.
The crowd in Athens is feeling it‼️ pic.twitter.com/UzcBTVAe1O

— College GameDay (@CollegeGameDay) October 2, 2021
2. Bryant-Denny Stadium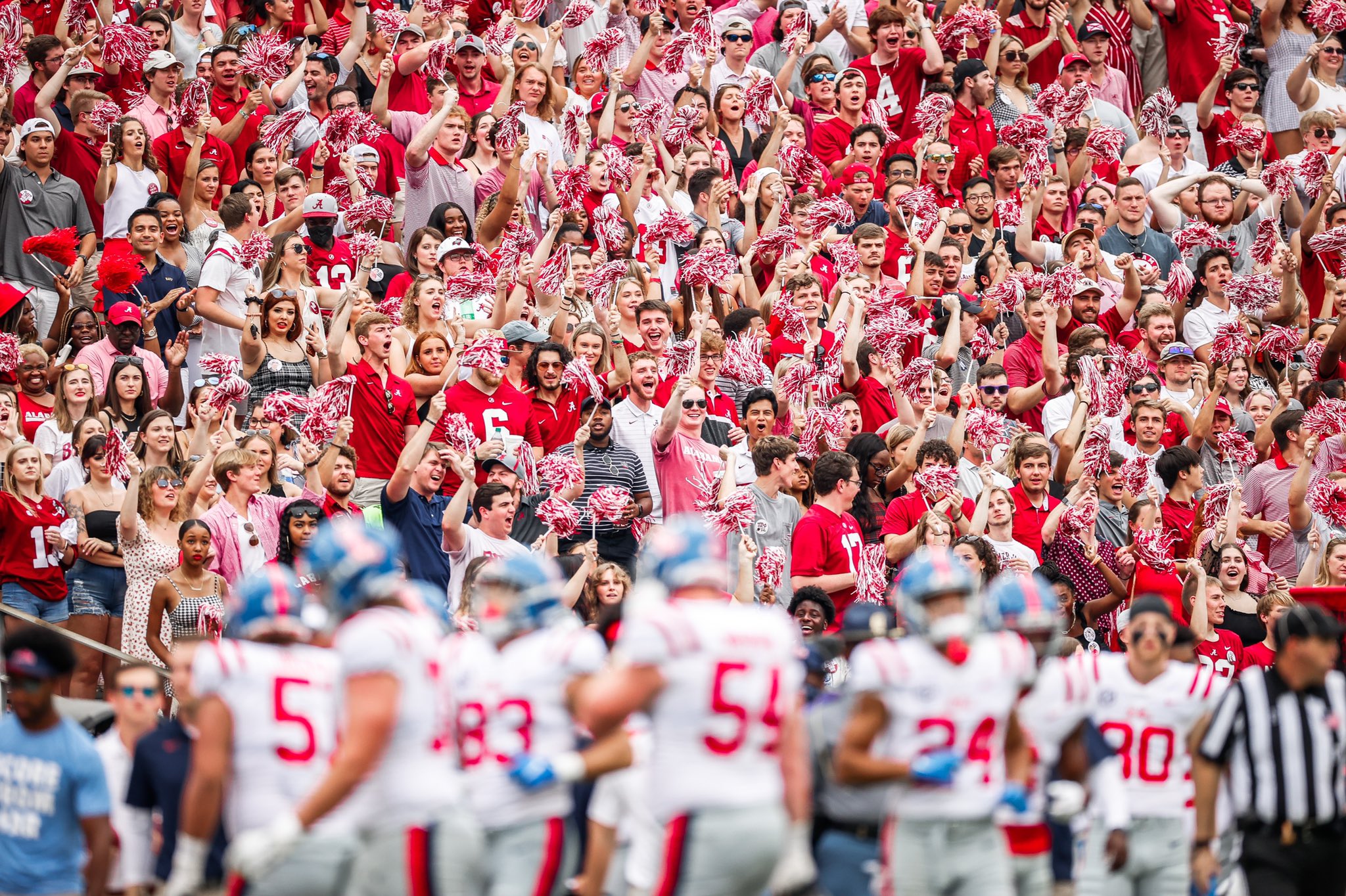 Photo courtesy of Alabama athletics
Ole Miss head coach Lane Kiffin didn't seriously think he was going to take his team into Bryant-Denny and come away with a win, knowing that Alabama was 84-5 at home since 2008.
Dixieland Delight in Bryant-Denny Stadium with Alabama up, 42-7, over Ole Miss and a 19th consecutive win nearing. pic.twitter.com/0clZs6vyhX

— Mike Rodak (@mikerodak) October 3, 2021
Clocking in.

Watch Walk of Champions with @aldotcom #RollTide | #BamaGameday https://t.co/26ODhplhCN

— Alabama Athletics (@UA_Athletics) October 2, 2021
Did he?
Rammer Jammer after Alabama beats Ole Miss, 42-21. pic.twitter.com/nFwOrbFPWg

— Mike Rodak (@mikerodak) October 2, 2021
1. Tiger Stadium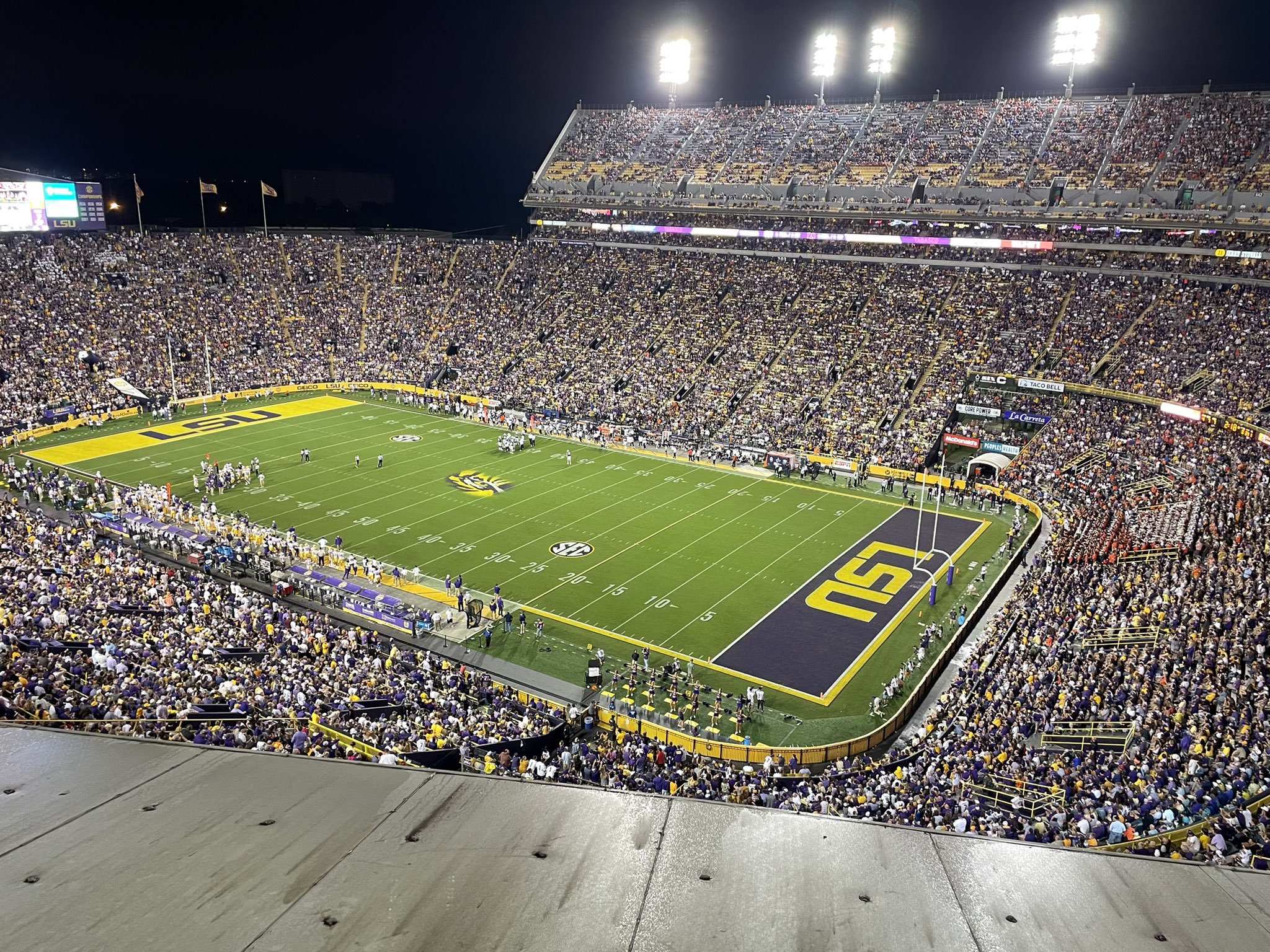 Photo credit: Barett Jones
"College football is LSU's Tiger Stadium at night." ~ Rick Reilly
The volume in this place is astronomical‼️ pic.twitter.com/ad9qfx1zKr

— LSU Football (@LSUfootball) October 3, 2021
Although the wrong group of Tigers won for the home faithful, Rick Reilly is still right.
Tiger Stadium, it's good to hear you again. #LSU pic.twitter.com/F5SSKjiTIc

— Scott Rabalais (@RabalaisAdv) October 3, 2021
Death Valley rocking and Callin' Baton Rouge *chefs kiss*🤌🤌 pic.twitter.com/G83rAevRX4

— The Jordy Culotta Show (@CulottaShow) October 3, 2021