Photo courtesy of Michigan athletics
Who could ever get tired of seeing 100,000 people sing Sweet Caroline or Mr. Brightside? One may be old school, but that will always hit different.
Another week of college football has come and gone. Looking back on the week that was, here were the top five atmospheres around the country:
Honorable Mention – McLane Stadium
Photo courtesy of Baylor University
On Saturday night, to honor and pay tribute the 2,996 people who lost their lives during the devastating attacks on Sept. 11, 2001, Baylor's student section held up 2,996 cards — each with a different victim's name.
Honoring those who lost their lives on #September11

You will never be forgotten.

Thank you for your help, @BaylorLine. pic.twitter.com/Amj4LJGbnd

— Baylor Athletics (@BaylorAthletics) September 12, 2021
5. LaVell Edwards Stadium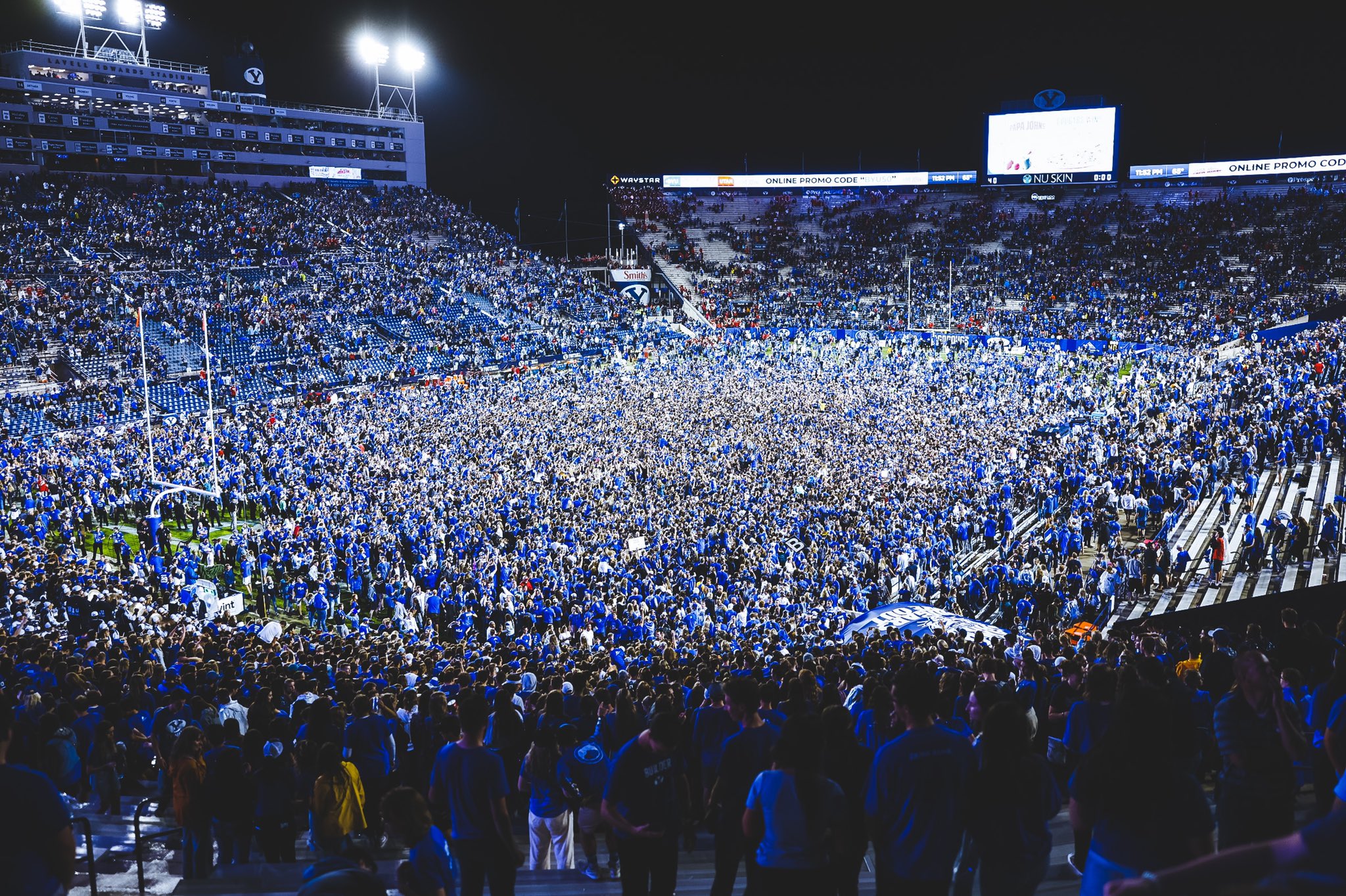 Photo courtesy of BYU athletics
The last time BYU had beaten Utah in the Holy War was on Nov. 28, 2009. That was until Saturday night, of course. Go crazy Provo, you deserve it.
https://twitter.com/BYUfootball/status/1436962990109065216?s=20
BYU fans storm the field as the Cougars beat No. 21 Utah 26-17, snapping a 9-game losing streak over the last 12 years. pic.twitter.com/RURl1nx2bU

— Salt Lake Tribune BYU Sports (@sltribbyu) September 12, 2021
4. Ohio Stadium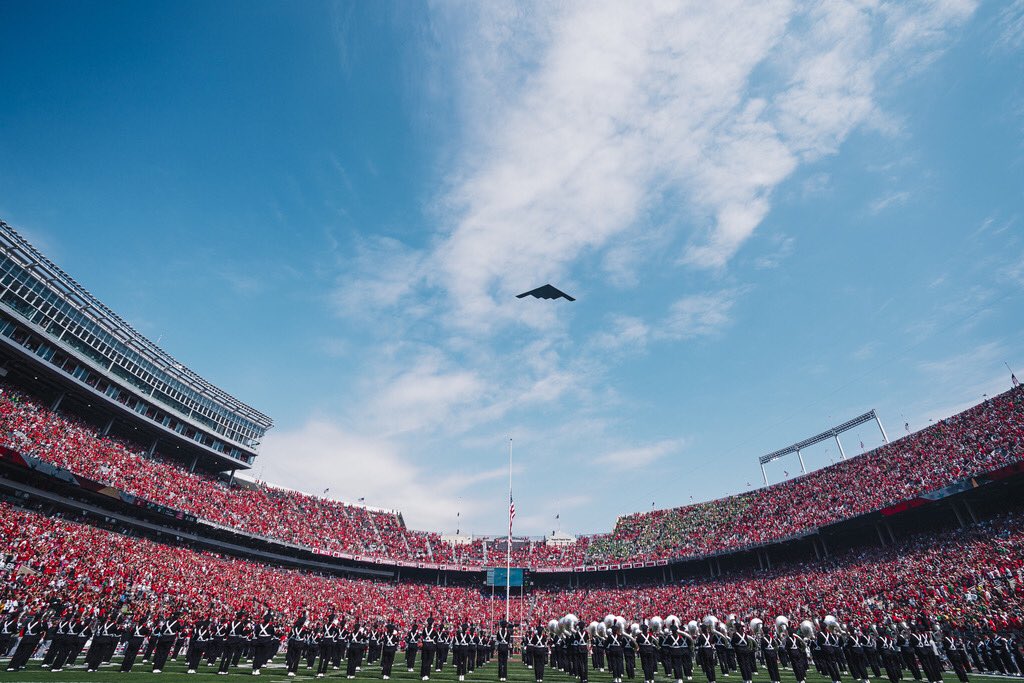 Photo courtesy of Ohio State athletics
It may have come in a loss, but there are few places in America that get as loud and rowdy as "The Horseshoe" on a Saturday afternoon.
THE HORSESHOE IS ROCKING @OhioStateFB pic.twitter.com/J1MUI7YuvO

— FOX College Football (@CFBONFOX) September 11, 2021
3. Donald W. Reynolds Razorback Stadium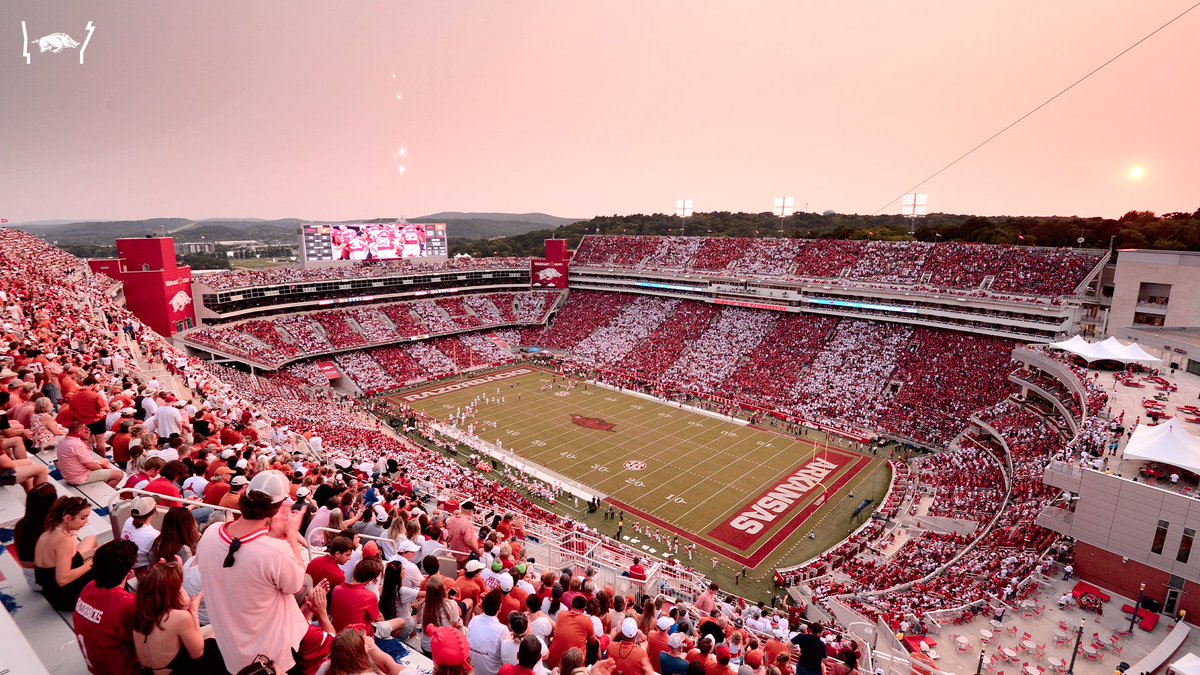 Photo courtesy of Arkansas athletics
When Sam Pittman got hired at Arkansas a year ago, he promised the great people of Fayetteville that he was going to bring a winning culture back to their historic football program. And after the effort that Pittman's Razorbacks showed on Saturday night during their blowout win over Texas, it would be hard to argue that Coach isn't going to deliver on that promise.
Absolutely epic. pic.twitter.com/Hnsw1QR4UL

— Arkansas Razorback Football (@RazorbackFB) September 12, 2021
2. Jack Trice Stadium
Photo courtesy of Meg McLaughlin
The battle for the Cy-Hawk Trophy is more than just a rivalry game. It's a tradition that was first started in 1894 and is a match-up that is always circled on the calendars of Iowans statewide. You win this game and the statewide bragging rights become seemingly endless. But if you lose…let's just say it'll be a long year of waiting until the next one.
Best atmosphere in college football. Pregame, the mixing of colors, families and friends. You can't beat it. Long live the #CyHawk game. We cannot let money ruin this for our state! pic.twitter.com/yLVDFaZV5l

— Chris Williams (@ChrisMWilliams) September 11, 2021
The #CyHawk tailgating scene is nuts. pic.twitter.com/6B0I7UDHLn

— Keith Murphy (@MurphyKeith) September 11, 2021
We're OFF on @CollegeGameDay pic.twitter.com/DWY7NSuvIL

— Kirk Herbstreit (@KirkHerbstreit) September 11, 2021
1. Michigan Stadium
Photo Credit: Steven King/Icon Sportswire via Getty Images
The dress code at "The Big House" in Ann Arbor on Saturday night was simple: Wear maize and lots of it.
Never Forget 9/11. 🇺🇸#GoBlue pic.twitter.com/guRnP3CdZG

— Michigan Football (@UMichFootball) September 12, 2021
Can we please give our student section another shoutout?! @UMichFootball appreciates you being loud & making a difference in the game!!#GoBlue〽️ #MaizeOut pic.twitter.com/19ESk2ajK3

— Christina DeRuyter (@cderute) September 12, 2021