Football is finally back, and it kicked off in a big way in "Week 0." Florida faced Miami in Orlando's Camping World Kickoff – a game in which the Gators came out on top, and so did the media – it was the 2nd most-watched game in the past 3 seasons. Let's look at the play of the Gators' polarizing quarterback, Feleipe Franks, as we saw both improvement and mistakes that must be fixed for the Gators to have success in 2019.
Feleipe Franks by Attempt
Throw 1 – Sideline Fade to Van Jefferson, incomplete.
The playcall makes sense to try to get Franks in an early rhythm. All things considered, it was a good ball, simply thrown out of bounds.
Throw 2 – WR Screen to Kadarius Toney, 66-yard gain, touchdown.
We again see Dan Mullen trying to ease Franks into the game. After faking a punt, Mullen calls a quick screen, and Toney dances his way around several Miami defenders before breaking loose. This is also a solid call against a Manny Diaz defense, which is known to do some angry/frustrated blitzing.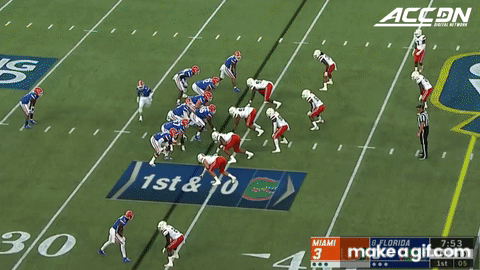 Throw 3 – Quick Flat to Lamical Perine, 2-yard gain.
Good decision to put your running back in position to make a play. It's evident that Mullen wanted to utilize Perine in the passing game.
Throw 4 – Quick slant to Kyle Pitts, 5-yard gain.
Another good decision on 3rd and 6 – get Pitts the ball and give him a chance at the marker.
Throw 5 – Dump pass to Lamical Perine, 7-yard gain.
Mullen wants to involve Perine in the passing game more – he has the playmaking ability, but his hands aren't the strongest. Good ball placement by Franks to get it over the head of Miami DE Scott Patchan and right to Perine.
Let's take a closer look at the fumble. This is an RPO on first-and-goal from the 7. Franks puts the ball in Perine's belly, but tries to pull it out, as he saw Grimes wide open on a slant over the middle. It appears that Perine tries to pull the ball back from Franks. It ends up that nobody gets it, allowing Patchan to recover. This was read well, but executed poorly – pull the ball successfully, and Grimes gets six easily.
Throw 6 – Play-action pass to Lamical Perine, 5-yard gain.
Pressure comes early and Franks makes the right decision to check down, but the Miami pass rush still ends up influencing the throw.
Throw 7 – Throw high to Lamical Perine, incomplete.
Franks leaves his running back out to dry here. He has Pitts, Krull, and Toney open over the middle, but never looked that way. This is where Franks still has room for improvement – reading the field and throwing where the blitz comes from. As it was, he telegraphed his pass to Perine and #2 paid for it.
Throw 8 – Dig route to Josh Hammond, 11-yard gain.
Great throw by Franks to squeeze it between 2 Miami defenders and place it in stride where only his guy could get it. Good downfield blocking extends the play.
Throw 9 – Drag route to Josh Hammond, 7-yard gain.
Another good read by Franks, hitting Hammond again over the middle. Hammond catches yet another block and gets out of bounds before the half.
Throw 10 – Corner route to Van Jefferson,15-yard gain.
Three solid throws in a row by Franks, who reads the corner blitz and throws in its direction. Great ball placement here as well.
Throw 11 – Curl route to Van Jefferson, incomplete.
Not sure what the plan was – it's 3rd and 17, and Franks throws a curl short of the marker. It looked as if the intent was a swing pass to the motion guy, Freddie Swain, but instead, decides on the curl and misses Jefferson without looking Swain's way.
Throw 12 – Pass intended for Freddie Swain, incomplete.
Not much you can do here. Just great coverage by Gilbert Frierson.
Throw 13 – Scramble drill to Trevon Grimes, 10-yard gain.
Franks steps up on a crucial 4th down, redirects Grimes to the sideline, and throws a dot for the completion. This was a massive play to convert on 4th down and leading to a field goal. Franks shows some stellar creativity and leadership here in directing Grimes to the sideline. On top of that, Franks throws the ball in stride while rolling left – a difficult ask for a right-handed quarterback.
Throw 14 – Seam route to Kyle Pitts, 17-yard gain.
Good read by Franks to get the ball out quickly, and Pitts made it easy.
Throw 15 – Pass out of the back of the end zone, incomplete.
Good call – no one was open. Live to play another down.
Throw 16 – Swing pass to Lamical Perine, 1-yard gain.
Not much to say – Miami just had it contained.
Throw 17 – Out route to Tyrie Cleveland, 12-yard gain.
Another great play by Franks to survey the field, step up in a collapsing pocket, and hit Cleveland. Franks goes through his progressions left-to-right while maintaining pocket awareness, and finds the open man.
Throw 18 – Pass intended for Kyle Pitts, incomplete.
Credit Miami with the well-designed scheme. They overload the right side of the O-Line, forcing Franks left. Unlike earlier, he cannot connect with his intended receiver.
Throw 19 – Swing pass to Lamical Perine, incomplete.
Miami again influences Franks to roll left. Franks should have stayed in the pocket, but instead he saw a hole on the left side and decided to escape. He misses Perine by a little, but the ball hits the back in the hands.  Gotta catch that.
Throw 20 – WR Screen to Josh Hammond, 7-yard gain.
Franks stays in the pocket this time and hits Hammond in stride. This is what he should have done on 2nd down to Perine.
Throw 21 – Pass intended for the bench.
No one open on the read, even when rolling right to buy more time. Franks makes the correct decision to just get rid of it.
Throw 22 – Angle route to Perine, touchdown.
Good play call by Mullen, and great touch by Franks to squeeze it in where only Perine could catch it. All Perine must do is fall forward to score.
Throw 23 – Seam route to Freddie Swain, interception.
UF runs two seam routes about 5 yards off each other, so not exactly sure who Franks was throwing to. It ends up hitting Swain in the hands, but he can't reel it in. Sometimes, interceptions should be counted against the receiver.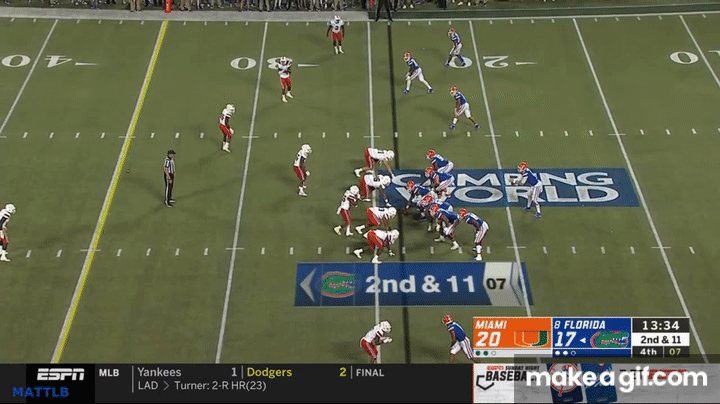 Throw 24 – Play Action seam route to Josh Hammond, 65-yard gain.
This was Franks' best throw of the night. He didn't let the last throw get to him. He steps up in the pocket and hits Hammond down the seam. This is where Franks thrives – using his arm strength to make a play.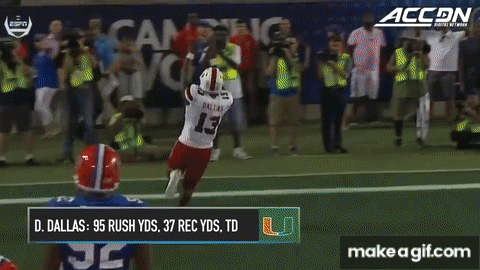 Throw 25 – Dump off to Lamical Perine in the flat, 3-yard gain.
Mullen keeps going back to this swing play, and it finally gains positive yardage.
Throw 26- TE flat route to Kyle Pitts, 10-yard gain.
Franks did his job. Nothing special. Stellar blocking by Toney and Cleveland opens up Pitts to make a play.
Throw 27 – Franks hit as he throws, interception.
Bad. Straight-up bad. 3 throws after Franks does all the right things, he does all the wrong things. He fails to read the defense well, and compounds the mistake with throwing off his back foot as he's hit. The check down is open across the middle, but Franks attempts to find Pitts down the sideline. The throw instead is a lame duck into the arms of a Miami defender. The pocket collapses incredibly fast, but Franks never looks toward his safety valve.
The Takeaway:
Overall, I think Dan Mullen's game plan was quite vanilla – sticking to quick throws and finding playmakers in space. The Offensive line held its own for most of the game, but there were lapses, especially on the right side. On both interceptions, Franks was pressured and throws off his back foot. Franks will go as far as his offensive line will take him if he doesn't improve his decision making under duress. If not for the two interceptions, Franks played a solid game. Miami's defense was solid, and it may be one of the best UF will face all year. Franks did his job, but will still receive flak for it. It's all about optics – his cockiness on camera followed by an interception will do that.
Some UF fans will say Mullen still doesn't trust Franks – citing evidence of quick passes and gimmick plays, but their evidence is misappropriated. It's not a mistrust of your signal-caller, it's a mistrust of his offensive line. They held up okay against an athletic Miami rush, but there is plenty of work to still be done. As the line improves, Mullen will start to call more intermediate and deep routes – Franks' bread and butter. Franks was still inconsistent with his pocket awareness and progressions. I see improvement throughout his play – doing the little things like looking off safeties and redirecting people. His flaws will be exploited, as you saw Miami leave the left side open throughout the game. Mullen and Brian Johnson will continue to work on these things and fine-tune the offense. I'm excited to see Feleipe Franks' progression this season, and if the team can challenge Georgia for the SEC East crown.