Welcome to Doak South, a stadium far away from Tallahassee where you will see plenty of Garnet and Gold and plenty of Florida State wins. Our 'Noles haven't lost a regular season game there since 2004, going 6-0 vs. the Miami Hurricanes. Today, we recall all the great memories to be had at Doak South against the Miami Hurricanes, who pay the rent for our second stadium.
Florida State @ Miami 2006-Present
2006 Florida State 13 Miami 10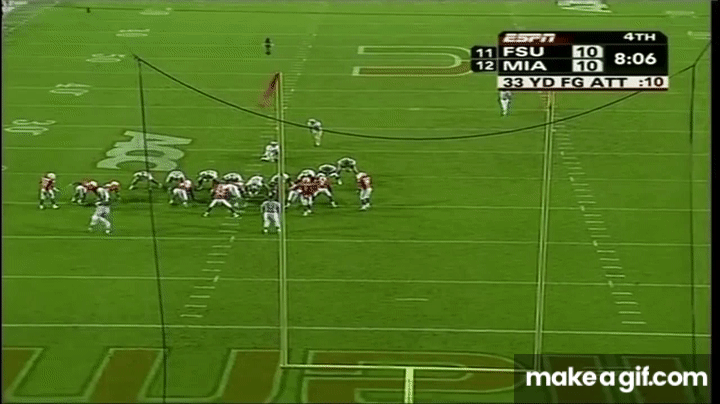 The 2006 game was a sweet, sweet victory. While it started the current winning streak in South Florida, the game was actually played at the actual Orange Bowl. While the victory was sweet, the game was extremely boring to most other college football fans, playing out more like two inept SEC offenses slogging it out than a Big 12 slug fest. To anyone else outside these two fan bases, this game was about as interesting as watching paint dry.
But I can guarantee you one thing – no one in garnet and gold was bored. The thought of beating Miami on the road for the first time since 1998 was beautiful enough to sit through the snooze fest. Both teams only scored one touchdown each, both red zone runs inside the five.
Gary "Weed" Cismesia took care of the rest, as he knocked in three field goals. He even made the eventual game-winning field goal, much to the relief of the Seminole faithful. His kick is featured in the GIF above. FSU kickers making 4th quarter kicks against Miami was a rare sight indeed.
2008 Florida State 41 Miami 39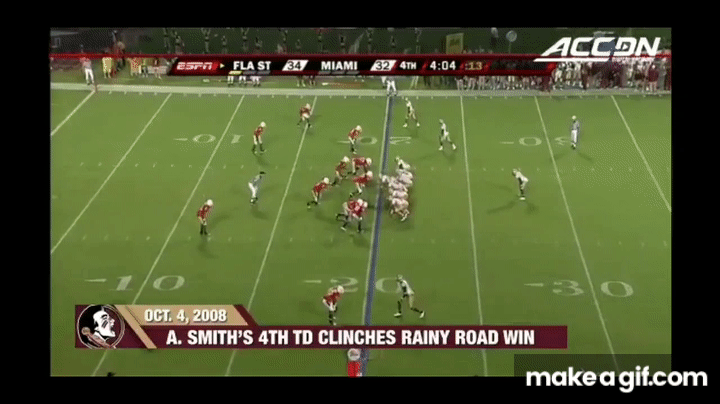 The 2008 game in Doak South – the first in Dophin Stadium/Land Shark Stadium/Dolphin Stadium (yeah, again)/Sun Life Stadium/Hard Rock Stadium – was a memorable one for a kid from the small town of Pahokee, Florida. Pahokee is on the banks of Lake Okeechobee, right up the road from Miami (within two hours' driving distance). Antone Smith, the #1 running back in his recruiting class, chose Florida State over Miami at midnight on National Signing Day. Thus begins a trend of tailbacks from Miami giving The U fits. Smith made sure to make his claim on Doak South by scoring four rushing touchdowns, the last with 4 minutes left to seal the victory.
2010 Florida State 45 Miami 17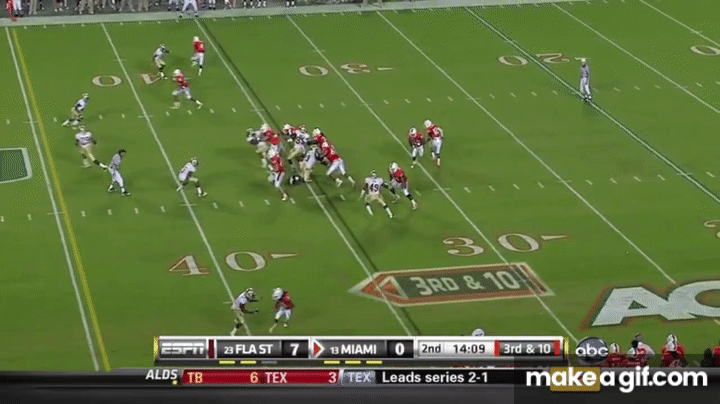 2010's squad made sure the Hurricanes knew whose stadium this was. It was an absolute showcase of domination from the Seminoles from start to finish. The Hurricanes couldn't find a way to get going on either side of the ball. Chris Thompson went off, rushing for 158 yards and a touchdown. Even the defense joined the party by scoring a touchdown of their own!
2012 Florida State 33 Miami 20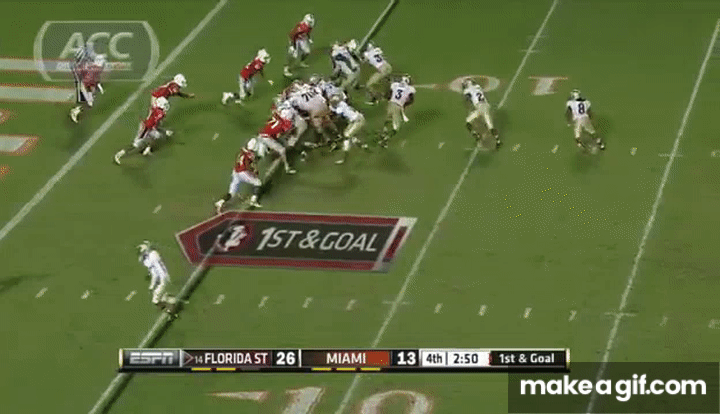 2012 brought us another win in Doak South, and another win by multiple possessions. Miami scored a garbage time touchdown to make the score look more respectable than it was. The final score was pretty close to being 33-13, but Miami managed to squeak out the extra TD.
EJ Manuel and Devonta Freeman (the latter of Miami Central High School) were the stars of this game, as together they accounted for 333 yards.
2014 Florida State 30 Miami 26
If there was one time in the past six games at Doak South where Miami truly had FSU on the ropes, it was this game. Florida State played this game majority of the game behind, as they did for seemingly the whole 2014 season. The Seminoles went into halftime trailing by 16. But never count Jameis Winston out. The Heisman trophy winner carried his team on his back, passing for 304 yards. Freshman running back and Miami Central High alum (yeah, we got another one) Dalvin Cook had 7 rushes for 92 yards and two touchdowns, and put the 'Noles ahead with the touchdown above.
2016 Florida State 20 Miami 19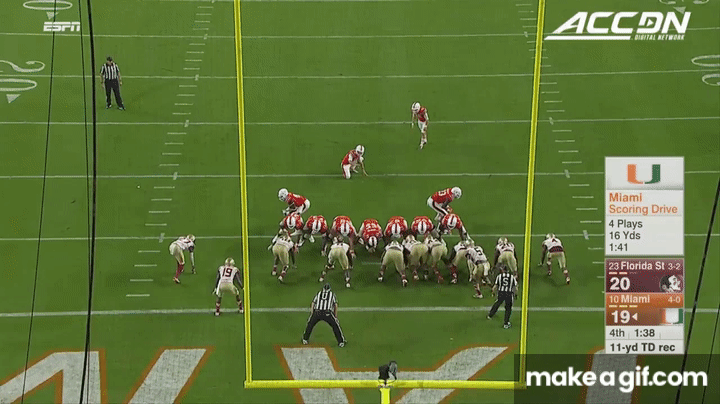 'Nole fans will never forget this game. It's titled as "Block at the Rock", and we all have Demarcus Walker to thank for that. The 2016 season started its turnaround with this game, and the momentum all started at Doak South. Junior Dalvin Cook would again wreak havoc on his hometown team, rushing for 150 yards and catching a touchdown pass.
FSU was also 3-2 entering this game, exactly like this season. Like this season, The U came in the favorite. Could we see another season saved at Doak South? Only time will tell.
Let us know in the comments – what's your favorite of these games? Be sure to like us on Facebook and to Share this post!
Keep the FQ experience ad-free
A voting ballot for our weekly top 25 FSU Twitter Poll
Inside Information from former FSU player James Coleman
Weekly Game Previews
Weekly live chats in our discord channel and YouTube Channel