The major concern for the Florida State football program is the offensive line. So far in the 2018 season, the Florida State offensive line has given up 12 sacks, for -86 yards. That puts them at an average of 3 sacks/game, and 107th in FBS for sacks allowed. With all that being said, we are doing a GIF breakdown of max protection from the Louisville-Virginia game. The good news is that Virginia showed things on offense that we should easily be able to replicate. Virginia's offensive line isn't much better than FSU's, but the Hoos' offensive gameplan helped that unit out. Coach Taggart did similar things against NIU but it needs to continue!
MAX PROTECTION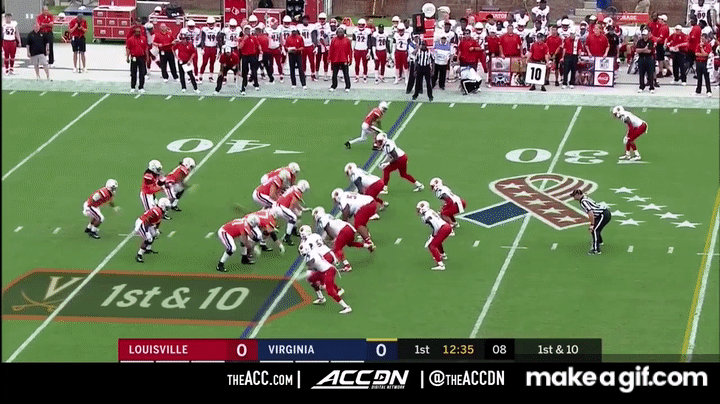 Virginia won this game against Louisville 27-3 by making efficient choices. In the GIF above, you see that Virginia kept the TE and RB to help pass protect. This ensured that the five guys Louisville brought were all blocked, and gave the quarterback a clear pocket to throw from. With seven guys staying in to block, it only gave the quarterback three options to throw to. If the Virginia quarterback can manage to make an efficient choice among three options, I would imagine Deondre Francois would as well.
The roles for Patrick, McKitty, Akers, and Rasul might be different this week, but are all capable of picking up blocks in the passing game.
Quick and Easy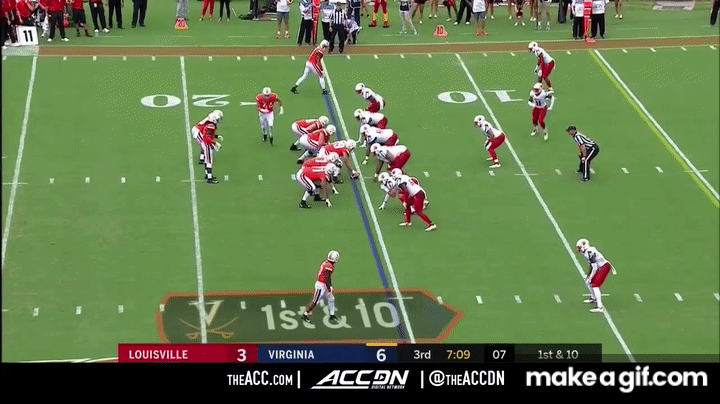 As you see in this GIF, Virginia again kept seven guys to block the seven Louisville defenders. The GIF cuts out the result of this play, but I promise Virginia completed the slant here. With a clear pocket and a fast decision, the Cavaliers easily gained nine yards. Any of our receivers – especially the big ones, like Gavin and Terry – can run this route, and shield the defenders with their body.
Also notice how both linebackers are sucked up at the beginning of the play. If you haven't noticed, the Willie Taggart offense is almost 65/35 run-pass. We haven't been road graders in the run game, but expect Louisville linebackers to come up just because of the play calling.
TE's play a HUGE Role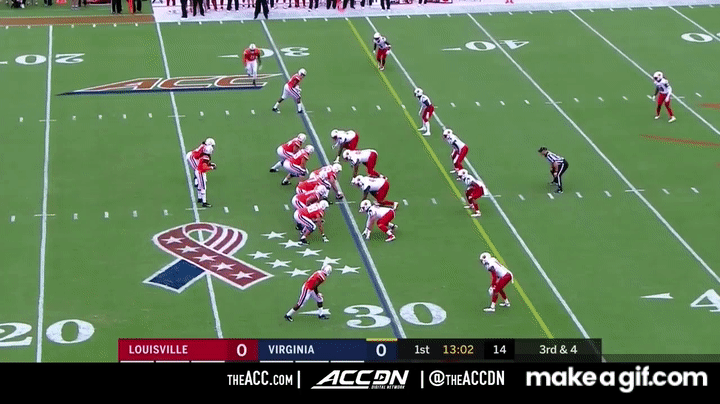 Last week, the lone interception Francois threw was a pop pass to our TE McKitty. I think that play works this week, but it must be called more as a surprise than something the defense expects, due to the need for McKitty to be kept in for pass protection. This worked wonders for Virginia and I think it is something that FSU can easily replicate and be more efficient in pass blocking. If Virginia can move the ball with max protection, limited wide receivers downfield, then I think FSU should try.
Keep the FQ experience ad-free
A voting ballot for our weekly top 25 FSU Twitter Poll
Inside Information from former FSU player James Coleman
Weekly Game Previews
Weekly live chats in our discord channel and YouTube Channel