Photo courtesy of NC State
Although the calendar may read only July, it is never too early to take a look at some of the best gunslingers our game has to offer.
For five days, we've been counting down the best quarterbacks in college football. Our 5-part series has hit the midway point.
Click here to see the first part of the series. Here is a look at Part II.
Without further ado, the third part of the series features a pair of ACC quarterbacks:
6. Devin Leary, NC State
Leary, a 6-foot-1, pro-style quarterback from Sicklerville, N.J., is entering the fall with a newfound swagger. Last season, Leary was billed as one of the best signal callers in the ACC.
He lived up to the hype in more ways than one, throwing for a total of 3,433 yards, to go along with 35 touchdown passes and just five interceptions. Additionally, Leary led his Wolfpack squad to a 9-3 record, which included an invite to the Holiday Bowl (cancelled due to COVID-19) and an epic comeback vs. rival North Carolina.
Devin Leary appreciation post 🐺

𝐎𝐍𝐋𝐘 QB in ACC history to hit the 35 TD-5 INT threshold in a season ♨️ @PackFootball pic.twitter.com/42bcwiFVqt

— ACC Network (@accnetwork) June 14, 2022
Perhaps the most impressive thing about Leary's game, is that the junior gunslinger is absolutely fearless every time he takes the field. He is not afraid to put balls into tight pockets. If Leary does happen to make a mistake, he is unaffected.
Leary probably doesn't have the weapons to make a serious run at the Heisman Trophy. Still, he'll go down as one of the best to ever play his home games at Carter-Finley Stadium.
5. Sam Hartman, Wake Forest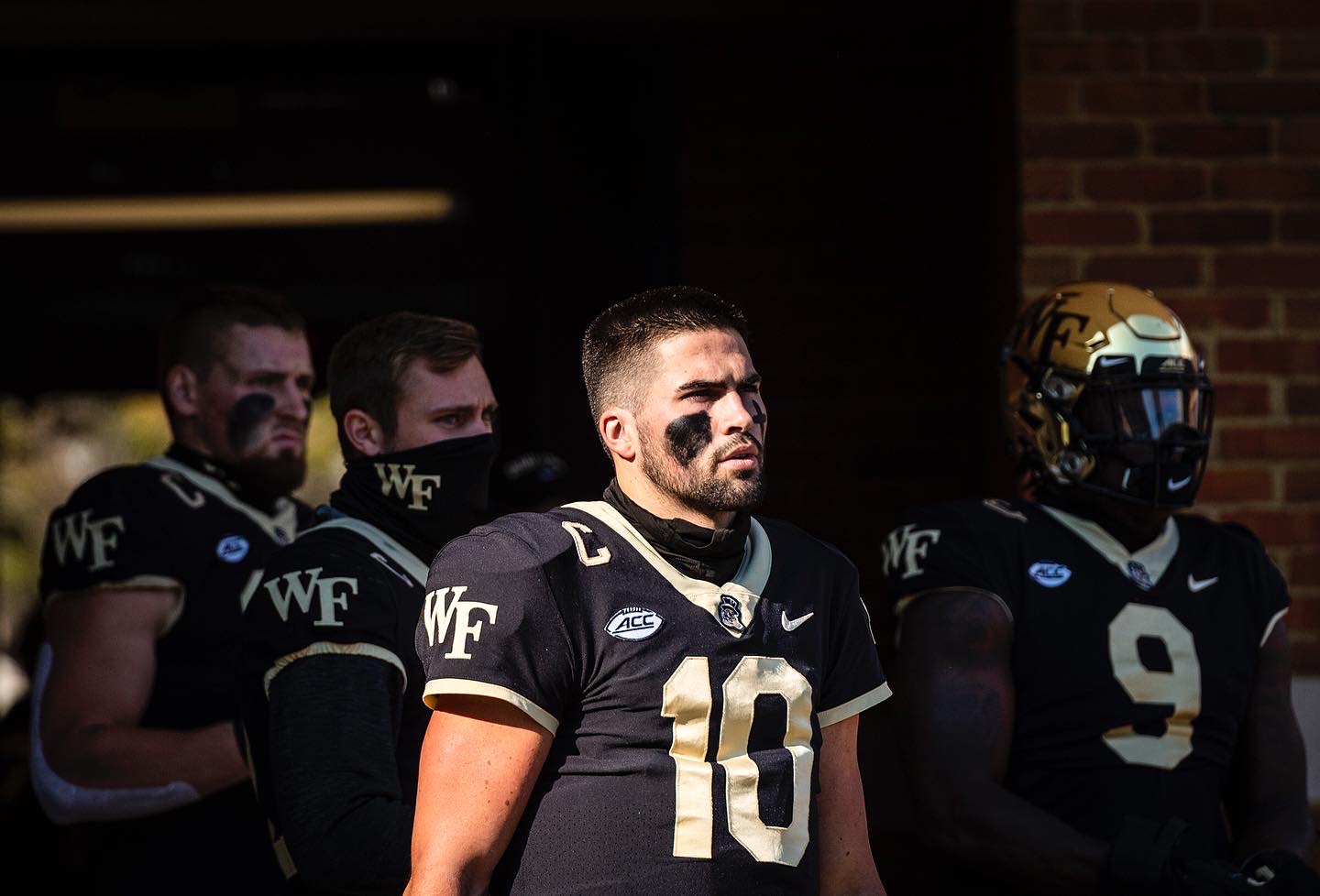 Photo courtesy of Sam Hartman
We have now entered the top five. The next five quarterbacks on this list are to be considered the elite of the elite. They are to be looked at as the five men who have the best chance to win the Heisman Trophy entering the 2022 college football season.
Let's be honest with ourselves; it's a quarterback award.
We begin the top five with a man who broke onto the scene last fall and had one of the more memorable seasons this sport has ever seen.
Sam Hartman is a quarterback who has that dawg in him. Standing in at just 6-1, Hartman can be considered by some as undersized.
But if you were to turn on the TV and watch the Charlotte native play, it is quickly apparent that this junior gunslinger plays as if he is 6-6 and 260 pounds of pure muscle. Hartman is a tough-nosed playmaker who earns every accolade he gets and is a walking embodiment of the word "grit."
Sam Hartman finds Donald Stewart for a TD, 21-7 Wake Forest lead over FSU. pic.twitter.com/emBe7jJ5hc

— The 60FPS & GIF Guy (@IHaveFourBalls) September 18, 2021
In case there were any Hartman naysayers, looking at last season's totals will tell you all you need to know. While leading his Demon Deacons to a record of 11-3, which included an appearance in the ACC Championship game and a win in the Gator Bowl, Hartman was an absolute wrecking ball
He threw for a total of 4,228 yards to go along with 39 touchdown passes. He added 363 yards and 11 more touchdowns with his legs. That's a total of 50 touchdowns.
By season's end, Hartman had found himself on many award lists. Hartman probably deserved more Heisman consideration than he received.
Expect Hartman to have another monster season. Don't be shocked if we see him in New York come December.