Photo courtesy of Texas athletics
Although the calendar may read only July, it is never too early to take a look at some of the best gunslingers our game has to offer.
Each day for the next five days, we'll be counting down the best quarterbacks in college football. Our 5-part series continues with a pair of signal callers at Big 12 programs that will soon be transitioning to the SEC.
Click here to revisit what signal callers occupied the No. 9 and No. 10 slots.
8. Quinn Ewers, Texas
What is a rankings series without at least one hot take?
We get it. Quinn Ewers is on the list without yet taking a collegiate snap. While that may be a valid point, the same case could have been made about Texas A&M's Johnny Manziel entering the 2012 season or Florida State's Jameis Winston entering 2013.
See, we all have to understand something here: Ewers is not just another recruit or even another football player for that matter. No, Ewers is, in many regards, the biggest recruit in the history of college football.
Yes, he may have enrolled at Ohio State prematurely and in hindsight, should have probably finished his senior year of high school. Still, this is a kid making upwards of seven figures in NIL deals without even stepping on a collegiate field. Call it optimistic, but the Kool-Aid sure does taste good.
Incredible how much talent Texas has at QB for the foreseeable future. https://t.co/rhQegh922H

— Longhorns Wire (@LonghornsWire) July 4, 2022
7. Dillon Gabriel, Oklahoma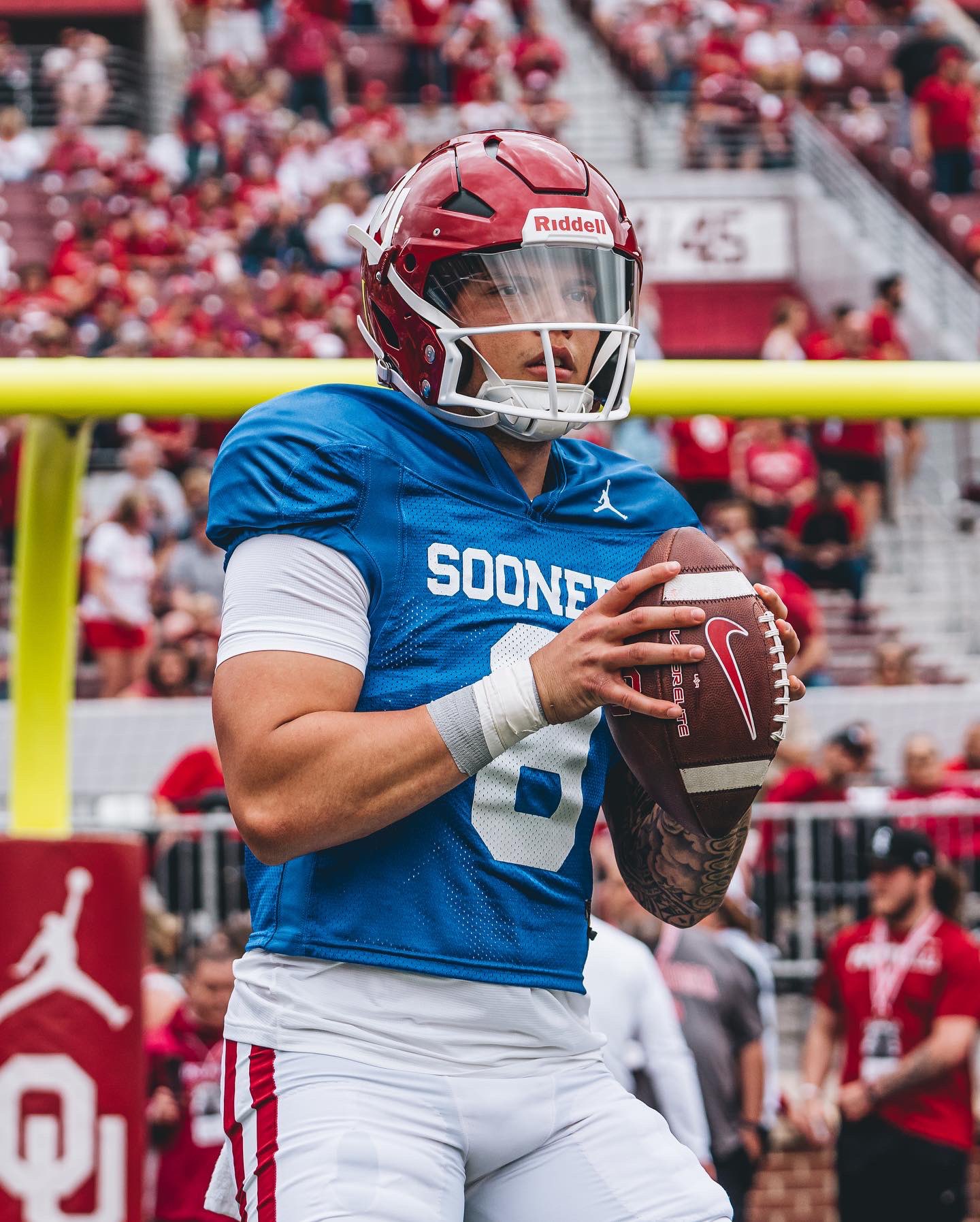 Photo courtesy of Dillon Gabriel
"Change is inevitable, growth is optional" – John C. Maxwell
If one was told a year ago that the Oklahoma Sooners, kings of the Big 12 Conference, and champs in nine of the last 12 Big 12 Championship games, were about to enter the fall with a new head coach, new offensive coordinator, new defensive coordinator, new strength and conditioning coach and a new starting quarterback, one may simply respond with, "what the hell happened?"
Former head coach Lincoln Riley and quarterback Caleb Williams are off to USC. Most are aware. Rather than dwelling on what's gone, those in Norman should focus on their new "big man on campus". His name is Dillon Gabriel and he'll look to make his mark on Sept. 3.
This TD pass by Dillon Gabriel 🤭 pic.twitter.com/GT8nVcXpRD

— PFF College (@PFF_College) September 18, 2021
Gabriel is a born winner. The Hawaii native, once committed to Army, came to UCF in 2019 with a purpose and devotion to win and settle for nothing less.
During his first year as a starter, Gabriel shined under the hot Florida lights, throwing for a total of 3,653 yards to go along with 29 touchdown passes and just seven interceptions. In 2020, Gabriel replicated his success, throwing for 3,570 yards with 32 touchdowns and just four picks.
Gabriel then entered the 2021 season as a Heisman hopeful. A broken collarbone on the final play of a September loss to Louisville ultimately ended his season.
Gabriel now enters the final chapter of his collegiate career, in the midst of a new setting, a new offense and frankly a new culture. When it comes to Gabriel, it's important to note that anywhere Gabriel goes, he succeeds.
He was one of the best high school quarterbacks the state of Hawaii has ever seen. UCF thought it couldn't get any better than McKenzie Milton but with Gabriel in his place, the Knights' offense didn't miss a beat.
Losing Spencer Rattler and Williams may make fans in Norman a bit uneasy. While that may be a justifiable fear, Gabriel is more than capable of guiding the Sooners' ship.