Photo courtesy of Michigan athletics
Dear college football, thank you for providing us all with the greatest season finale one could possibly ask for.
The regular season is over, but we still have championships, bowls and of course, the College Football Playoff.
For the final time in the regular season, here is a look back on the week's top five performers:
Honorable Mention – Rivalries
Chaos in the tunnel between Ohio State & Michigan pic.twitter.com/HedljphBq1

— Josh Pate (@LateKickJosh) November 27, 2021
If you've already watched this 800 times, you're not alone.
5. Aidan O'Connell – QB, Purdue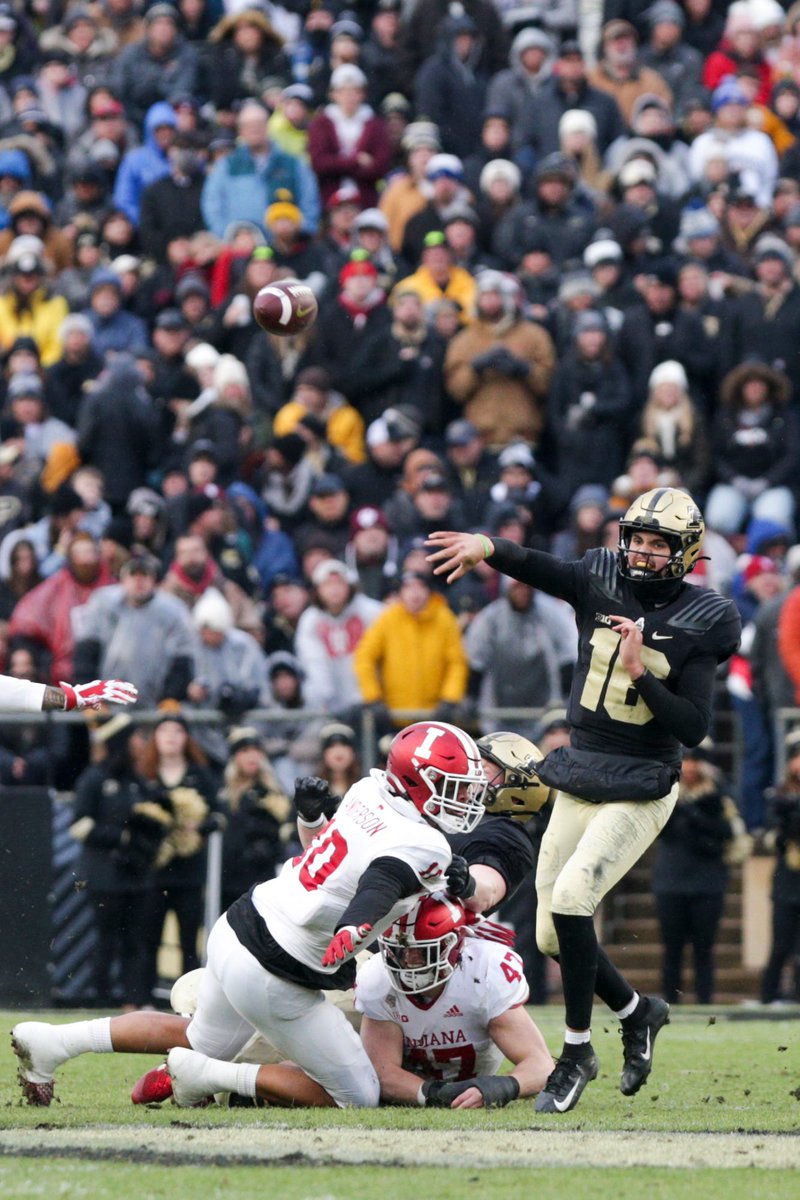 Photo courtesy of Big Ten Network
When Aidan O'Connell first arrived in West Lafayette in the fall of 2017, many wondered how his path would take form. When we say "many", we're mostly referring to his family and friends as O'Connell entered the Boilermakers' program with not a star to his name nor a scholarship towards his degree.
O'Connell was never meant to make this list — or even see the field for that matter. But as the old saying goes, "greatness is often found through the most unpredictable source."
.@DB3LL clinches his 21st career TD like it ain't no thing 😤.

CC: @BoilerFootball pic.twitter.com/F9gdCMhkik

— Big Ten Network (@BigTenNetwork) November 27, 2021
On Saturday, as Purdue crushed rival Indiana 44-7 to take back the Old Oaken Bucket, it was not a 5-star who led the young men in black and gold to victory. Instead, it was a former walk-on who didn't miss his shot.
O'Connell's final stat line: 26-for-31 passing, 278 yards, four touchdowns. Not a bad way to take down a rival.
4. Skyy Moore – WR, Western Michigan
There are few things greater in this world than some midweek MAC-tion. There is nothing better than watching two below-average teams battle it out on a random Tuesday while 3,000 people pack the stands and act interested. Every once in a while, if you are lucky, you will be treated with a star-studded performance from a player you have never heard of before.
Enter Skyy Moore.
Home run hitter 💪 @skyymoore24 #LetsRide pic.twitter.com/IQjaAFkPdo

— Western Michigan Football (@WMU_Football) November 24, 2021
Did most know Moore existed before Tuesday night? Absolutely not.
But during Western Michigan's 42-21 win over Northern Illinois on Tuesday night, there wasn't a playmaker who stood out more than the man himself. The sophomore wideout from Pennsylvania went for 206 yards on 12 receptions to go along with four touchdowns.
MAC-tion, baby.
MAC-tion!
3. Bryce Young – QB, Alabama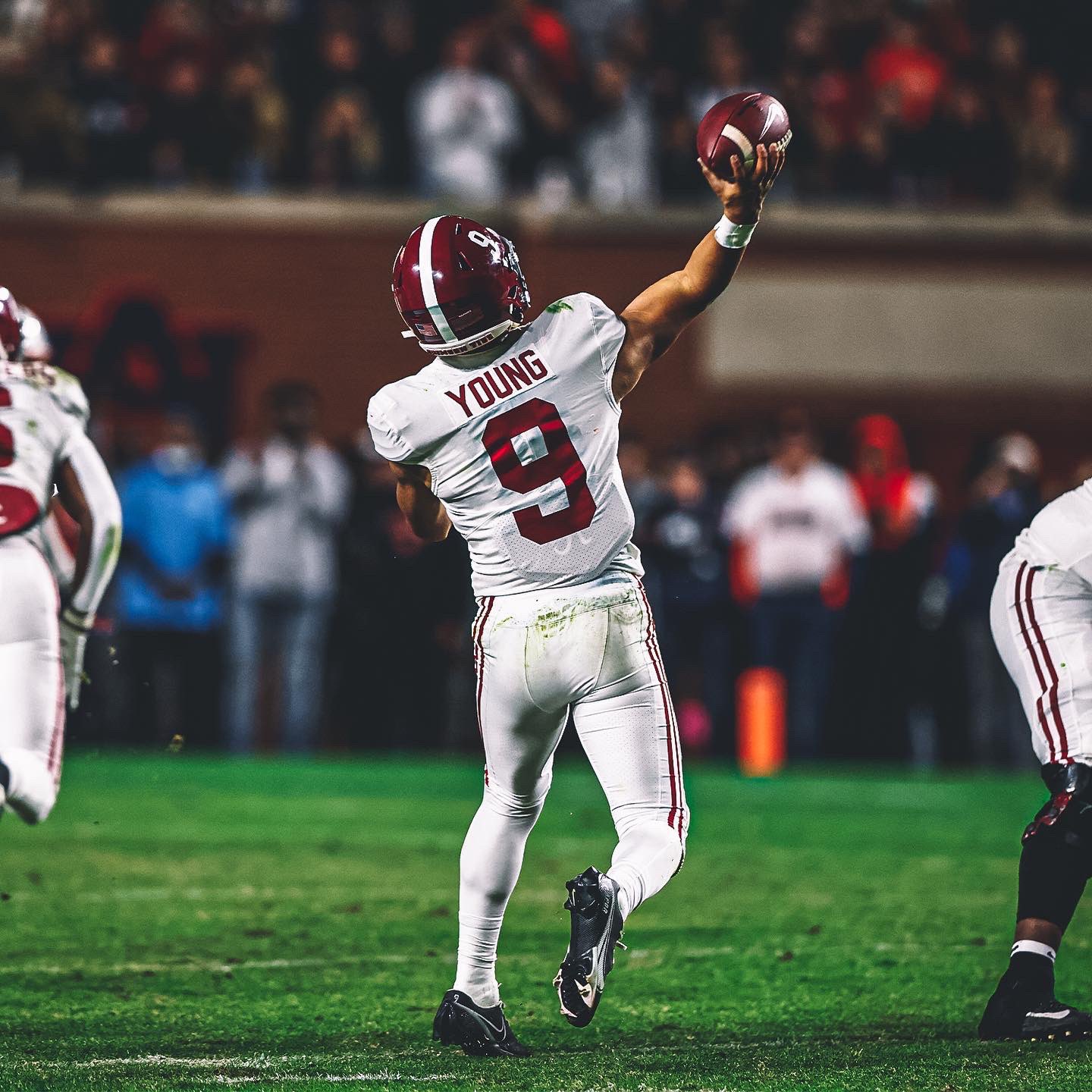 Photo courtesy of Alabama athletics
You should never view your challenges as a disadvantage. Instead, it's important for you to understand that your experience facing and overcoming adversity is actually one of your biggest advantages. – Michelle Obama
The time read 1:32. Alabama trailed rival Auburn by a score of 10-3 and needed to drive 97 yards with no timeouts in order to send the game to overtime.
It was not impossible, but improbable.
Jordan-Hare Stadium, packed with 87,000 roaring Tigers' fans, was deafening. Derek Mason's defense, which had held Alabama's high-powered offense at bay for the duration of the game, was just one stop away from completing what many thought could not be done.
Then it happened.
12 plays, 97 yards, 1:11, six points. It will forever be known as "The Drive." It was a drive that not only kept Alabama's playoff hopes alive.
The march not only helped the Crimson Tide win their second straight Iron Bowl, but it was a drive that may have secured the Heisman Trophy for quarterback Bryce Young.
TOUCHDOWN BAMA

TIE BALLGAME pic.twitter.com/j4hJI4KfSG

— CBS Sports (@CBSSports) November 28, 2021
Young did not play well on Saturday, but he made the big plays when it mattered most. Look back at that final drive in the fourth and one can see a calmness that should not be seen from a 20-year-old kid but rather an NFL Sunday starter.
Young showed the poise of an Aaron Rodgers and the accuracy of a Tom Brady. He may not have realized it in the moment, but that drive will go down as one of the most important and impactful moments in this school's decorated history.
Young finished with 317 yards passing and two touchdowns as Alabama outlasted Auburn in four overtimes, 24-22.
Where were you the day Young became a Crimson Tide legend?
2. Breece Hall – RB, Iowa State
After making their first Big 12 Championship in school history a year ago, the Iowa State Cyclones entered the fall with expectations higher than Snoop Dog on a lazy Sunday. Heck, could you blame them?
With the nation's leading rusher returning, as well as perhaps the best quarterback in Iowa State history, many thought this team had an outside shot of making the College Football Playoff. We were all very wrong.
And while the Cyclones may not have had the season they had hoped for, finishing the year at 7-5, there are certainly moments they can hang their hats on. One of them was the track meet we saw from Breece Hall on Saturday afternoon.
"Breece Lightning! There's the record for Breece Hall!"#BreeceTheBeast @DoakWalkerAward

🌪️🚨🌪️ pic.twitter.com/62XA30FuPc

— Cyclone Football (@CycloneFB) November 27, 2021
En route to a 48-14 drubbing of TCU, the junior running back showed the nation that he's still got it. Hall rushed for 242 yards on 18 carries to go along with three rushing scores. Additionally, with a touchdown on Saturday, Hall broke the FBS record for the most consecutive contests with a touchdown at 24.
One would be hard-pressed to find many men tougher, stronger and faster than the Big 12's most dominant back.
1. Michigan's Offensive Line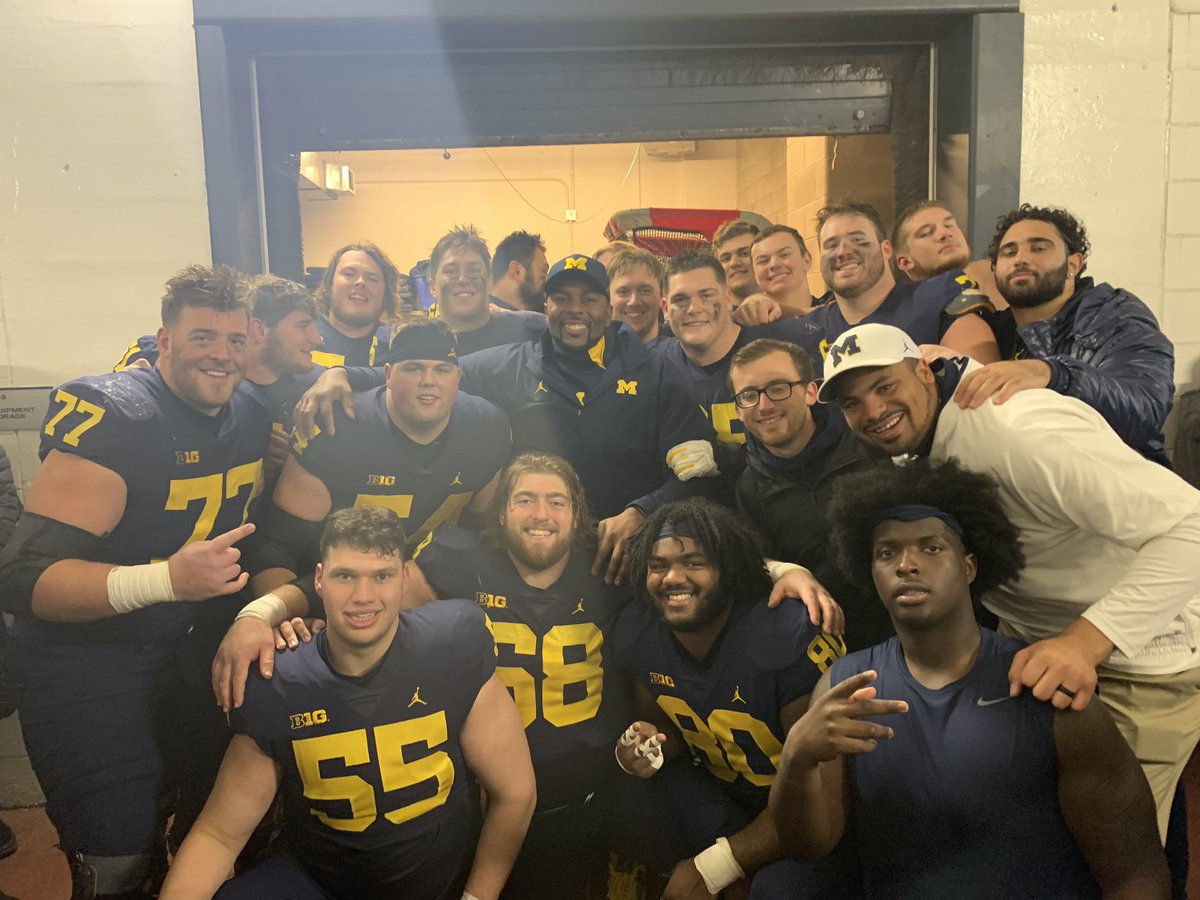 Photo credit: Sherrone Moore
For this top spot, there were a lot of deserving people in Ann Arbor. Defensive end Aidan Hutchinson made a strong case with three sacks. Offensive coordinator Josh Gattis put on a play-calling clinic and helped hang 42 on a very stringy Ohio State defense. Senior running back Hassan Haskins, who became the first player in this great rivalry's history to rush for five touchdowns in a single game, also had a very good claim.
This game however, was won in the trenches. It's only right to acknowledge a group of men who often don't get the credit they so rightly deserve.
A FOOTBALL PLAYER – @CoachJim4UM #GoBlue // @H2_3125
pic.twitter.com/wIXqwSFdOA

— Michigan Football (@UMichFootball) November 27, 2021
Andrew Stueber, Ryan Hayes, Trevor Keegan, Zak Zinter, Andrew Vastardis — remember the names. Michigan's offensive line wasn't just good on Saturday. Frankly, it wasn't even great.
No, Michigan's offensive line was as dominant as anyone in the country all season. To put things in perspective of just how dominant this o-line was on Saturday, here are two stats:
Stat No. 1: Two weeks ago, Ohio State's defensive line held Michigan State running back and Heisman contender Kenneth Walker III to just 25 yards — a season-low. On Saturday, Michigan had a total of 297 rushing yards to go along with six rushing scores. That's right. 297.
Stat No. 2: After halftime, Michigan averaged a whopping 9.4 yards per carry and faced only two third downs.
On a snowy and historic Saturday afternoon in Ann Arbor, the big men with bigger numbers showed just how important it is to win the battle up front. They were the biggest reason — literally and figuratively — that Michigan defeated Ohio State for the first time in a decade and is one win from the College Football Playoff.
Michigan 42, Ohio State 27.