Photo courtesy of Texas A&M athletics
That may have been the most competitive, nail-biting, chaotic week in the history of this great sport. It, at least, takes the cake for 2021. God bless college football.
As usual, we count down the top five performances of the week:
Honorable Mention – Defeated no more
The boys are BUZZING 🐝 #Flagship 🚩 pic.twitter.com/WHCsUtNaG6

— UMass Football (@UMassFootball) October 9, 2021
You did it, boys. You did it.
5. Matt Corral – QB, Ole Miss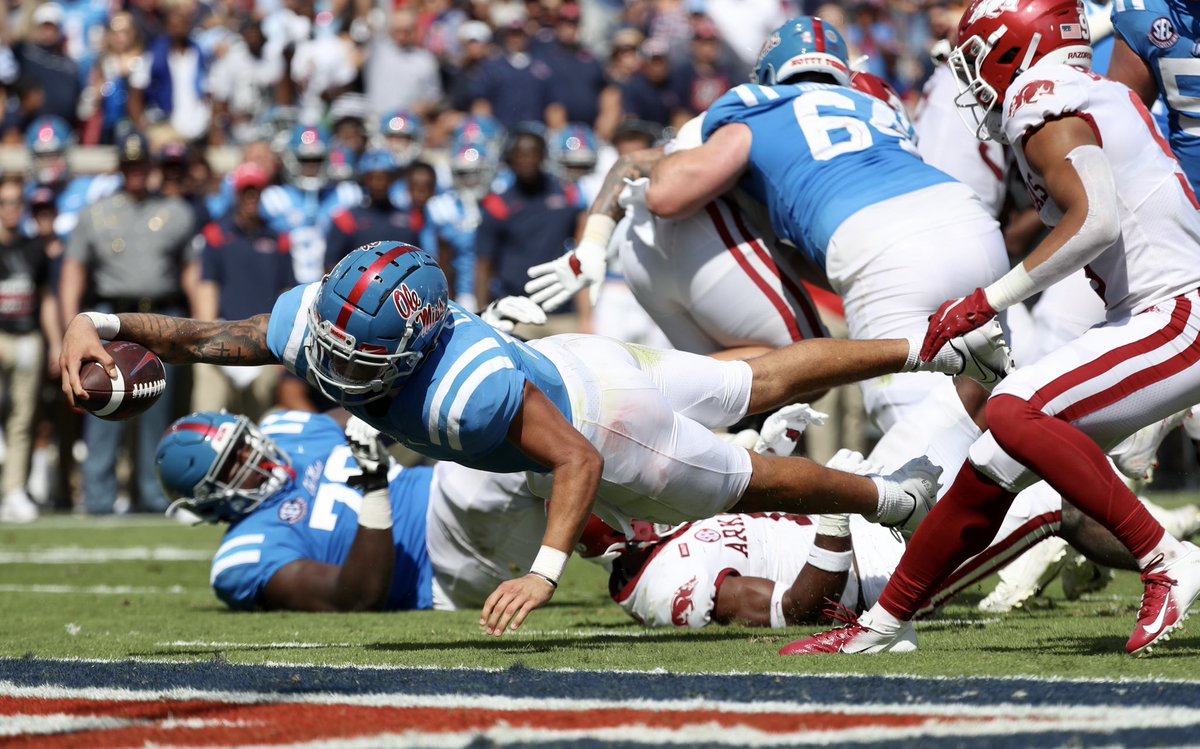 Photo courtesy of Ole Miss athletics
Underwhelming. It is a term that can best be described as the failure to make a positive impact on a certain situation. As Ole Miss quarterback Matt Corral exited Bryant-Denny Stadium last Saturday night, fresh off the heels of a 42-21 defeat to Alabama, many were eager to imply that the Southern California gunslinger may not be ready for the bright lights.
It was famously said that true character can be measured by not how hard one falls, but how he gets up. And after getting knocked on the canvas by a couple of bullies from the Crimson Tide, Corral could have easily stayed down and let his lackluster performance linger to the following week. The best quarterback in the country however, had other plans.
Hahahaha this throw by Matt Corral is bonkers

(via @espn) pic.twitter.com/nVXOh88aOj

— Pickswise (@Pickswise) October 9, 2021
In a game that featured 1,287 total yards and 103 combined points, Corral once again became the center of the college football world. Corral passed for 287 yards, to go along with 94 yards on the ground and four total scores. This was all done against an Arkansas team that intercepted Corral six times last season in an Ole Miss defeat.
Corral was the difference-maker in Saturday's thrilling 52-51 victory. It is safe to say that the Ole Miss quarterback picked himself up off the canvas.
4. Frank Harris – QB, UTSA
#Ranktheroadrunners. We've said it before. We're saying it again. UTSA is one of, if not the most, exciting Cinderella stories in the country.
Last year, we were introduced to the darlings of Coastal Carolina. Fast forward a calendar year and it is time to say hello to a team located in San Antonio — one that is 6-0 for the first time in program history.
Coming into Saturday's affair with Western Kentucky, many thought that the Roadrunners were about to finally meet their match. The Hilltoppers had one the nation's highest-scoring offenses and own a quarterback in Bailey Zappe, who was born with a rocket for an arm. And while Zappe had a career-day, throwing for 523 yards and five touchdowns, it was the play of Roadrunners' senior quarterback Frank Harris that made the morning papers.
What a ball from Frank Harris. UTSA up 14-3 pic.twitter.com/iDPZ0OePLv

— Chase Shannon (@chase_shannon) October 9, 2021
Harris is not a name you are going to hear about very often. The senior from Schertz, Tex. didn't have many scholarship offers coming out of high school. He came into Saturday's matchup with a QBR of 65.3. On Saturday, he looked like the second coming of Patrick Mahomes.
In route to a 52-46 victory, the 6-foot-0 senior had a stat line to remember. Harris passed for 349 yards and six touchdowns. He added 51 rushing yards.
Frank Harris. Remember the name. Remember this team.
3. Jalen Nailor – WR, Michigan State

Photo courtesy of Michigan State athletics
If you were to pick a surprise at the midway point in 2021, there is a good chance one would lean towards Michigan State. The Spartans, who are led by second-year head coach Mel Tucker, have taken the college football world by storm. The Spartans have won their first six games of the year — many in convincing fashion — and have asserted themselves in the College Football Playoff discussion.
It's not anarchy, just college football.
As Michigan State headed to Piscataway to take on Rutgers on Saturday, it seemed over before it even started.
Are you kidding?!

Jalen Nailor's third long touchdown of the first half, this one for 65 yards 😱 pic.twitter.com/abNpIg6MiF

— FOX College Football (@CFBONFOX) October 9, 2021
Four receptions, 208 yards, three touchdowns.
These were the FIRST-HALF statistics for Michigan State junior wide receiver Jalen Nailor. Nailor, who is one of the most explosive playmakers in the Big Ten, could not be stopped during the first two quarters of Saturday's 31-13 victory.
Each of Nailor's three touchdowns covered at least 63 yards. In college football's birthplace, Nailor broke the stadium record for receiving yards for a game in just 30 minutes of football.
There is good. There is dominant. And then there is what we saw out of Nailor on Saturday afternoon. Have a day, young man!
2. Zach Calzada – QB, Texas A&M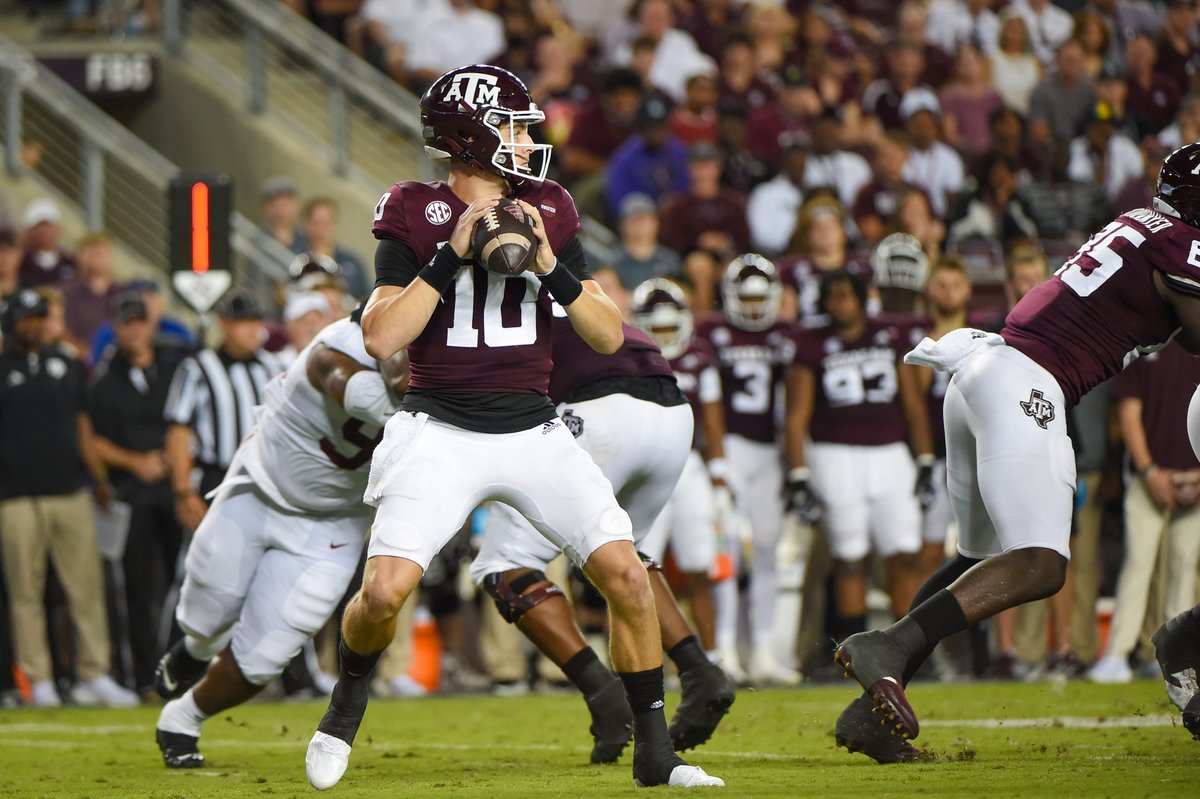 Photo courtesy of CBS Sports
Zach Calzada may be just 20 years old, but after Saturday night's heroic performance, the sophomore quarterback will never have to buy a beer in College Station again.
To fully understand just how Herculean that Calzada's efforts were on Saturday night, we are going to have to take things back to Week 2, when the Aggies made their way to Denver to face Colorado.
It was not a pretty scene. Texas A&M starting quarterback Haynes King was being taken off the field with a leg fracture. It was time for Calzada to step up and shine.
And shine he did…against New Mexico. But the same could not be said with a poor start against Arkansas and an embarrassing home loss vs. Mississippi State. The Aggies were 0-2 in the SEC and people were calling for Calzada to be run out of town faster than Usain Bolt.
So how…..with everything that is all and good in this world, did Calzada manage to lead his team to victory on Saturday night against the No. 1 team in the country?
Anarchy? Nope, just college football.
TOUCHDOWN AGGIES.

This game is a classic. pic.twitter.com/XMpJelshC7

— CBS Sports (@CBSSports) October 10, 2021
The sophomore from Georgia gave one of the grittiest, most courageous performances in Texas A&M history.
To beat a team like Alabama, you can't just be good. Heck, you can't even settle for being great. No, to defeat the kings of college football, you have to be perfect.
Calzada silenced all of his doubters. He finished 21-for-31 for 285 yards, three touchdowns and one interception.
More importantly, he was clutch. With his team trailing with five minutes to play, Calzada led back-to-back scoring drives. After throwing for the tying touchdowns, the Georgia native got the Aggies into field goal range for Seth Small to kick the game-winner as time expired in a 41-38 victory.
1. Caleb Williams – QB, Oklahoma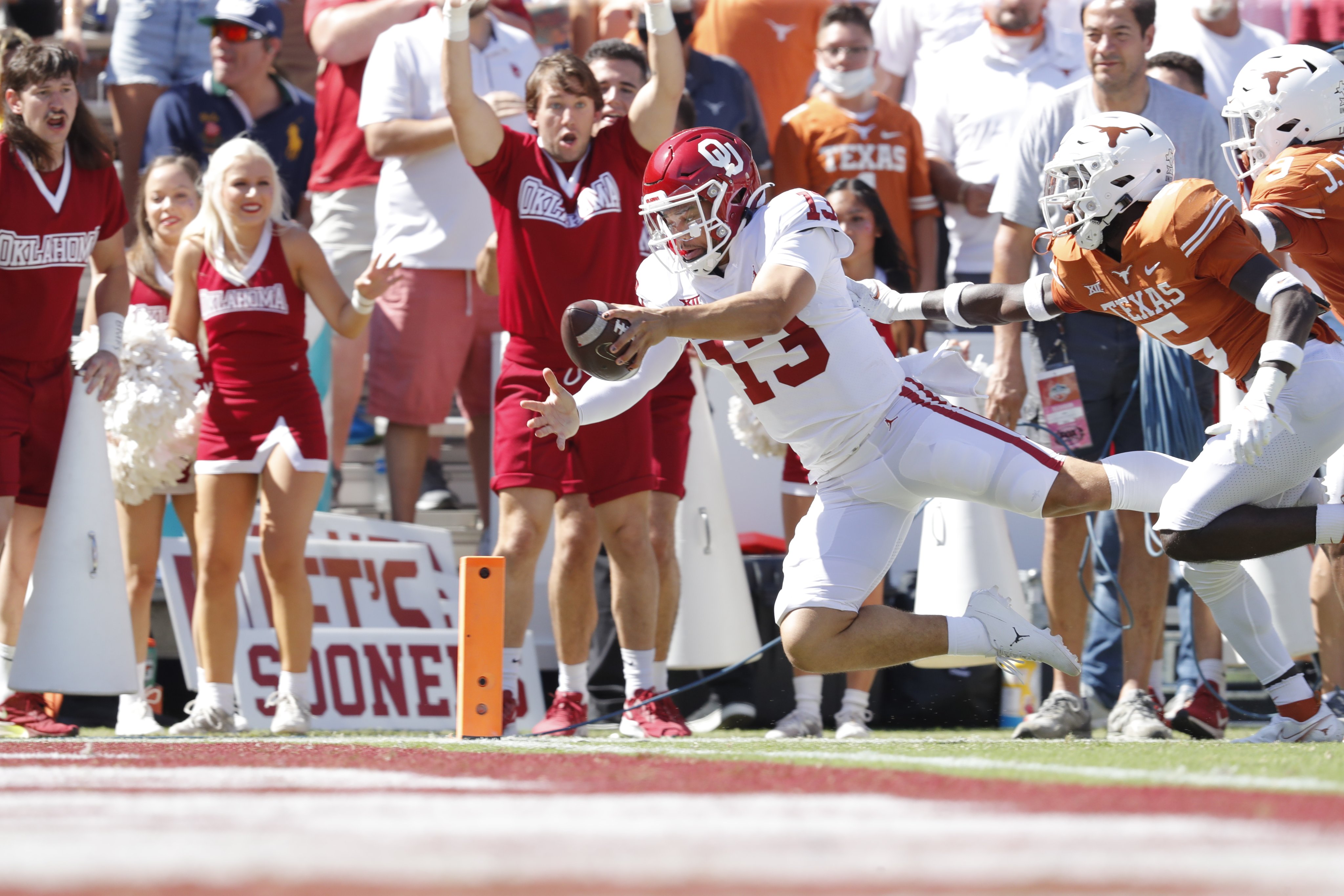 Photo courtesy of Oklahoma athletics
The score read 35-17. Oklahoma starting quarterback Spencer Rattler had just turned the ball over for the second time. That was immediately followed by a Texas touchdown.
Head coach Lincoln Riley needed to make a change. Calling into his bullpen, the fifth-year head coach tabbed his true freshman Caleb Williams to answer the bell. Was it an act of desperation? Perhaps. But it was a move that turned out to be one of the signature decisions of Riley's career.
When Williams entered the game for the Sooners, one can only imagine what was racing through the young man's head. The 5-star recruit from Washington D.C. was entering one of the sport's greatest rivalries, with his team trailing by 18 points. This wasn't just a hill to climb.
It was a mountain.
When Williams came in to replace Rattler, it was not the true freshman's first time stepping on the field. To begin the second quarter, Williams was called upon on a 4th-and-1 to execute a power run of sorts. What occurred was a 66-yard touchdown run from Williams.
Welcome to your first Red River Rivalry, kid.
It's a bird, it's a plane, it's @CALEBcsw ✈️✈️✈️

📺 ABC | https://t.co/JJGgBBysE4 pic.twitter.com/JDK0SEoEmq

— Oklahoma Football (@OU_Football) October 9, 2021
Thanks to Williams, what was once a 21-point deficit for Oklahoma became a 55-48 victory. Williams finished with 212 yards passing, two touchdown tosses and 88 yards rushing with the aforementioned touchdown. The comeback was the biggest in the history of the rivalry.
For a school and coach known for their abilities to produce quarterbacks, the next star may have been born on Saturday.