Photo courtesy of Tennessee Athletics
Turn out the lights; the party's over.
Sadly, we have come to another point in the calendar year where it is time to start saying goodbye to the sport we love.
With only bowl games remaining, which are primarily played on neutral sites, the pride and pageantry that fill a college football Saturday will head towards hibernation for yet another offseason.
Don't worry. You'll be tailgating and drinking beer before you know it, but for now, let's look back at the 10 best atmosphere's from a memorable 2021 season.
10. Lane Stadium (Week 1)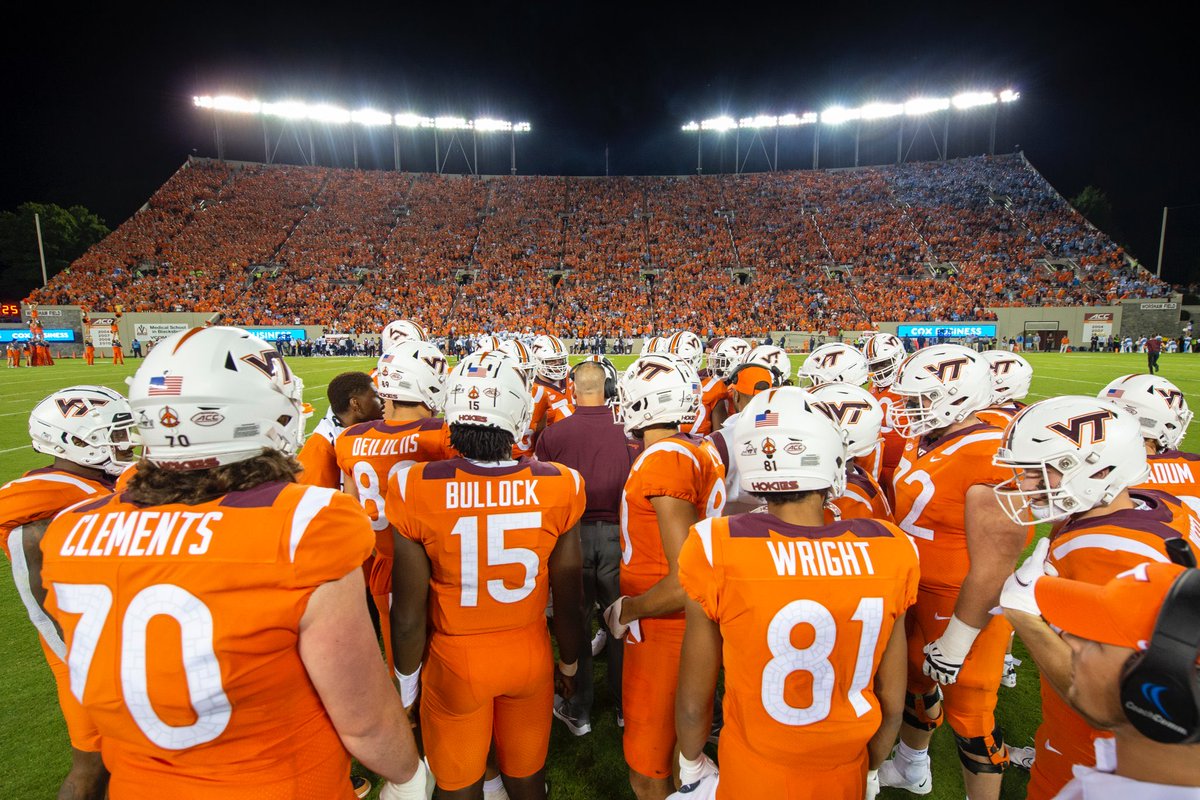 Photo courtesy of Virginia Tech Athletics 
This author will never forget where he was or what he was doing when he watched this game. Virginia Tech was playing what, at the time, was the No. 10 North Carolina Tar Heels on the first Friday night of the college football season.
College football was back in its purest form. To see Lane Stadium packed, heck, to see any stadium packed for the first time in over a year gave an overwhelming sense of "We're Back!"
Enter Sandman…

Maybe the most iconic entrance in all of college football…@CFBHome @FifthQuarter @FQACC @thebluepennant pic.twitter.com/2V8AZRheoc

— CFBcampustour (@CFBcampustour) September 4, 2021
One more from tonight. Probably the best college football atmosphere I have ever been a part of. #Hokies fans brought it tonight. What a way to kick off this 2021 season.

Lane Stadium is special. @WDBJ7Sports pic.twitter.com/FpESBNPl2P

— Anthony Romano (@ARomanoWDBJ) September 4, 2021
9. Washington-Grizzly Stadium (Week 12)
Photo courtesy of Montana athletics
In our wildest dreams, we never thought an FCS school would make a top-10 list of anything — much less the top 10 atmospheres of the year.
With that said, seeing the images from Missoula and there was no way this atmosphere could be kept off this list.
Welcome to Washington-Grizzly Stadium in Missoula, MT. Home of @MontanaGrizFB in the @BigSkyFB conference. The Griz host @MSUBobcatsFB in the 'Brawl of the Wild'. What an atmosphere! This place is lit🔥 #GoGriz@CFBHome @FifthQuarter @FCSNationRadio1 @UMGRIZZLIES @bridgerwon pic.twitter.com/04dQDXpbr9

— CFBcampustour (@CFBcampustour) November 20, 2021
Amazing atmosphere here at Washington-Grizzly Stadium as Montana prepares to host Montana State in the 120th Braw of the Wild. #GrizFB #CatGriz pic.twitter.com/45U154jGqW

— Frank Gogola (@FrankGogola) November 20, 2021
8. Camp Randall Stadium (Week 1)

Photo courtesy of Wisconsin athletics 
Have you ever waited two years to do anything in your life? How about having to wait two years to jump around with over 80,000 of your closest friends?
7. Nippert Stadium (Conference Championship Week)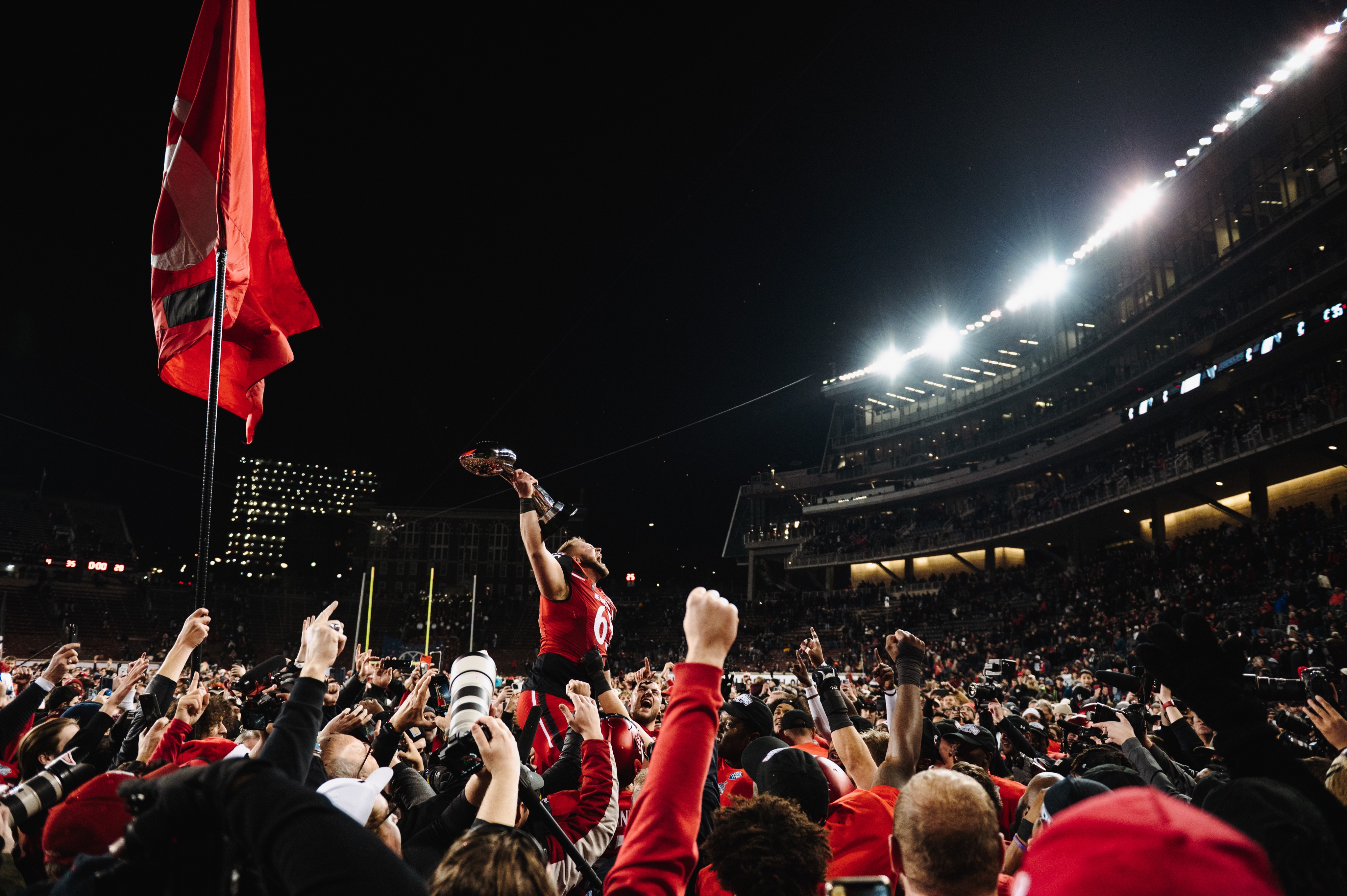 Photo courtesy of Cincinnati Athletics
We're history buffs…..sue us.
A moment Cincinnati will never forget. 💡 pic.twitter.com/uKVpOXbikZ

— Cincinnati Bearcats (@GoBEARCATS) December 5, 2021
The mood inside Nippert Stadium now just one quarter from the college football playoff. #Bearcats pic.twitter.com/R7LoO1iymw

— Joe Danneman (@FOX19Joe) December 4, 2021
6. Jordan-Hare Stadium (Week 13)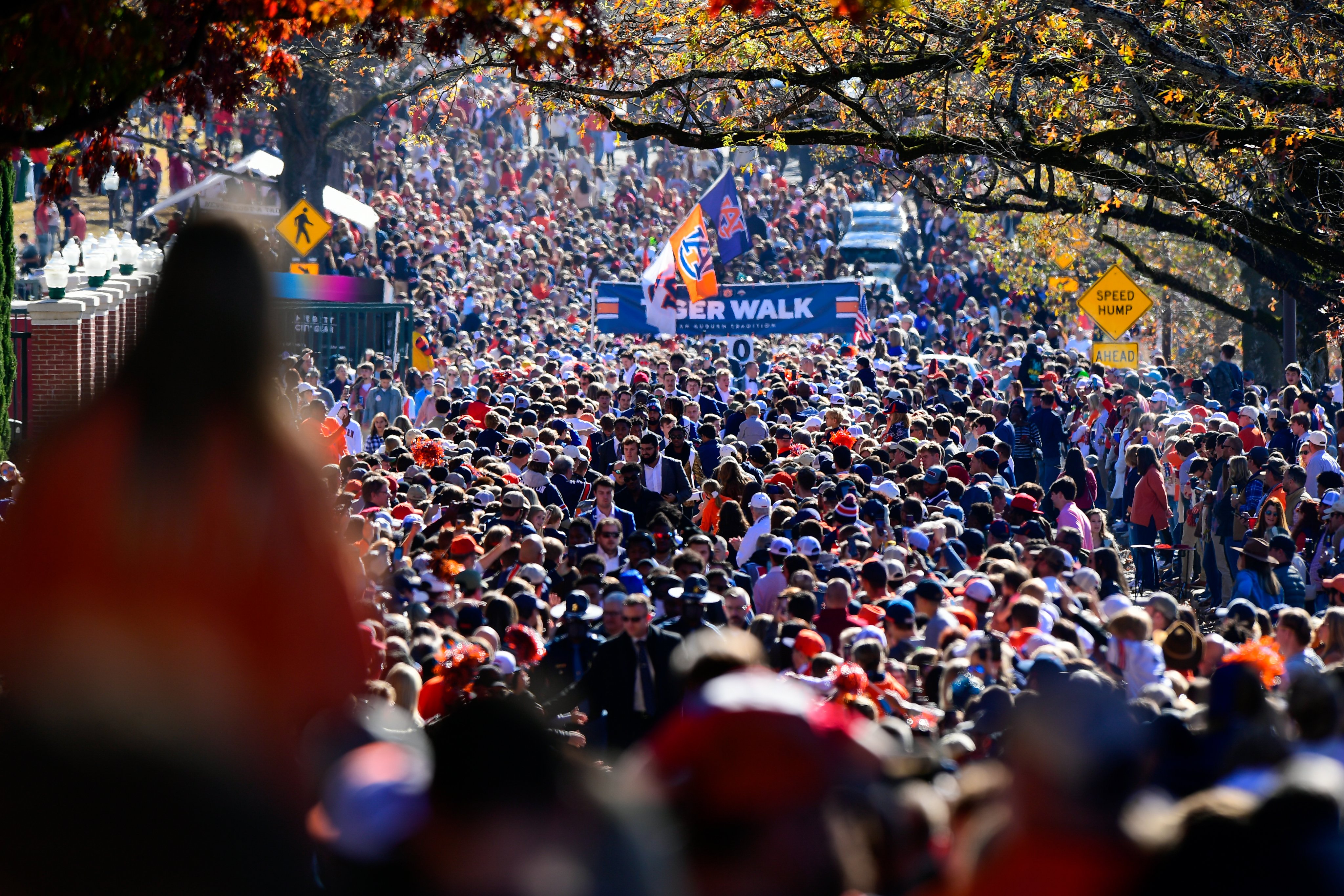 Photo courtesy of Auburn Athletics
There are about five games every college football fan must go to before he or she dies. The Iron Bowl may be at the top of that list.
Jordan-Hare Stadium 4th quarter light show from the Iron Bowl in Auburn. The place was as electric as its ever been.@BenBruud had the stadium juiced all game long like a puppet master on the strings creating what is the greatest game environment in college football. #WarEagle pic.twitter.com/TaAYAfBMIE

— Pablo Escobarner (blue check) (@PabloEscoburner) November 28, 2021
This is 𝐀𝐔𝐁𝐔𝐑𝐍#WarEagle | #AuburnMade pic.twitter.com/CioiI9mUwZ

— Auburn Football (@AuburnFootball) November 27, 2021
5. Ohio Stadium (Week 9)
Photo credit: @_macshanklin/Ohio State athletics
As the great Woody Hayes once said, "The height of human desire is what wins, whether it's on Normandy Beach or in Ohio Stadium."
Ohio State's Scarlet-out is 🔥🔥 pic.twitter.com/E1yhfx2RhX

— 247Sports (@247Sports) October 31, 2021
The Shoe was gorgeous last night 😍 pic.twitter.com/T84QFZiYNm

— Barstool Ohio State (@BarstoolOSU) October 31, 2021
4. Kyle Field (Week 6)

Photo courtesy of Texas A&M athletics
When you beat Alabama, it is special, but when you beat the Crimson Tide in front of 102,000 people, it becomes a night you never forget.
This place is shaking. pic.twitter.com/x6VkAwSRxl

— Michael Casagrande (@ByCasagrande) October 10, 2021
Scenes of an upset. pic.twitter.com/D2wjUAOgkp

— CBS Sports (@CBSSports) October 10, 2021
3. Michigan Stadium (Week 13)
Photo courtesy of Michigan athletics
If you were to say at the beginning of the year that Michigan would go on to beat Wisconsin, Penn State and Ohio State, in addition to winning its first-ever Big Ten Championship game and making its first-ever College Football Playoff, one might suggest you check into an insane asylum. Yet, here we are.
The season-defining moment came on a cold and snowy Saturday afternoon in Ann Arbor.
Singing Mr. Brightside from the Michigan Stadium field after beating Ohio State pic.twitter.com/RzrrS7cOoa

— Alejandro Zúñiga (@ByAZuniga) November 27, 2021
It's absolute mayhem here at The Big House. Pump it tf up. pic.twitter.com/wQDhfq2vJK

— Clayton Sayfie (@CSayf23) November 27, 2021
A SEA OF MAIZE AND BLUE 🟡🔵@UMichFootball pic.twitter.com/1jmrH4Ign9

— FOX College Football (@CFBONFOX) November 27, 2021
2. Neyland Stadium (Week 7)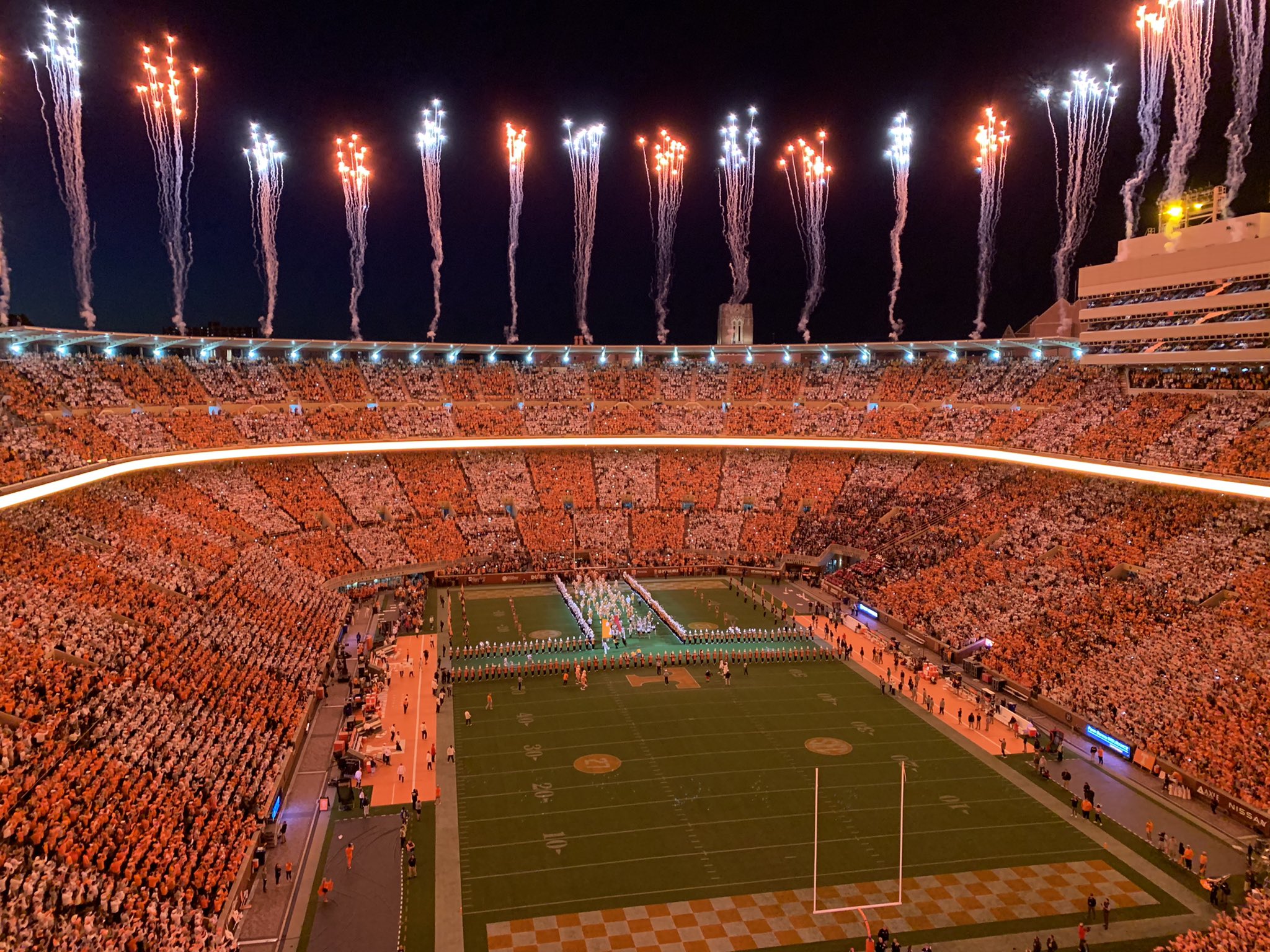 Photo credit: Swagger of Tennessee
Are we still pissed off about how this game ended? Absolutely.
But we have come to terms with the fact that this one will go down as one of the greatest Saturday nights atmosphere-wise in the history of college football.
https://twitter.com/CasonAllen14/status/1449869511943933961?s=20
Neyland Stadium didn't disappoint.

Holy shit, Tennessee. pic.twitter.com/9t9tzG4m3E

— Trey Wallace (@TreyWallace_) October 16, 2021
1. Beaver Stadium (Week 3)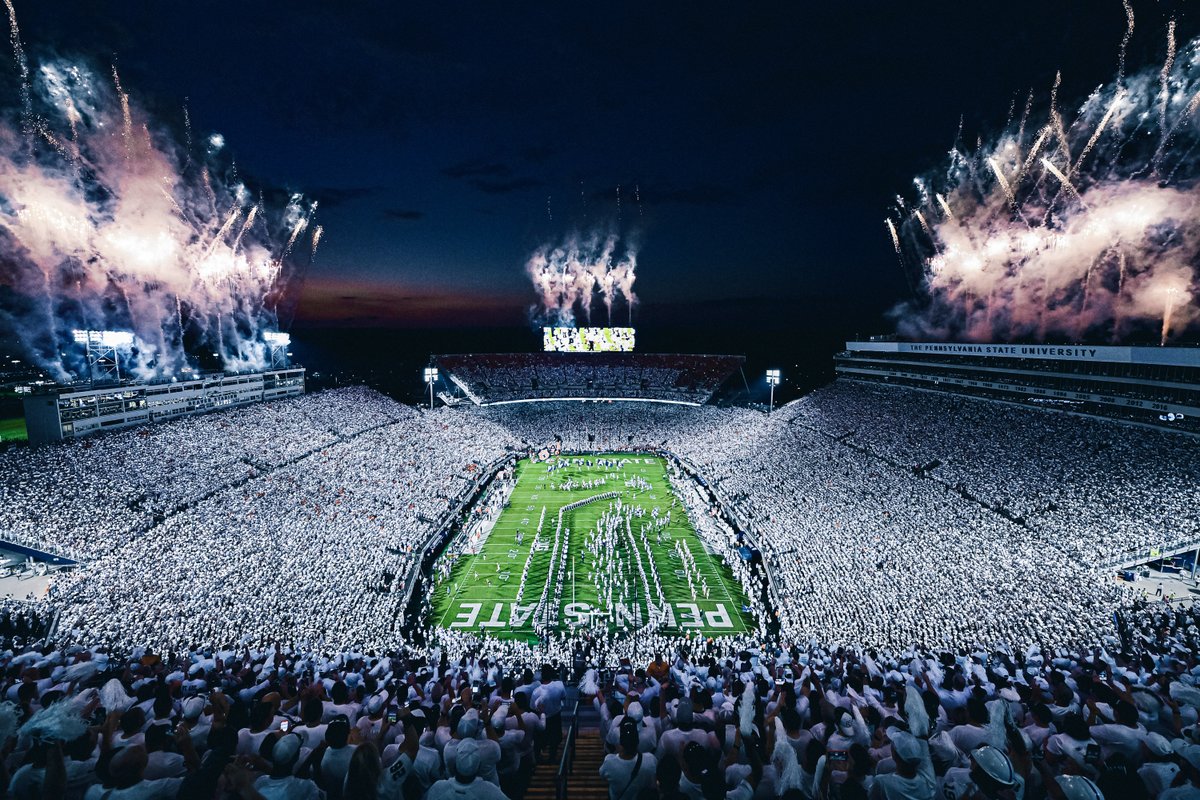 Photo By: Penn State athletics
The Penn State "whiteout" game is the best tradition in sports. End of discussion.
Got my 10,000 steps in today but the views were worth the climb. pic.twitter.com/adIQNCExAV

— Ben Jones (@Ben_Jones88) September 19, 2021
College f—g football, man. pic.twitter.com/ZU7WT0sbpo

— Tyler Donohue (@TDsTake) September 18, 2021
Electric pic.twitter.com/qqrffKhfIa

— Audrey Snyder (@audsnyder4) September 18, 2021