Photo courtesy of Ohio State athletics
It's hard to remember a more impressive list of top performers this year. Now, sure there may only be one week left in the regular season, but what we saw on Saturday is what we like to call "a weekend to remember."
Here's a look back on those who shined brightest.
Honorable Mention – Big Hawk
The most electric kicking tee retrieval you'll ever see from the one and only @bighawk68

Early front runner for Football Guy of the Week @BarstoolBigCat @PFTCommenter @UHEquipment #GoCoogs pic.twitter.com/zoxGjRXeHp

— Houston Football (@UHCougarFB) November 20, 2021
Football guy.
5. Cincinnati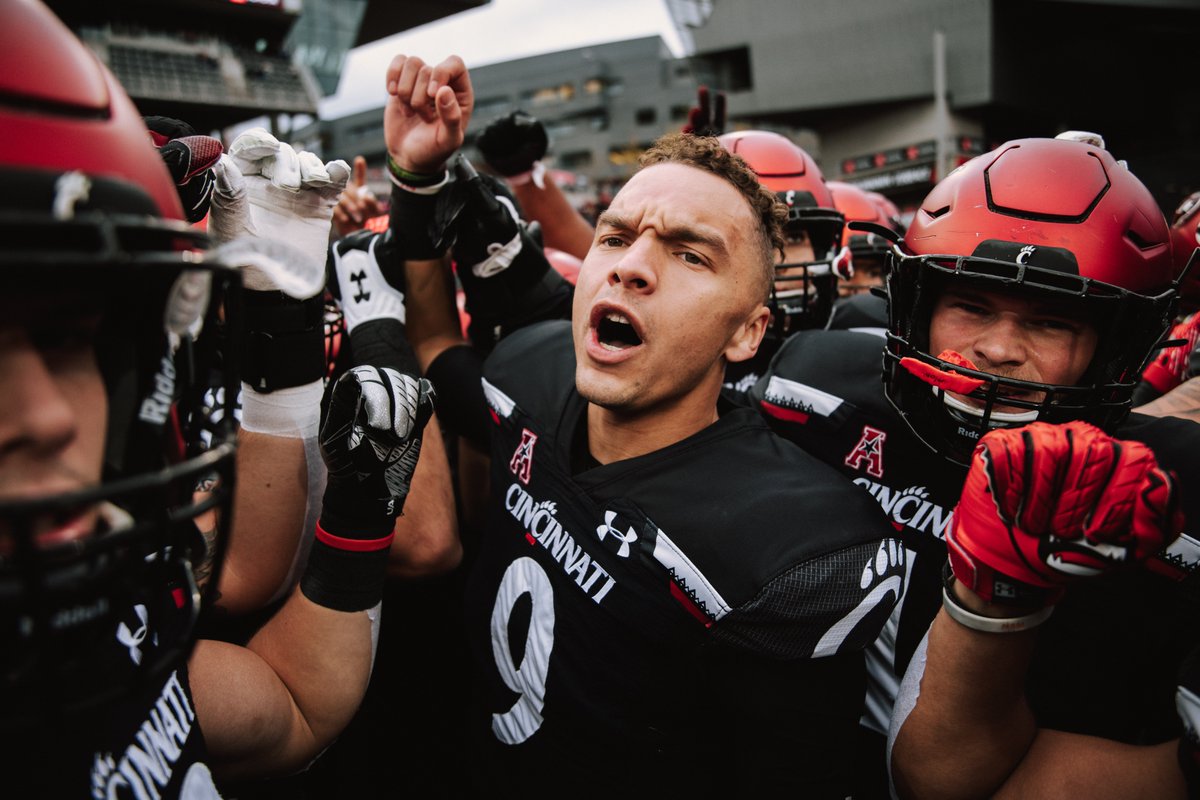 Photo courtesy of Cincinnati athletics
There may not be a team in America that has been disrespected as much this season as Cincinnati. With a record of 11-0, one would think the national narrative surrounding the Bearcats would be that they deserve to become the first Group of 5 team to make an appearance in the College Football Playoff.
However, for whatever reason, the Bearcats have been followed by a critical microscope all season long, and have been held to a different standard than some of their Power 5 peers. College football is a business. Don't ever forget it.
So why tell all of this? Because as the Bearcats took the field on Saturday afternoon against a very talented SMU team, it seemed as if all the anger that was built up inside this program was unleashed.
As the clock hit zero and the score read 48-14 in what was Cincinnati's 26th straight home win, one couldn't help but wonder: What else does this program have to do to garner some national respect? This is a team that is one win away from finishing back-to-back perfect regular seasons.
Senior quarterback Desmond Ridder has never lost a home game. Cincinnati is a program that has two of the best cornerbacks in the nation in Ahmad "Sauce" Gardner and Cobe Bryant. It is time to accept that a Group of 5 school belongs in the playoff.
4. Braelon Allen – RB, Wisconsin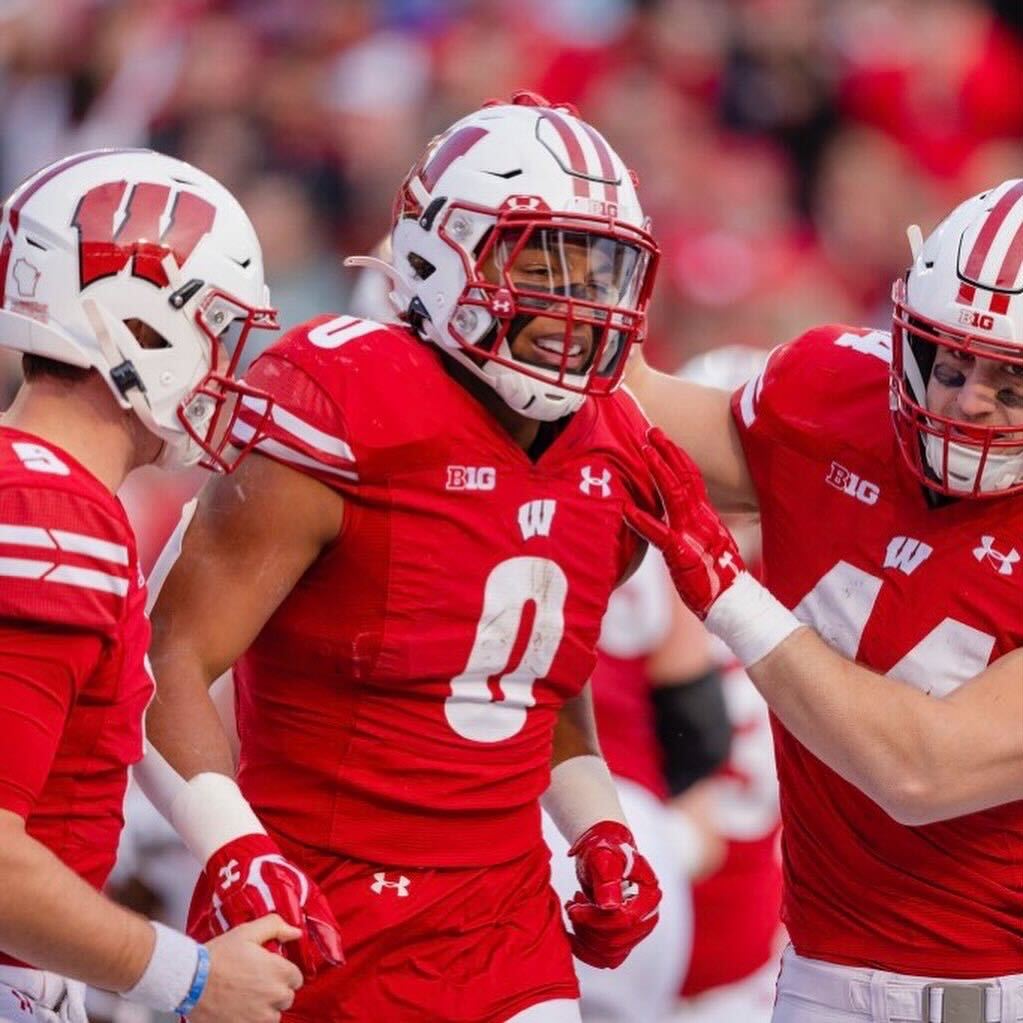 Photo courtesy of Wisconsin athletics
To say that Wisconsin has had a rollercoaster-type of season would be a drastic understatement. Starting the year 1-3, many thought that for the first time since the Big Ten Championship game was established in 2011 that the Badgers would go two seasons in a row without making the trip to Indianapolis.
Surprisingly, the Badgers have been able to turn it around and have won their last seven games in a seemingly dominant fashion. It's not anarchy; it's college football.
With this being said, Wisconsin's turnaround has not come without some bumps in the road. A week ago, it was revealed that Badgers' running back Chez Mellusi, who has been a key component to Wisconsin's success, would miss the remainder of the season with a leg injury. To some programs, this news would result in a season of destruction.
For Wisconsin however, it was time for the next man up.
You hear @BraelonAllen is only 17? 🤣

We kid, but the @BadgerFootball freshman sensation just added another ridiculous TD run to his reel. pic.twitter.com/LG6QQxp7Tl

— Big Ten Network (@BigTenNetwork) November 20, 2021
Answering the call for the Badgers on Saturday afternoon was Braelon Allen, a freshman back from Fond Da Lac, Wis. Allen, who came out of high school as a 4-star safety. Allen could have never imagined the impact he was going to make on the offensive side of the ball during Saturday's 35-28 win over Nebraska.
The once hard-hitting safety had managed to rush for a total of 228 yards on 22 carries to go along with three rushing scores. It's safe to say that Allen's transition has been a smooth one.
3. Malik Cunningham – QB, Louisville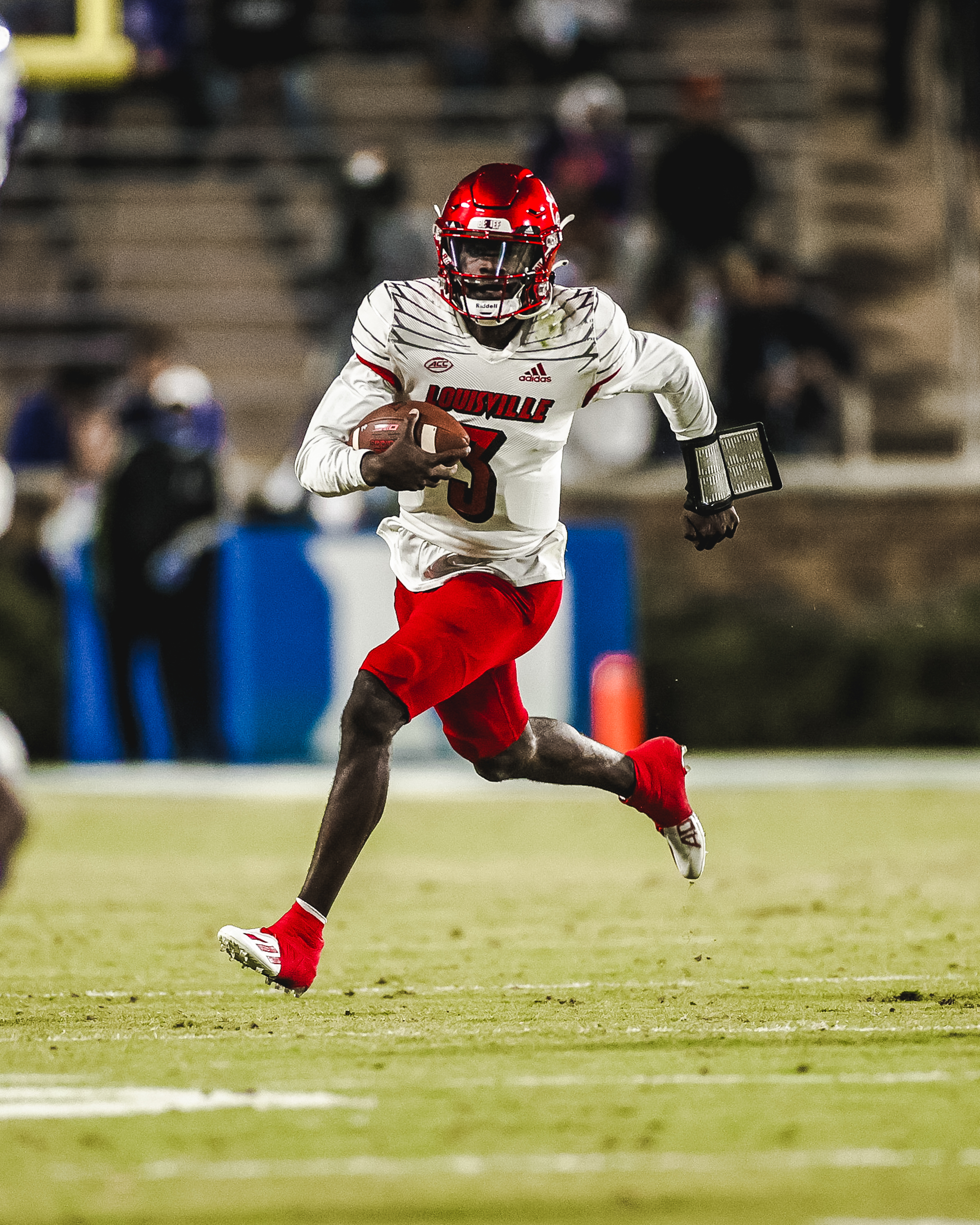 Photo courtesy of Louisville athletics
It was a game that most people couldn't care less about. A 5-5 Louisville team met a 3-7 Duke team on a blistering Thursday night in Durham. Looking into the stands prior to kick at Wallace Wade Stadium, one may have seen the following: both bands trying to keep warm, families of both sides showing their support and perhaps a couple of drunk students who thought they were going to Cameron Indoor Stadium.
It would be at this point, however, where Cardinals' quarterback Malik Cunningham decided he would give the roughly 45 people in attendance that night, the show of their lives.
WHAT A RUN BY @MalikMalikc10!!!!

And History Making…
✅ 4th Player with 10,000 YDs Total Offense
✅ Ties @Lj_era8 for 2nd Most Rushing TDs by a QB in a Season
✅ Ties Teddy Bridgewater with 15 300-yd games of total offense

Watch @espn: https://t.co/zfCEw5nAyR#GoCards pic.twitter.com/uGmhoVuWVe

— Louisville Football (@LouisvilleFB) November 19, 2021
Cunningham wasn't just good on Thursday night. He was flat-out dominant. The junior from Montgomery, Ala. had one of those nights that most players can only dream of, going 18-for-25 passing for 303 yards, five touchdown passes, 224 rushing yards and two rushing scores.
Cunningham became just the second player in FBS history to throw for at least 300 yards and rush for 200 yards in a game and fell just two yards short of tying Lamar Jackson's Louisville record for most rushing yards in a game by a quarterback. Not so much of a meaningless game anymore, is it?
2. Bryce Young – QB, Alabama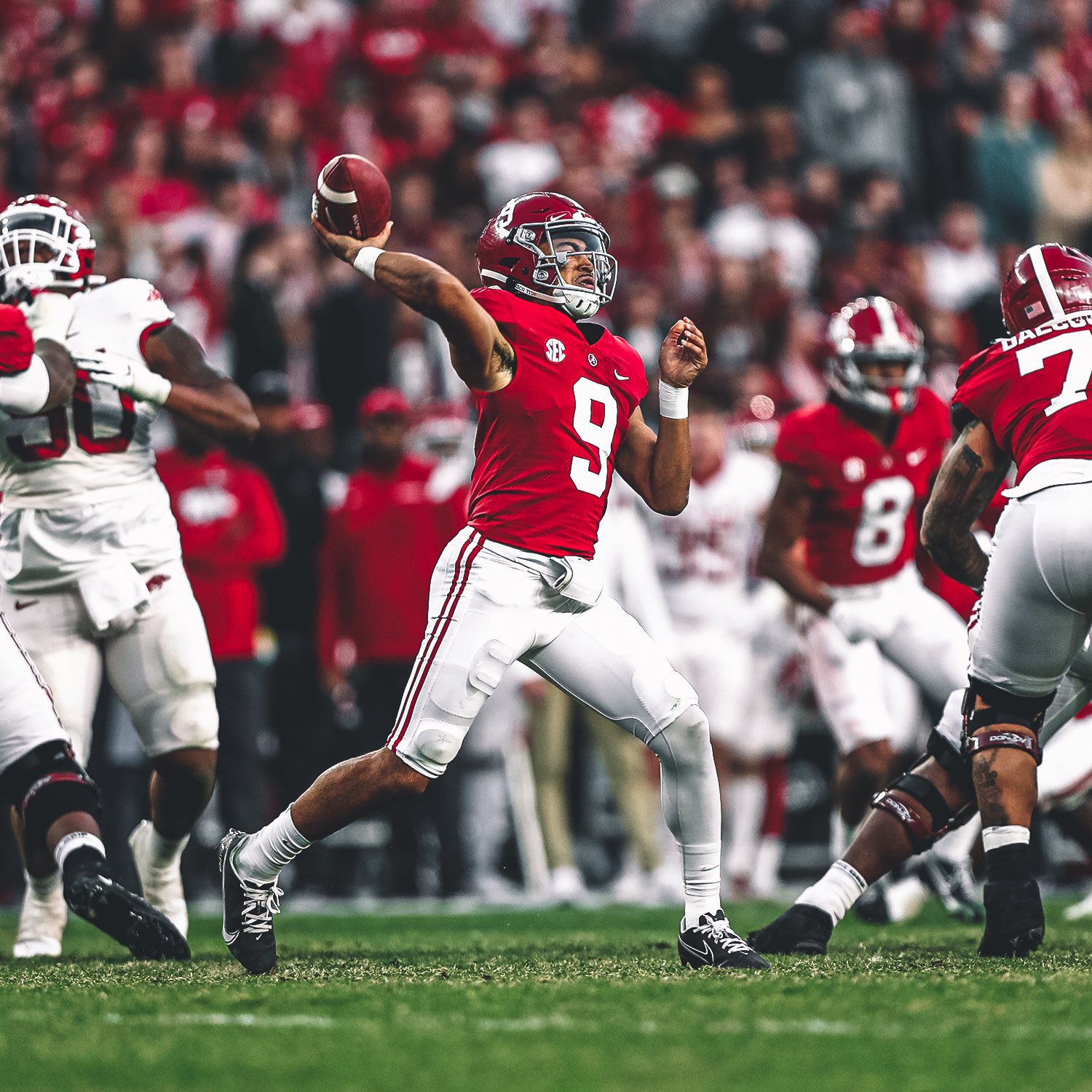 The Heisman moment. It is an instant in time that almost stands still: The Johnny Manziel bobble, the Cam Newton comeback, the Joe Burrow brigade or even the DeVonta Smith return. We all know it when we see it. On Saturday, Nov. 20 at Bryant-Denny Stadium on a gorgeous Alabama afternoon, Bryce Young had his Heisman moment.
It went a little something like this:
The clock read 11:42 in the third quarter. Alabama led 24-14 and had the ball on the Arkansas 11-yard-line on a 2nd-and-10. Young was in the shotgun and saw pressure coming from his left. After scanning multiple check-downs, Young evaded the pocket to keep the play alive. As he reached the line of scrimmage, Young acted as if he is going to take off and run, drawing in both the corner and the linebacker on the play. The sophomore quarterback then released a strike across his body to Christian Leary for an 11-yard touchdown. There you have it: the Heisman moment.
What a play by Bryce Young 😁🔥

Christian Leary with his 1st career Touchdown at Alabama 🐘🔥https://t.co/tW06UQpjyA

— Alabama DieHards (@DiehardsAlabama) November 20, 2021
And sure, it may have helped Young's Heisman case that on Saturday, the sophomore shattered the school single-game passing record with 559 yards, or that he tossed five touchdown passes for the second straight week in the 42-35 victory. But when Young gets presented with that Heisman Trophy in New York City come December, that is the play we will all be remembering.
1. C.J Stroud – QB, Ohio State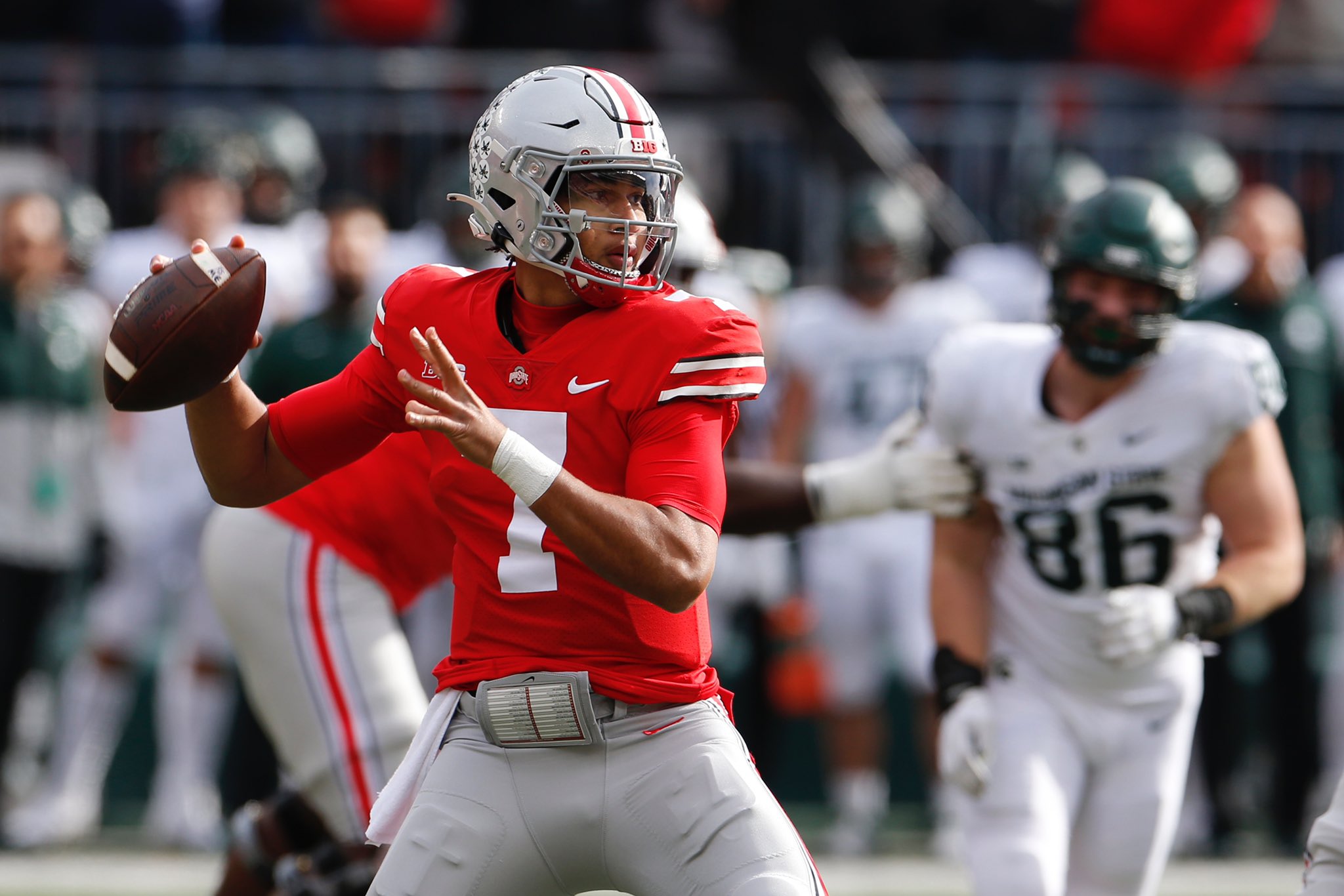 Photo courtesy of Ohio State athletics
As both teams ran to the locker room, the halftime score read 49-0. Ohio State was in full command. Looking at the scoreboard, one would think the Buckeyes were playing host to a high school junior varsity team. But instead, they were beating Michigan State, who entered Columbus on Saturday afternoon as the seventh-ranked team in the nation.
It was 49-0.
At. The. Half.
How, you may be asking, could a top-10 team trail by 49 points at halftime? The only rebuttal is that quarterback C.J. Stroud was a man possessed on Saturday and put together one of the most impressive halves of football in a long time. 29-for-31, 393 yards and six touchdown passes.
Those were his numbers.
In 30 minutes of football.
CJ Stroud to Chris Olave. Beautiful. pic.twitter.com/Wl1000tVZQ

— Unnecessary Roughness (@UnnecRoughness) November 20, 2021
At one point in the first half, Stroud had completed a school-record 17 straight pass attempts. To anyone reading, if you can find a more impressive first-half stat-line than Stroud had in Saturday's 56-7 victory, we'd like to see it.