Photo credit: Mark Selders/Penn State athletics
On this week's edition where we look at the top five performances of the week, we take a look at five skill players who combined for over 1,000 yards of total offense.
Can you say explosive?
Without further ado, here are the week's top performers:
Honorable Mention – FG Nukes
FROM 60‼️
FOR THE TIE‼️@everett_hayes‼️ pic.twitter.com/pNXcKQO2W1

— Oregon State Football (@BeaverFootball) November 7, 2021
5. David Bell – WR, Purdue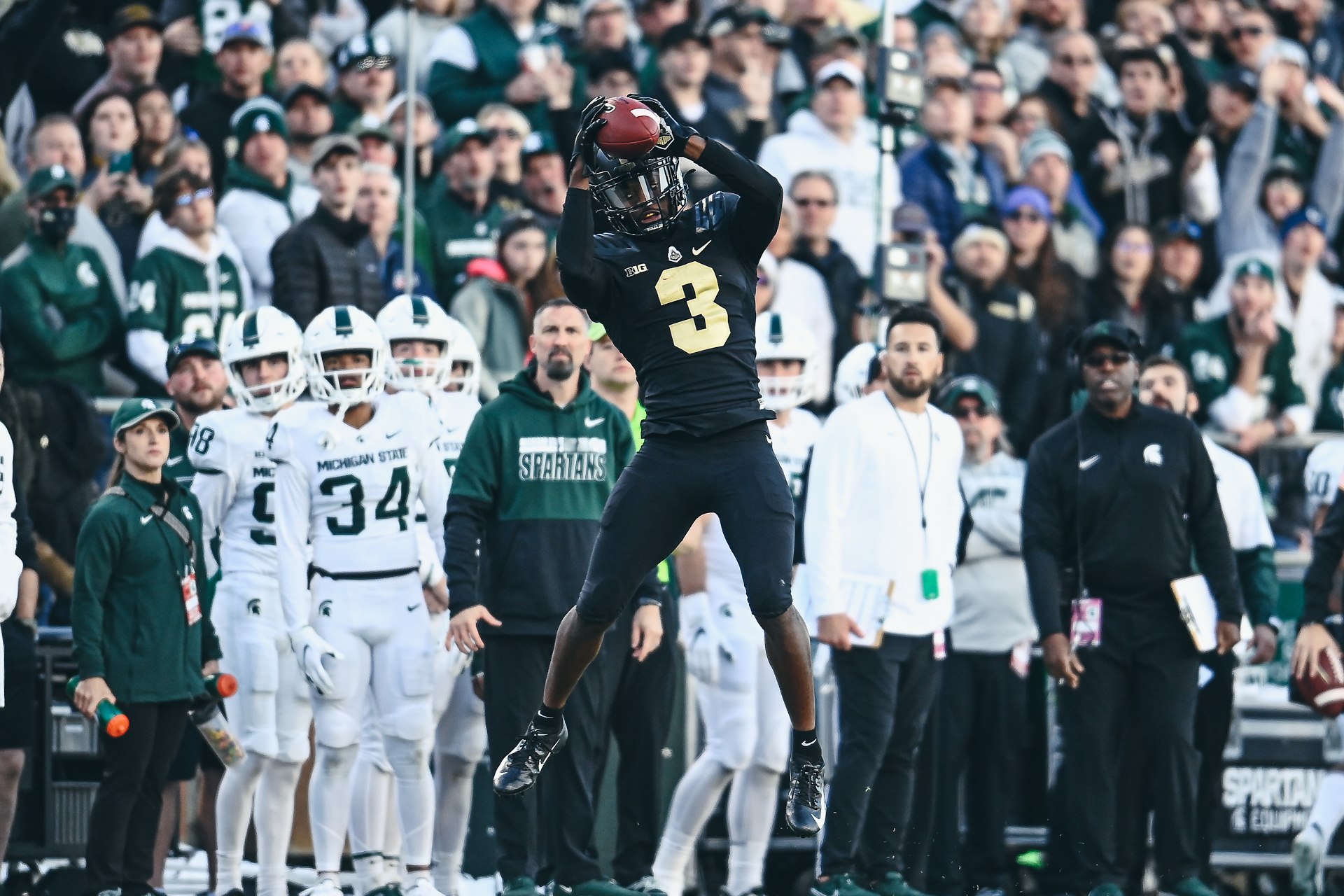 Photo courtesy of Purdue athletics
It is about that time where we say hello to our good friend, David Bell. The recipe for Bell's success this season has been quite simple: When Purdue has a big game, David answers the Bell.
We saw it in Iowa City when the junior playmaker from Indianapolis finished with 240 yards on 11 receptions en route to an upset win over No. 2 Iowa. Fast forward to Saturday and the standout once again stepped up and…answered the call.
The body control on this David Bell catch 😳

(via @BigTenNetwork) pic.twitter.com/HS2Z7xwPbB

— Bleacher Report (@BleacherReport) November 6, 2021
Bell had a day we will soon not forget, tallying 217 receiving yards on 11 receptions in a 40-29 upset win over No. 3 Michigan State. Additionally, with this win, Purdue became the first team unranked team in FBS history to have two wins over a top-5 opponent.
And what was the common denominator in both of these upsets? A 200-plus yard receiving day from Mr. Bell himself.
Prime….Time….Performer.
4. DeWayne McBride – RB, UAB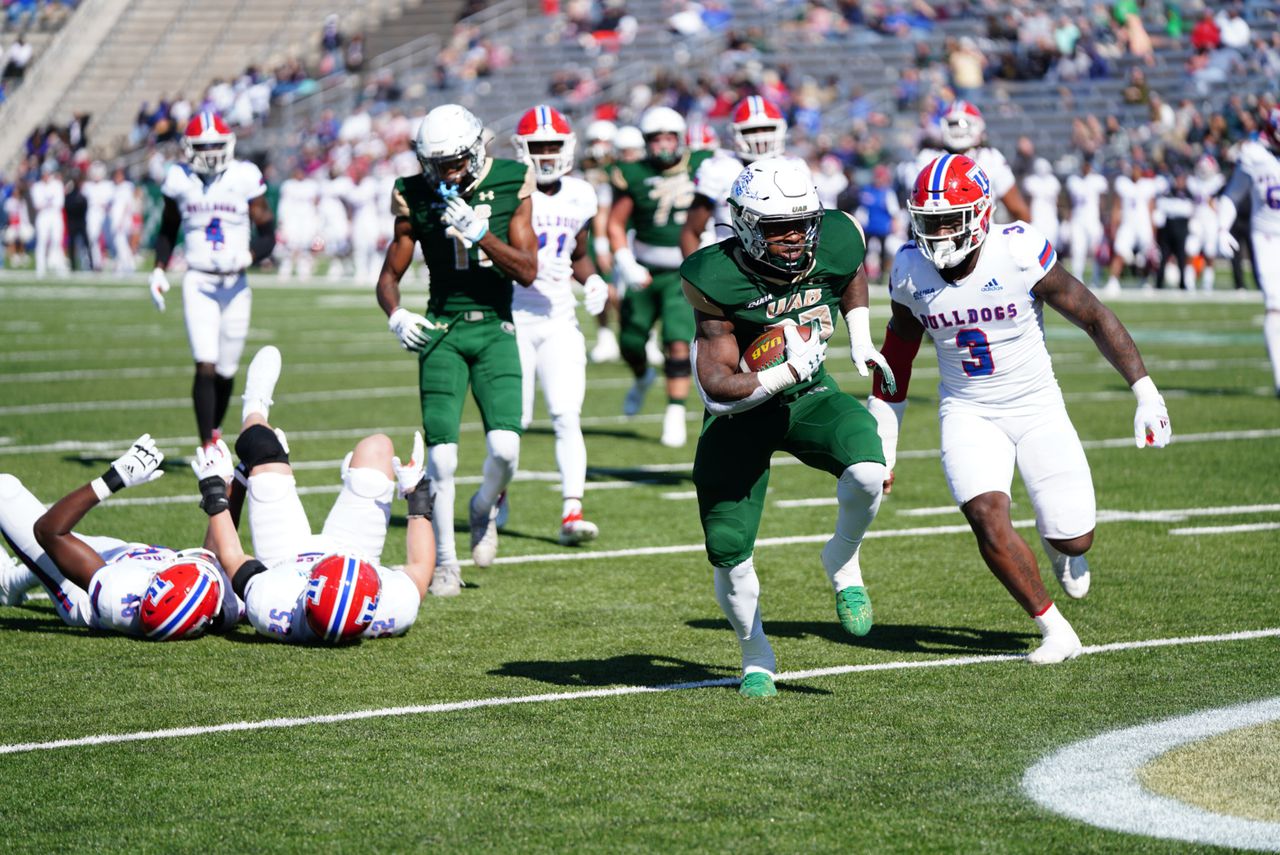 Photo credit: Kyle Schwab/UAB athletics
DeWayne McBride is not a name you are going to hear every day. The sophomore back from Starke, Fla. was just a three-star recruit coming out of high school and entered Saturday's affair with 627 rushing yards and four touchdowns — solid, but nothing to write home about.
DEWAYNE 🔥 MCBRIDE 🔥 WENT 🔥 OFF 🔥

14 carries, 210 yards, 4 touchdowns 🤯

• 210 yards – seventh most in school history
• 4 TDs – second most in school history

And he averaged 15 YARDS PER CARRY pic.twitter.com/bOYncWjTiO

— UAB Football (@UAB_FB) November 6, 2021
After Saturday's 52-38 win over Louisiana Tech, in which McBride rushed for a total of 210 yards on 14 carries (15 yards per carry) to along with four scores, it is safe to say nobody will soon forget this Florida native's name.
3. Jaxon Smith-Njibga – WR, Ohio State
When the news came out that Ohio State's star receiver, Garrett Wilson, would be sitting out against Nebraska with an undisclosed injury, Jaxon Smith-Njibga's eyes lit up. While you would never wish injury on a teammate, the sophomore wideout from Rockwall, Tex. was certainly eager to get more opportunities.
With Wilson out, Smith-Njibga was presented an opportunity to show the college football world exactly why Ohio State has the best wide receivers room in all the land.
🔥📈 @jaxon_smith1 is taking advantage of the extra targets today!

The @OhioStateFB WR take it 75 yards for the score to give the Buckeyes a 17-3 lead pic.twitter.com/D3lcdQJUQT

— FOX College Football (@CFBONFOX) November 6, 2021
It would be safe to say that Smith-Njibga took his opportunity and ran with it, but that would be a drastic understatement. The 6-foot-0, 197-pound burner, put on a show for the masses, recording 240 yards on 15 receptions and a touchdown in a hard-fought 26-17 road win over the Cornhuskers.
Players play, but performers perform. Smith-Njibga was made to perform under the brightest of lights.
2. Ty Chandler – RB, North Carolina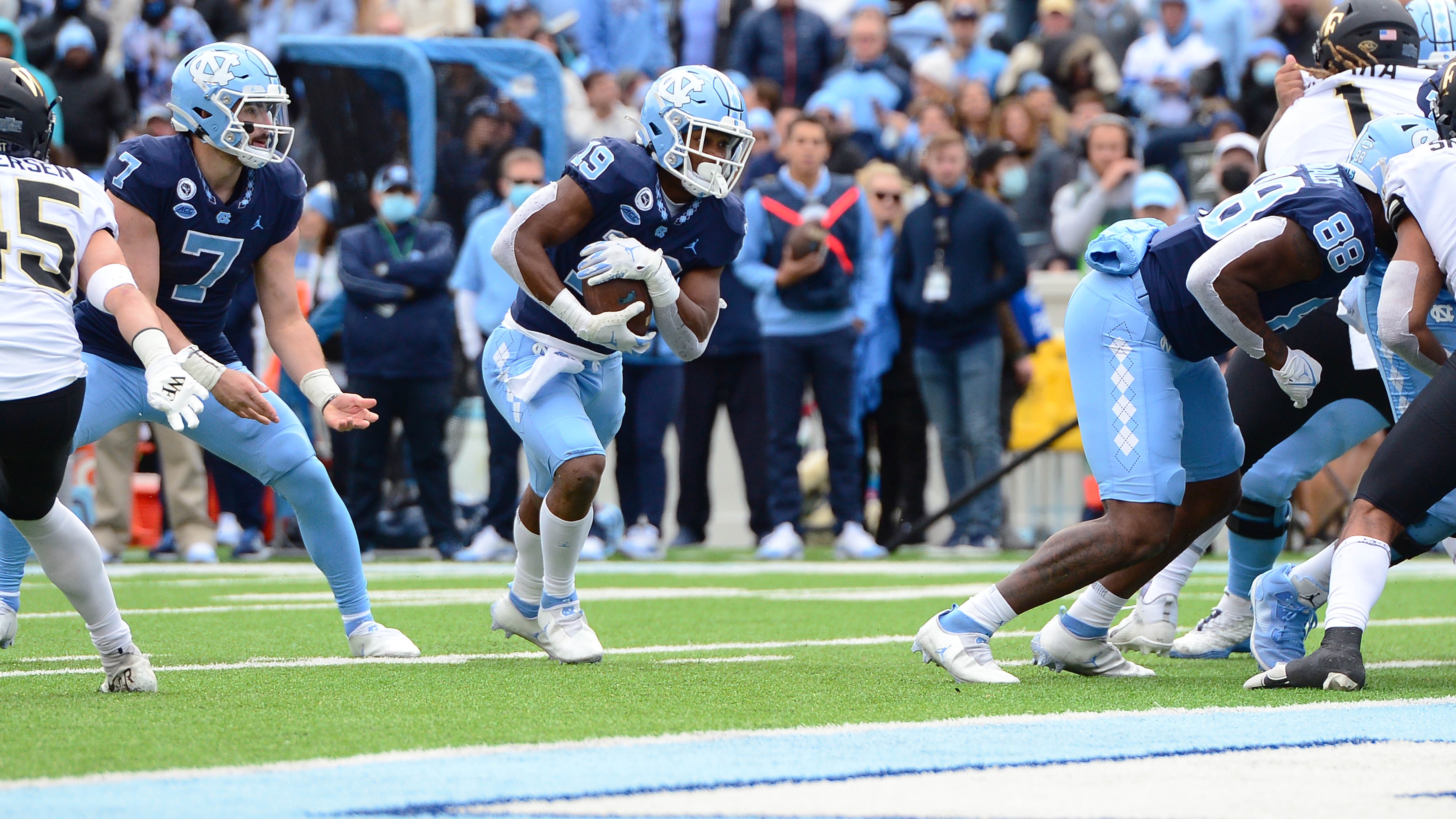 Photo courtesy of North Carolina athletics
It's not easily explained, but whenever Wake Forest and North Carolina meet, you are guaranteed to have some sort of instant classic. Last year, it was a 21-point, second-half comeback led by quarterback Sam Howell en route to a thrilling 59-53 Tar Heels' win. On Saturday, it was an 18-point second half comeback sparked by the unlikeliest of heroes that made this matchup college football's quietest great rivalry.
In 2020, it could be argued that North Carolina had one of the most lethal running back duos in recent memory. Both Michael Carter and Javonte Williams rushed for over 1,100 rushing yards and crossed the goal line a combined 32 times. Then they left, leaving UNC with more than 2,000 yards of total offense unaccounted for.
Insert Tennessee transfer, Ty Chandler, here.
For Chandler, Saturday was a career-defining display.
Ladies and gentlemen, @Channdler_35 😮‍💨#CarolinaFootball 🏈 #BeTheOne pic.twitter.com/vVFzyFJl5e

— Carolina Football (@UNCFootball) November 6, 2021
In a 58-55 win over the previously-unbeaten Demon Deacons, Chandler did what he came to Carolina to do. He rushed for 213 yards to go along with four rushing scores. Chandler may not be as talented as Carter or Williams, but don't tell Wake Forest that.
1. Jahan Dotson – WR, Penn State
There are certain days that will never be forgotten and then there are those that make the history books.
When Penn State started 0-5 last year for the first time in program history, one of the games that stood out most to Nittany Lion fans was a 35-19 home loss to Maryland. It was a game in which the Nittany Lions managed to give up over 400 yards of total offense and turn the ball over three times at key points in the game.
A bright spot, however — if there was one — was that wide receiver Jahan Dotson. Dotson had 123 receiving yards and a touchdown.
Let that be foreshadowing…
✌️⚡️ @H55ZY can FLY

He takes it 86-yards to the 🏠 for @PennStateFball pic.twitter.com/O81HgV9Vfa

— FOX College Football (@CFBONFOX) November 6, 2021
Fast forward to Saturday, where the Nittany Lions made a business trip to College Park with revenge on the brain. It was all gas and no brakes. For Dotson in particular, Saturday provided an opportunity for the Nazareth, Penn. native to have a career day, breaking the school's single-game receiving record with 242 yards and three touchdowns.
While the Nittany Lions may have left Byrd Stadium with a 31-14 win, it will be the history-making performance from the conference's best playmaker that stole the morning headlines.